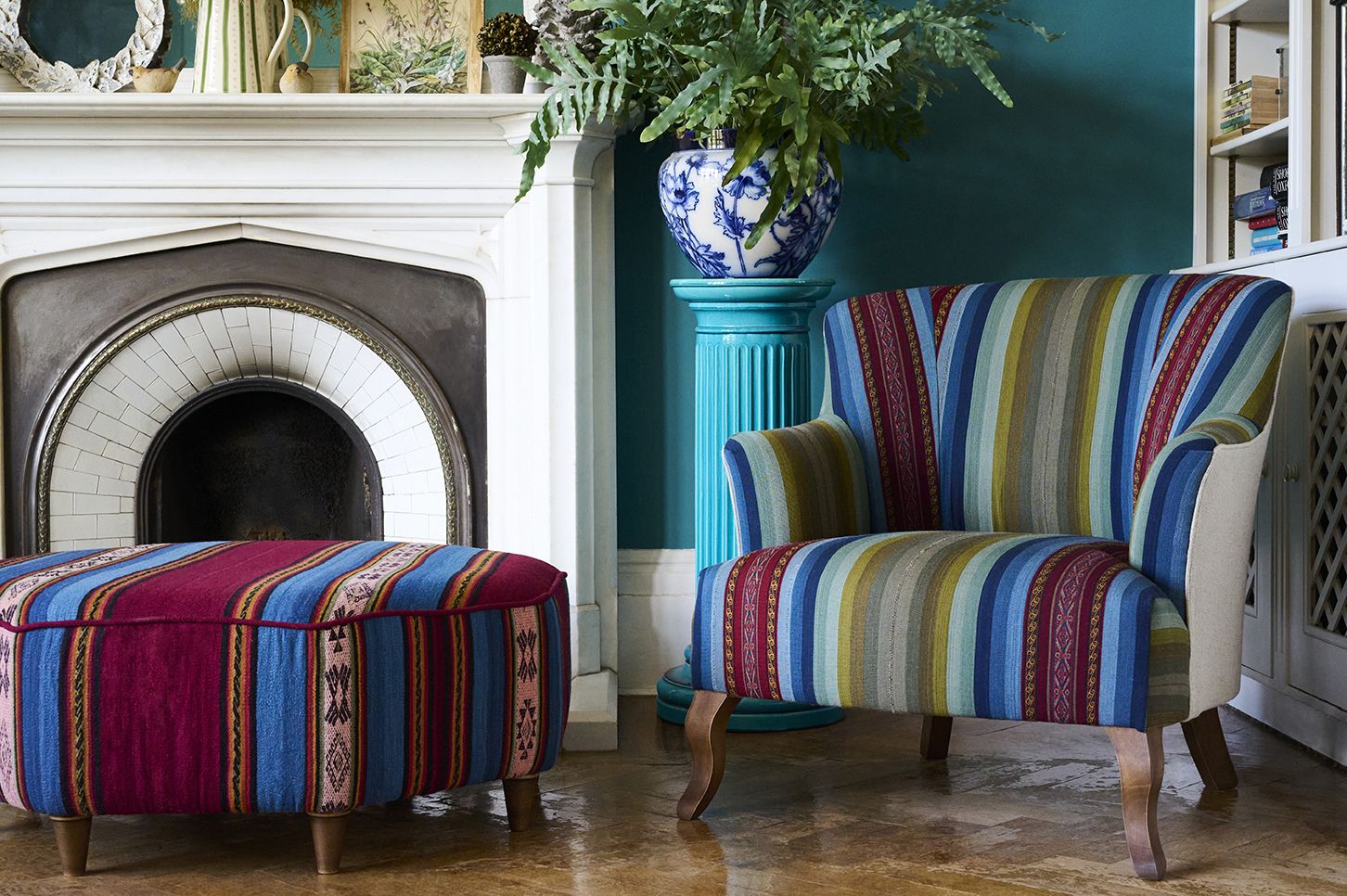 Woven fabrics of all kinds add depth and detail to an interior space, bringing both visual and tactile interest to a room. The impact is even greater when the weave is as distinctive as the incredibly special handcrafted textiles that feature in our exclusive, and highly limited, Peruvian Collection.
Here we delve into the value of incorporating traditional Peruvian textiles into your home, taking you through our top three tips for making the most of these remarkable designs.
Peruvian textiles: an ancient art, renewed
The textile traditions of the Andean region of Peru are some of the most ancient in the world and, though perhaps less well known that the kilims of the Near East and Central Asia, have a history and heritage that is equally rich and complex. Fabrics from these regions have long been collected and prized for their beauty. During the 1970s, however, there was growing concern among a small collective of Quechua women weavers from the community of Chinchero that young people were losing interest in their heritage and that ancient practices, skills and designs were being forgotten. Determined to revive their traditional textiles, this group began to organise and work together, bringing a new focus on naturally dyed and handspun yarns and ancient weaving patterns, and creating opportunities for weavers to earn an independent income from the sale of their high quality textiles in the growing tourist market. This informal cultural project developed into the Centre for Traditional Textiles of Cusco, led by Nilda Callañaupa Alvarez.
Choosing one of these unique pieces of furniture, not only brings colour and heritage craft into your home, but helps to sustain the rich and valuable traditions that lie behind these unique pieces.
Pattern play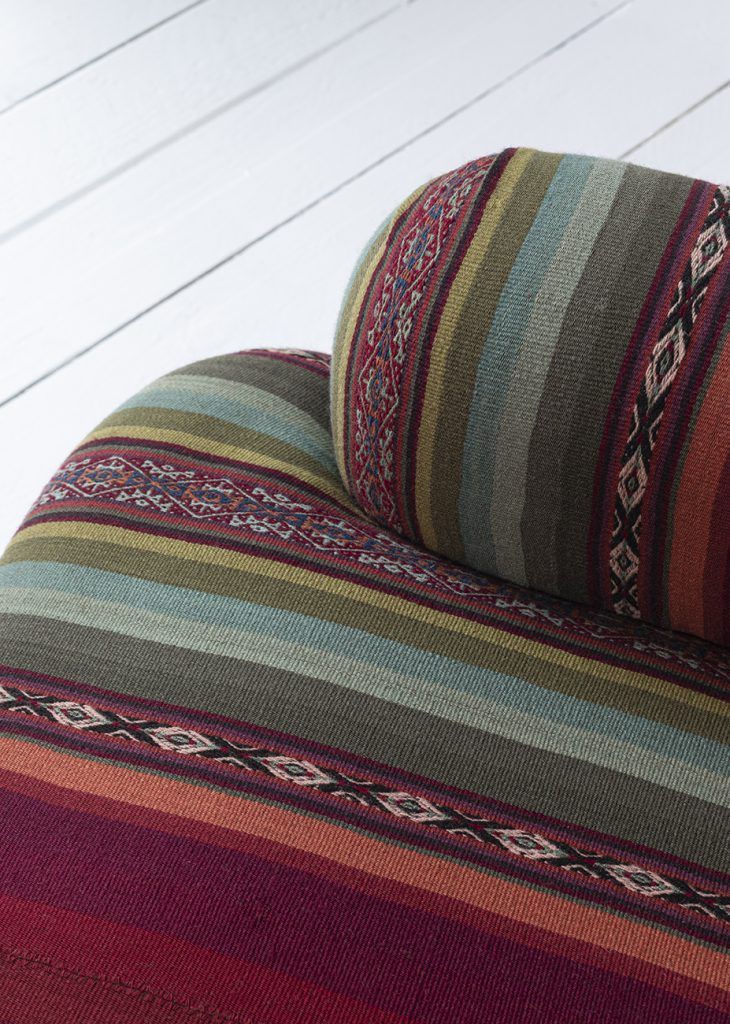 The furniture and cushions in the collection features cloth from seven weaving communities from the Cusco region of Peru, each with their own distinctive traditions, techniques and colours. Traditional Andean fabrics feature many different symbolic motifs. Wide textiles, such as those used for blankets, throws and, indeed, for upholstery, are made by sewing individually handwoven pieces together with chukay, a traditional embroidery sewing stitch with characteristic and, indeed, meaningful, designs which relate to the geography and history of the area.This brings wonderful decorative detail to the coloured panels of handwoven cloth, creating a range of striped patterns that will add depth your interior scheme.
How bold will you go?
If you are keen to build a layered, maximalist feel into your interiors, choosing a chair, snuggler or footstool from our Peruvian textiles collection will bring depth and interest to your scheme. Fully embrace the power of pattern by pairing one of the Peruvian pieces with a patterned sofa in a complementary colour. A figurative fabric design from the English Arts & Crafts movement, such as Willow from our V&A Drawn from Nature collection, for instance, would work wonderfully paired with the decorative Harwood occasional chair upholstered in fabric from the weavers of the Santa Cruz de Sallac collective.The bold stripes and geometric shapes of the Peruvian textile juxtapose with the waving fronds of John Henry Dearle's design of elongated and overlapping willow foliage, creating a interesting, yet complementary pairing.
A bold floral linen, also pairs well with the simple but decorative Peruvian textiles, such as the deep red Chinchero woven fabric that we have used on the Petworth snuggler.
Or if you are looking for a more subtle addition of pattern, a decorative footstool, such as the Bedham footstool upholstered in woven fabric from the Chinchero collective will enliven a living space with a plain sofa.
An adventure in texture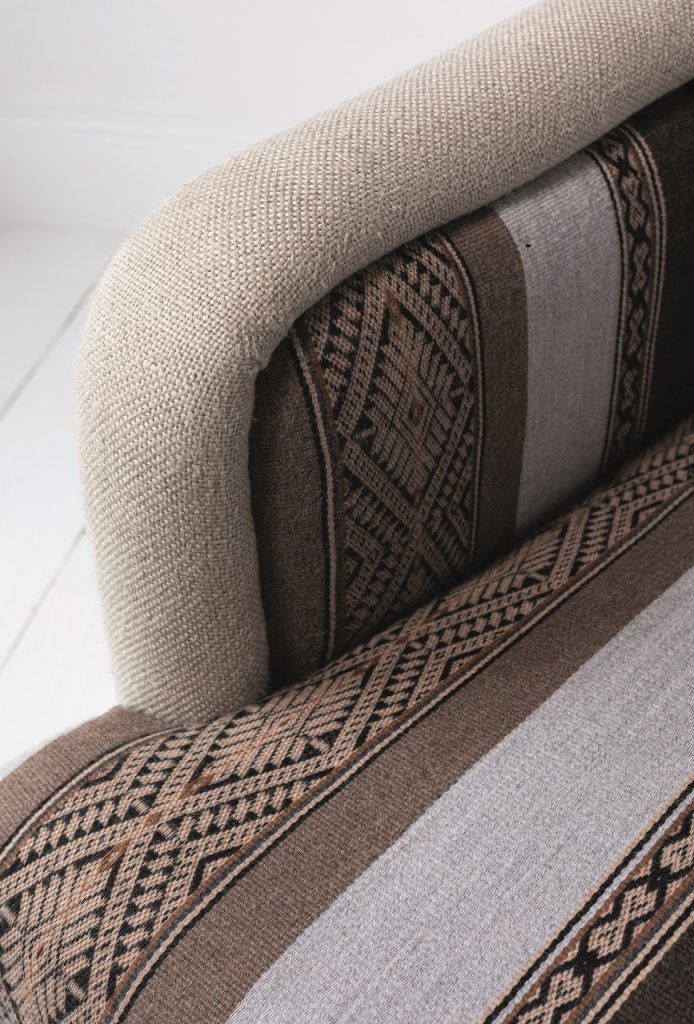 Our second tip for incorporating a unique piece from our Peruvian collection is to allow the beautiful textures of the all-natural materials take the spotlight. There is something very special about a handwoven, patterned textile. The pattern is part of its substance and it will last for as long as the fabric holds together. Not only is it visually appealing, but it also invites you to set out a hand and feel the comfort that is before you.
Take a look, for instance, at one of the pieces that combine the heritage textiles with a plain natural linen, such as the Rothermere chair upholstered in a mix of cloth, featuring merino wool and alpaca blend fabric from the weavers of Accha Alta, alongside a natural 100% linen.
This piece would work beautifully alongside a simple yet luxurious sofa in a lightly textured, plain woven linen such as our Helmsley 3 seater sofa in Cloth 22 Weaves.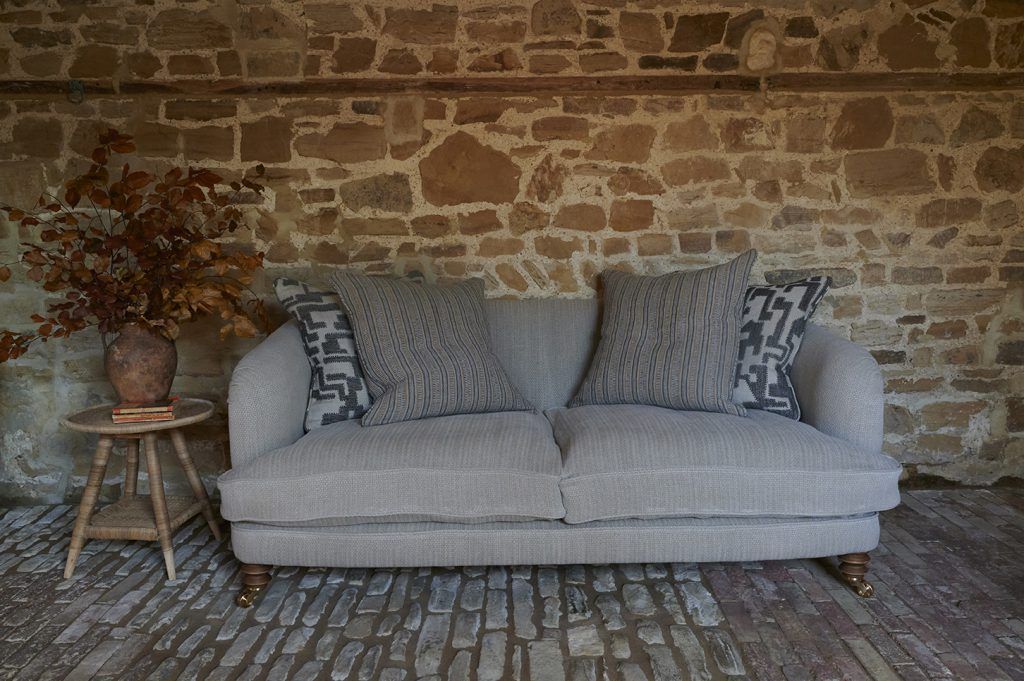 An infusion of natural colour
Our third tip focuses on the use of colour in these remarkable textiles. The chairs, snugglers and footstools in our Peruvian Collection are the perfect highlight pieces for your interior scheme because the incredible colour palette that is achieved through the use of natural dyes. The collection features a wide variety of different hues to partner with other soft furnishing fabrics and wall colours.
Alpaca and sheep wool is used in these Peruvian textiles, each with distinctive qualities. Alpaca wool is extremely soft, and frequently used in its undyed form, as it naturally comes in many different shades from whites and creams to browns, greys and black. You will see this represented in the fabrics from Accha Alta and Chahuaytire.
Sheep yarn takes dye much better than alpaca and so tends to be used to inject vibrant colour into the textiles. Natural dyes derived from local plants and minerals are used to dye the yarn, in a process that has very little environmental impact. Textiles from Chinchero, one of the principal and best known weaving communities in the Cusco region, are rich in colour, with a rainbow palette from which to take your cue.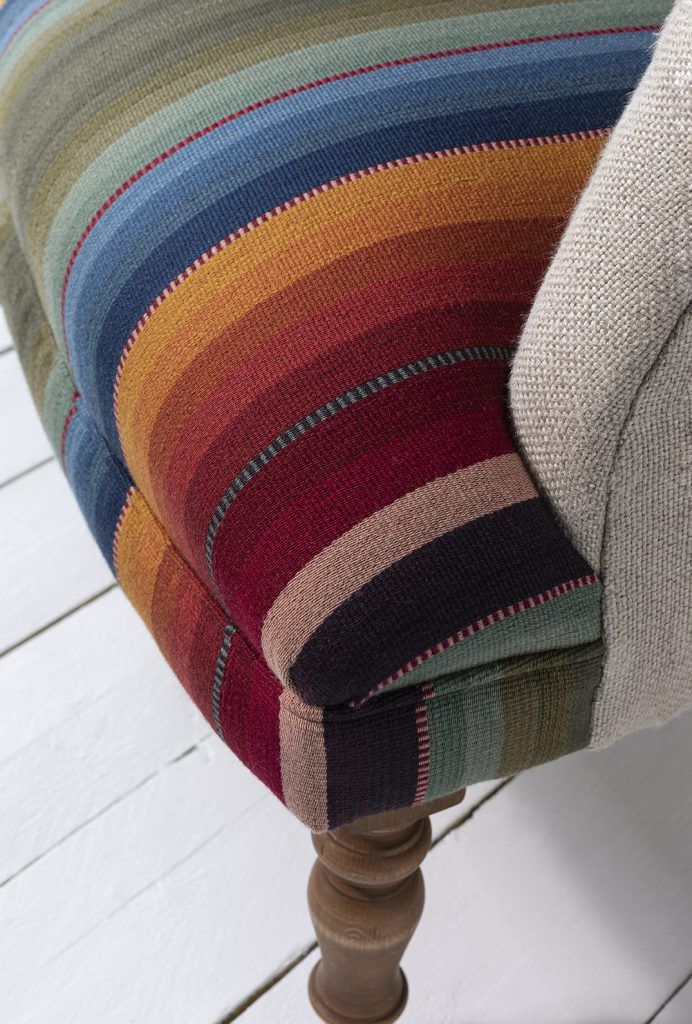 To the northwest of the city of Cusco, tucked into rolling hills of farmland, lies the community of Mahuaypampa, much less known than neighbouring Chinchero. The local textiles at times look simpler in comparison to other communities of the Andes, yet they have exquisite colour combinations, reflective of the local landscape.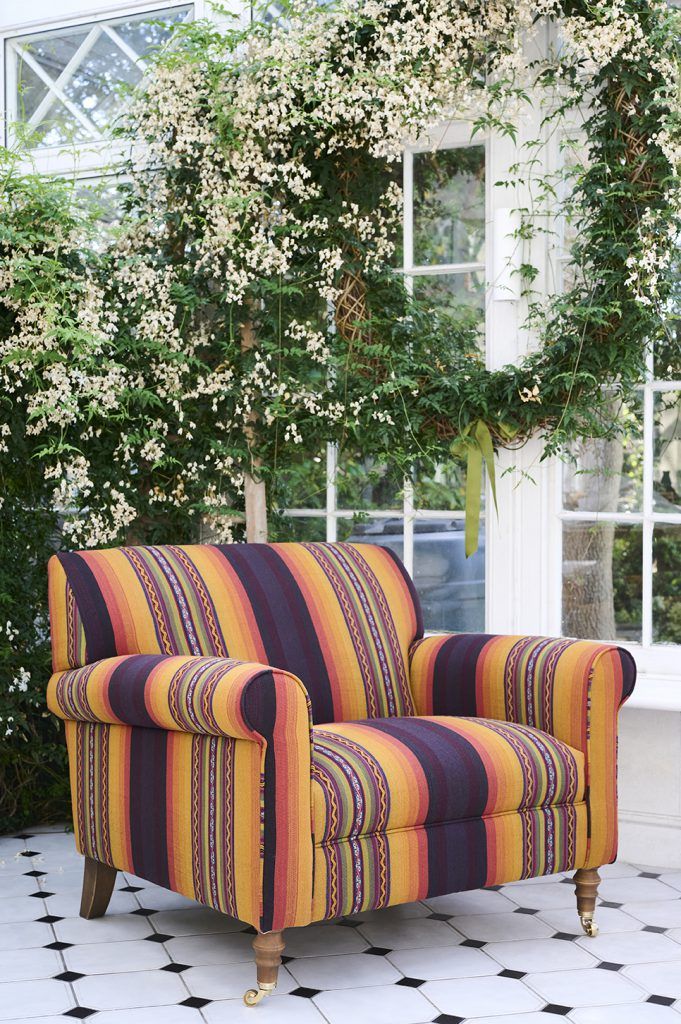 Inspiring and authentic, the unique pieces in our Peruvian Collection are surprisingly versatile, ideal for bringing an injection of colour and character into many different interiors. Whether you prefer a pared-back décor or a more bohemian, eclectic look, these pieces can complement any style. If this is the first time you've worked with a patterned woven textile of this type in your space, why not begin with some cushions or perhaps a footstool? And then, when you're feeling more confident, you can add more impactful pieces, such as a snuggler or a chair. You can see this wonderful collection up close at three of our showrooms, Fittleworth, Walton-on-Thames and Cheltenham. It is also available to view and buy online.