'In today's world we take cloth for granted, being surrounded by it. It comes from machines, it costs little, we throw it away without a second thought, often before it's even worn out. But there is another kind of cloth – 'the kind that is made thread by thread, by the hands of the people. Each piece has its own life, a reflection of the spirit, skill and personal history of its maker.' 
Nilda Callañaupa Alvarez.

Artisan makers brought together during an extraordinary global pandemic
Sofas & Stuff Peruvian Collection is an extremely special, limited-edition collection of unique chairs, footstools and cushions, featuring hand-dyed and handwoven textiles created by the spinners and weavers of the Centro de Textiles Tradicionales del Cusco, Peru. The production process from field to fabric is lengthy. The most time-consuming part is the fibre preparation and spinning, which involves multiple processes, over many days. Then, it takes another day to set up the loom and a couple of days to weave. In total, it takes around 16-20 full days, to produce each of the 2.5-metre lengths of 50 cm wide cloth required. The entire order of 720 metres was woven 200 by artisans in 6 months.
Eight chairs and five footstool designs have been chosen from our range of bespoke furniture to showcase these remarkable fabrics. Handmade here in Britain by skilled furniture makers and upholsterers, the collection showcases the very best in craftsmanship from opposite sides of the world.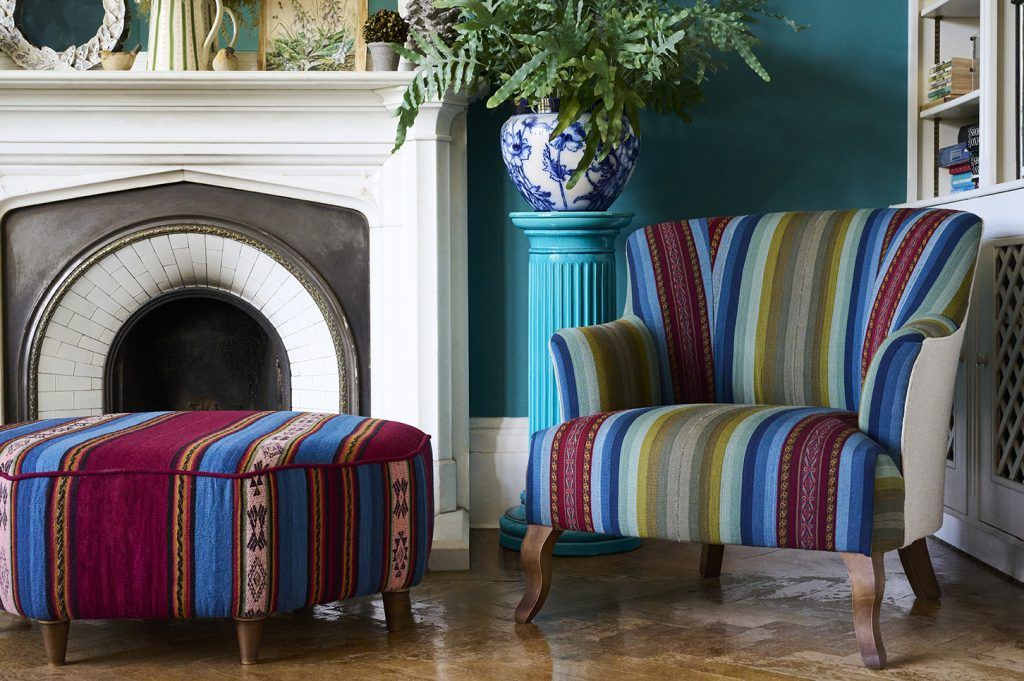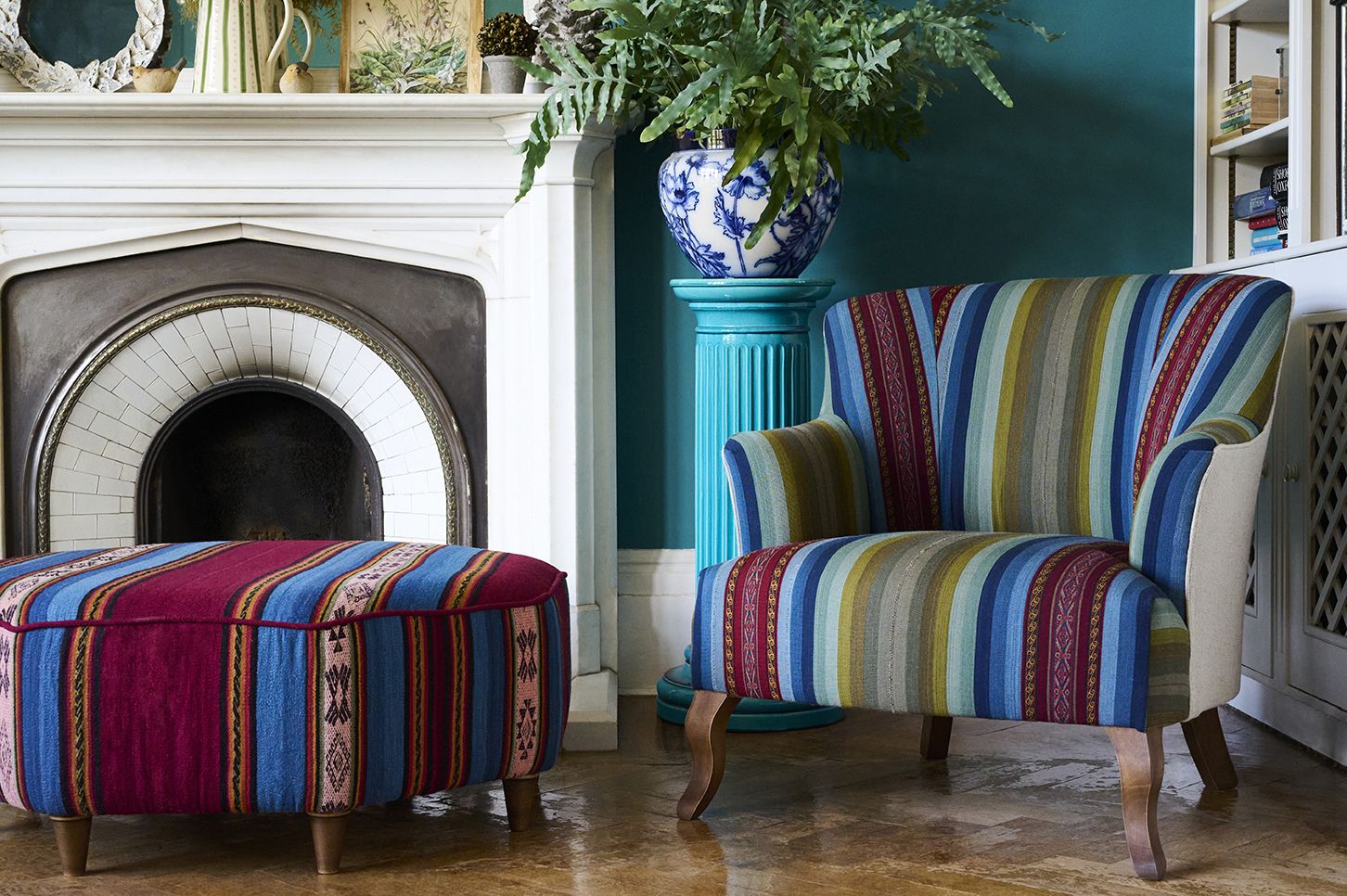 Earlier this year we introduced the story of how this remarkable collaboration with the Cusco weavers came about, beginning in the early, unsettling days of the Covid-19 pandemic with an initial introduction by Polly Leonard, the editor of Selvedge magazine. Now that the collection has launched, we wanted to share more about the communities and individual people responsible for  making the beautiful handwoven cloth that makes the furniture so special.
Handwoven cloth from seven Andean communities
The collection features hand-dyed and handwoven cloth from seven weaving communities from the Cusco region, each with their own distinctive traditions, techniques and colours. These communities come under the umbrella of the Centro de Textiles Tradicionales del Cusco (CTTC).
Located in the heart of Cusco, the ancient capital city of the Inca empire, the CTTC acts as a bridge between past and present Peruvian cultural identity. Its origins lie in the 1970s when a group of Quechua women weavers from the community of Chinchero started to gather together to revive textile traditions and earn an independent income through the sale of their textiles in the growing tourist market. Traditional weaving practices on backstrap looms were techniques known only to a handful of elders, with young people choosing not to learn. Techniques and patterns from 2,000 years ago were disappearing as traditional skills were neglected and as weavers turned to more easily available chemical dyes and synthetic yarns. Prejudice against indigenous people, too, was playing a part, with younger women and men choosing not to display their heritage through traditional clothing.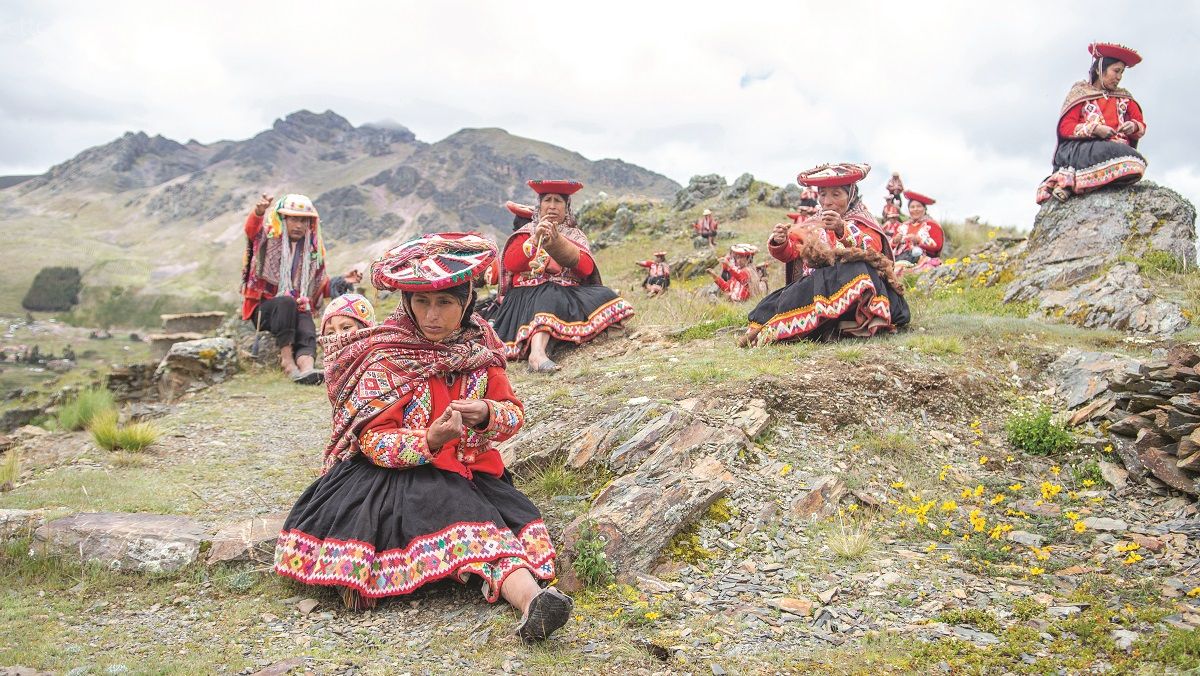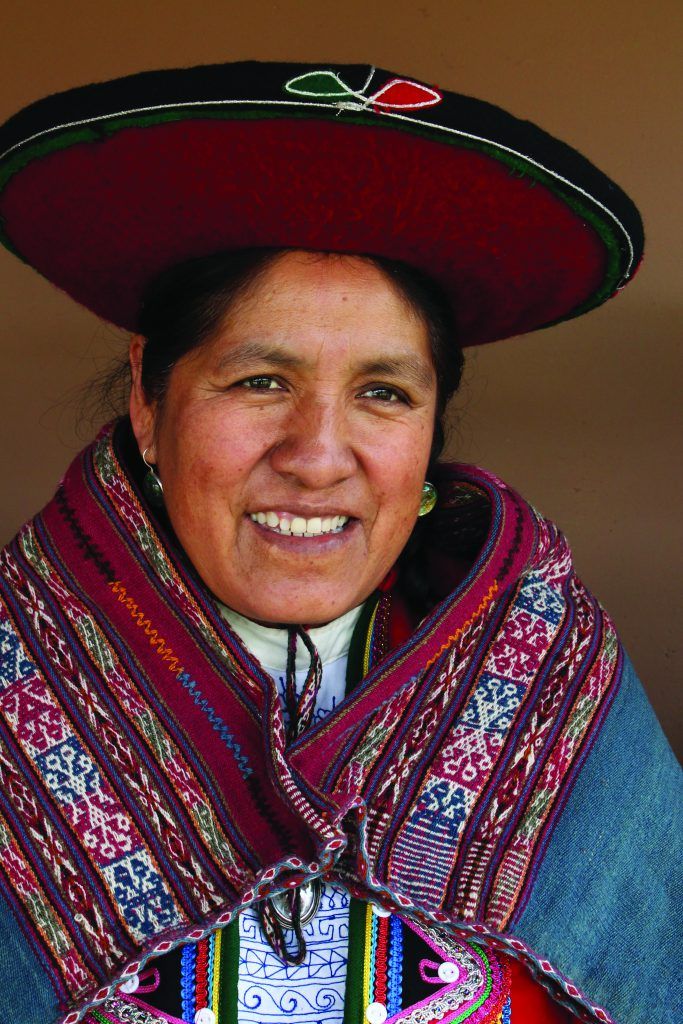 By Weavers, For Weavers
The CTTC was formally established in 1996 as a non-profit association, largely through the efforts of Chinchero weaver and educator Nilda Callañaupa Alvarez, assisted by a number of international supporters. She remains the CTTC director.
Nilda grew up in Chinchero, Peru, learning spinning, weaving and knitting from family members and other elders of the community. She put these skills to good use, financing a college education at the National University of San Antonio Abad in Cusco through sales of her textiles, and increasingly gaining recognition of her talent and expertise. After graduating in 1986, Nilda went on to study textile history at Berkeley, California, and held teaching posts at universities and museums in the US and Canada. Since her youth Nilda has been a community organiser and leader, bringing her town together behind the goal of reviving their textile traditions.
The CTTC is proactively preserving and reviving spinning and weaving techniques through its research, demonstrations, and workshops. Long-forgotten designs are being woven again. Traditional natural dyeing techniques also have been reintroduced into local practice, with weavers learning how various fibres respond to different dyes from flowers, leaves and other natural materials.
From its inception, the Centre has worked with Young Weavers Groups. Each Saturday children and young people gather in their community weaving centre to learn from their elders. It is through educating younger generations that the CTTC hopes to ensure a future for textile traditions in the Cusco region.
From flock to fabric – traditional spinning and weaving techniques
Handspun yarn has unique characteristics of texture, fineness and strength, imparting these qualities to the textile it will become. Alpaca and sheep wool is used by the weavers, each with distinctive qualities. Alpaca wool is extremely soft, and frequently used in its undyed form, as it naturally comes in many different shades from whites and creams to browns, greys and black. Sheep yarn takes dye much better than alpaca and so tends to be used to inject vibrant colour into the textiles. Natural dyes derived from local plants and minerals are used to dye the yarn, in a process that has very little environmental impact.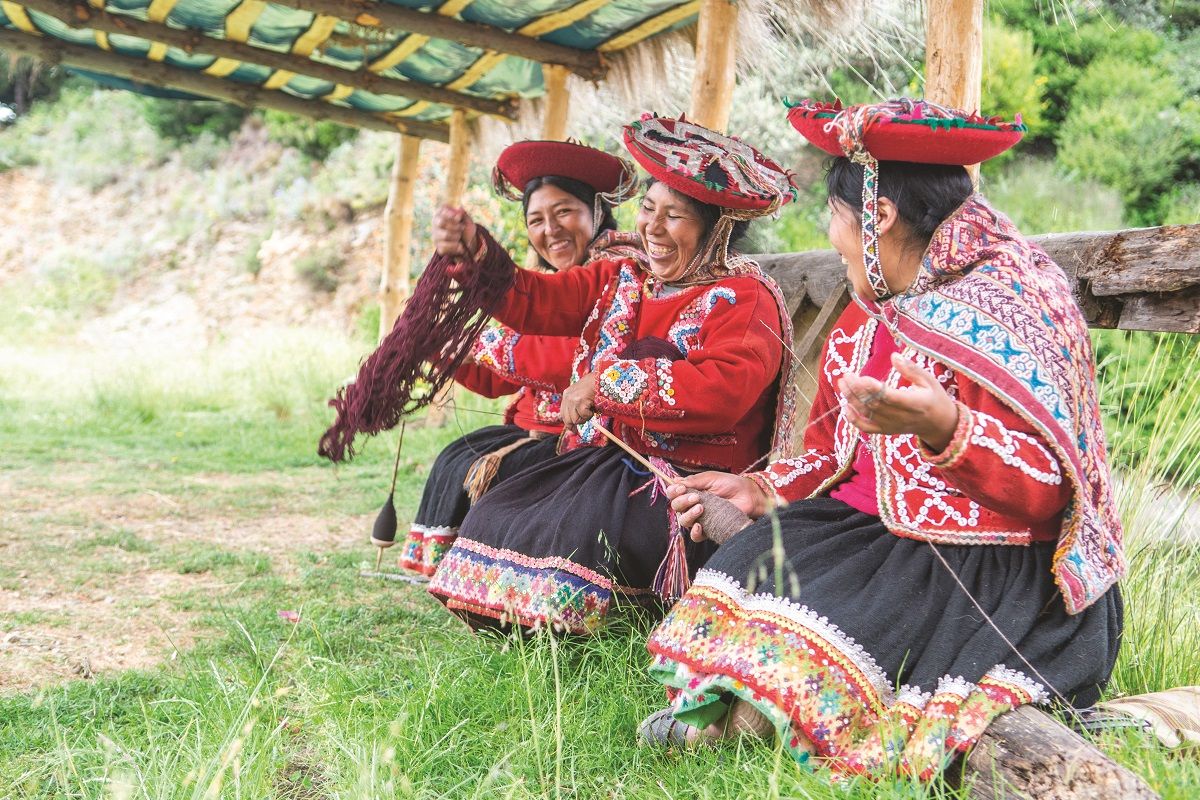 The textiles are handwoven on a backstrap loom, a non-mechanised instrument that is easily transported from home to field. Another method is to use a four-post horizontal loom, where four stakes are hammered into the ground in a rectangular arrangement, with the warp suspended with tensions, parallel to the earth. Warp-faced weaving is the most commonly used technique, where the vertical threads of the warp determine the visible colour, structure and pattern of the piece. Though simple in form, the weaving techniques are complex and require enormous still and dexterity. Both variations are hugely labour-intensive; one blanket can take months to complete.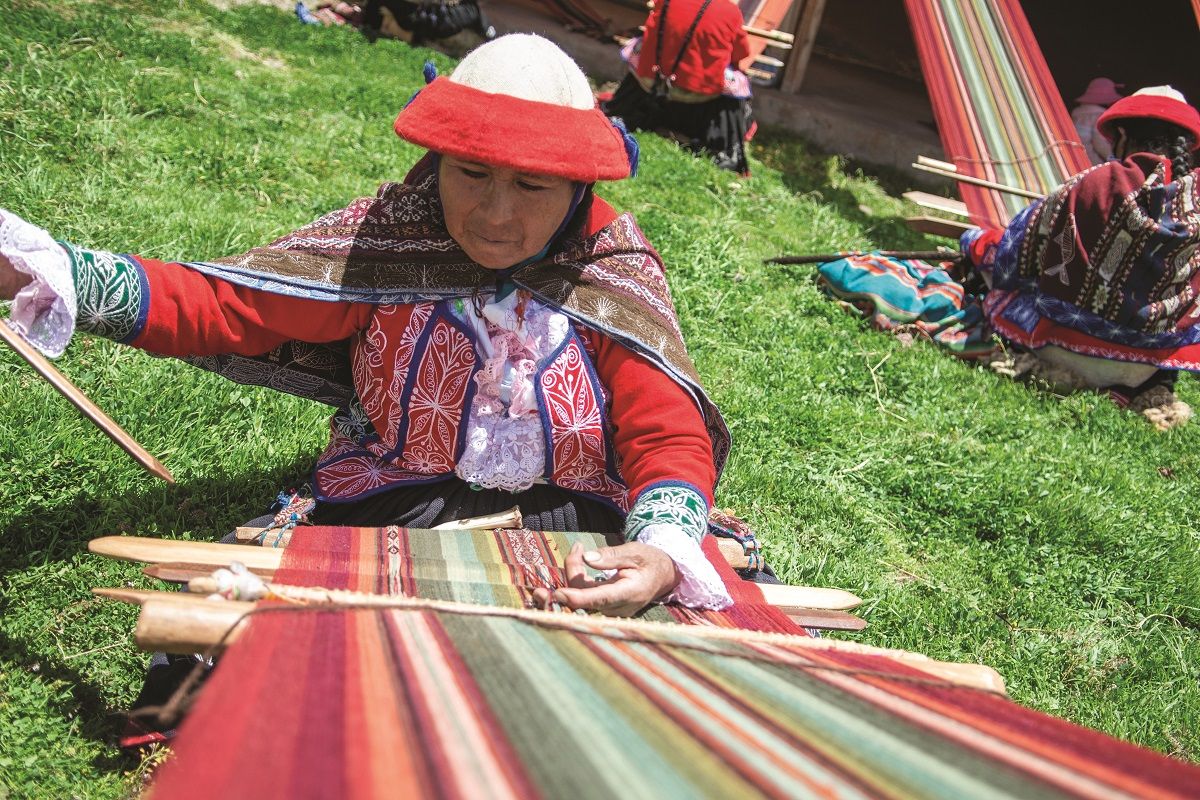 The seven weaving communities
Since its establishment in 1996, the CTTC has partnered with ten different communities high in the Andean mountains, of which seven are represented in our collection. There is great diversity between these villages – from their weaving techniques, to their traditional dress and lifestyle. Seven of these are represented in our collection.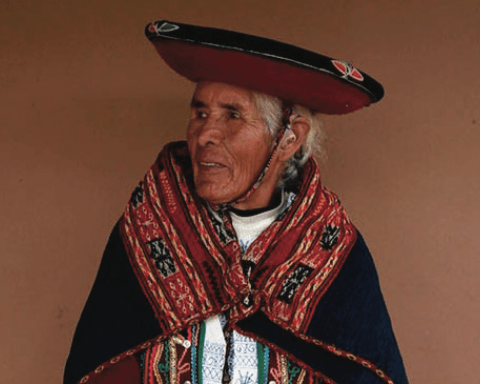 Chinchero
Textiles from Chinchero are vibrant and colourful. Natural dyeing practices using indigo (blue), cochineal (red) and chilka (green) have been reintroduced, and are used to create the richly coloured sections of Chinchero cloth. Weavers from Chincero are known particularly for their traditional blankets or lliklla created with wide sections of plain weaves, bounded by symmetrical sections rich with intricate designs. 
The distinctive technique and weaving pattern from Chinchero is known as luraypu. Weavers typically build up their design by placing a number of smaller motifs to the either side of luraypu. Chinchero weavers also have a unique border technique called 'ñawi awapa' which creates a decorative pattern as well as protecting edges from unraveling with use.
Chinchero played a key role in rekindling desire, knowledge and interest in traditional spinning and weaving practices, and remains the most famous weaving community in the Cusco area.The principal textile centre in Chinchero is the Away Riqcharicheq Weavers Association.
A number of pieces in our Peruvian Collection feature cloth from this community, including the Petworth snuggler, the Grassington Chair, and the Pentlow footstool.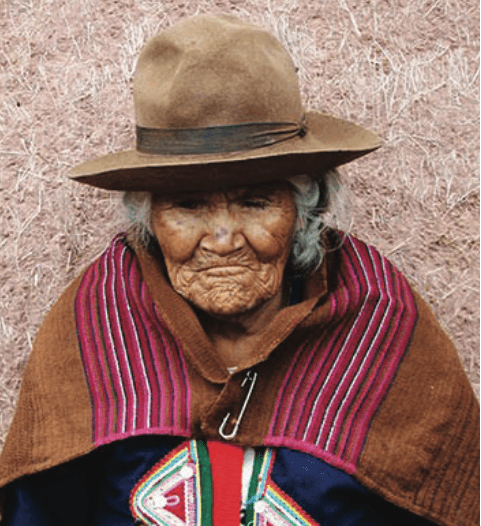 Mahuaypampa
To the northwest of the city of Cusco, tucked into rolling hills of farmland, lies the community of Mahuaypampa, much less known than neighbouring Chinchero. Approximately 30 adult weavers are now actively weaving with the Virgen Inmaculada Concepción Weaving Association using natural fibres and dyes, working in the traditional style of their community and passing on their knowledge and skills to a younger generation.
The local textiles of Mahuaypampa at times look simpler in comparison to other communities of the Andes, perhaps reflective of the primary role that agriculture plays here. Yet, they have exquisite colour combinations, reflective of the local landscape.
The main design of Mahuaypampa is mayu qenqo, which is said to represent the Milky Way. Their lliklla  (blankets) are also characterised by a uniquely patterned seam down the centre, This is called pasñas, meaning young women, and takes the form of small, multi-colored triangles which represent the large, full skirts that young women wear.
Fabric from Mahuaypampa can be seen on the Petworth snuggler.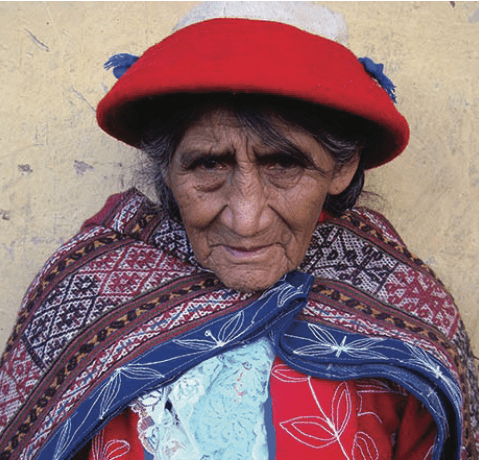 Patabamba
The community of Patabamba sits high up in the mountains overlooking the Sacred Valley and the town of Pisac. The weaving tradition of Patabamba almost disappeared before the community partnered with the CTTC in 2001. However, since forming the Away Paccharichiq Pallay Tika Weaving Association, the women of Patabamba have embraced their weaving heritage, learning and rescuing designs, techniques, and styles from their elders. Today, approximately 40 adult weavers and 30 children and adolescents are members of the weaving association.
The women of Patabamba weave their traditional lliklla (blankets) with a wide section of plain weave, often in red, green, blue or pink, and with narrower sections of designs in  complementary warp faced weave. In a technique similar to that used in Chinchero, weavers from Patabamba create a border for their textiles, embroidered with designs of flowers, birds or fish.
You can see fabric from the Patabamba weavers on the Holmfirth chair and the Pentlow footstool.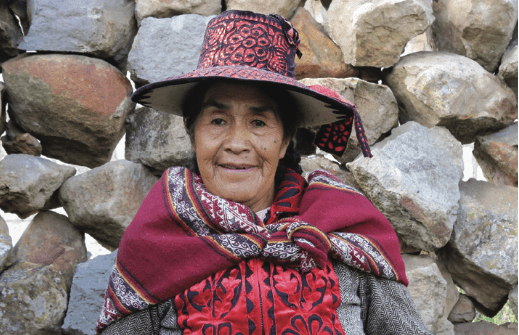 Santo Tomas
Santo Tomas, the capital of the Chumbivilcas province in the Cusco region, is hidden high in the mountains, seven hours away from the city of Cusco. The weavers of the Surphuy Weavers Association of Santo Thomas joined the CTTC in 2007, a relationship which has brought the return of natural fibres and dyes to the textiles of this community. This is an area with a strong tradition in horsemanship, which is reflected in the iconography of their textile designs which often depicts horses, riders, and bulls in the weave.
We have used fabric from Santo Tomas on the Midhurst chair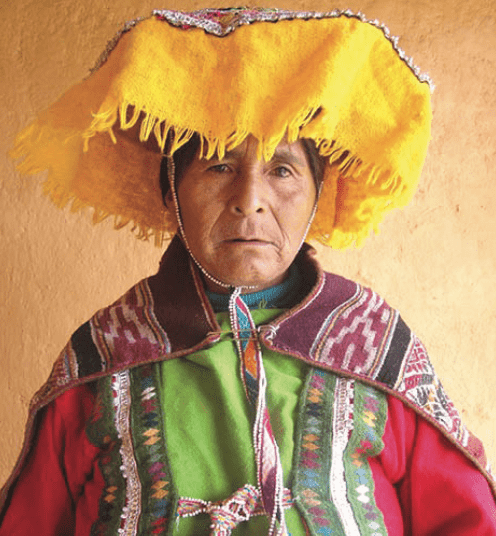 Santa Cruz de Sallac
Santa Cruz de Sallac is located in the mountains 24 miles to the south of Cusco. Nestled at the end of a dirt road, a slow 40-minute drive from the main road, the remote Santa Cruz de Sallac weaving centre has a magnificent view of the valley below. There are approximately 45 adult weavers in this community association as well as 20 young people who are learning the skills and craft. A great effort has been made in Sallac to recover traditional techniques and to reintroduce natural dyes and fibres, although many local people still like to wear a shirt woven in neon green under their traditional vests or jackets.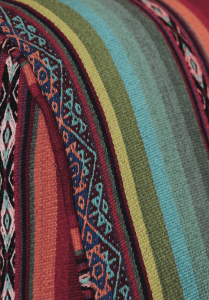 While most of the other communities use woven techniques to create their designs, weavers in Sallac embroider elaborate geometric designs representing local flora and fauna over a plain-weave cloth. Sallac is also renowned for the revival of a resist-dyeing technique, known as watay, creating the pattern of the Inca cross or Chakana, a strong spiritual symbol of Peru.
Fabric from Santa Cruz de Sallac can be seen on our Harwood chair.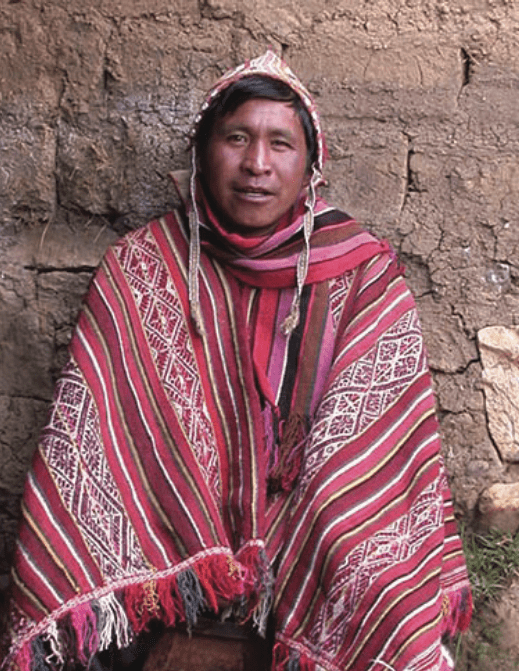 Chahuaytire
Chahuaytire is located on one of the Inca roads that connected Cusco to the jungles of the eastern lowlands. The Inka Pallay Weaving Association of Chahuaytire was one of the first associations to partner with the CTTC in 1999. Chahuaytire textiles are especially well known for the stunning colour combinations produced, as well as the incredibly high quality of the weaving, the detailed finishes on borders and seams (including the tikachay embroidery stitch that embellishes weaves). Chahuaytire men and women are intensely proud of their fine textiles, regarded as some of the most exquisite in the Cusco region, as well as their arduous efforts to recover ancient techniques and designs.
Fabric from this community of weavers can be seen on the Porthallow footstool.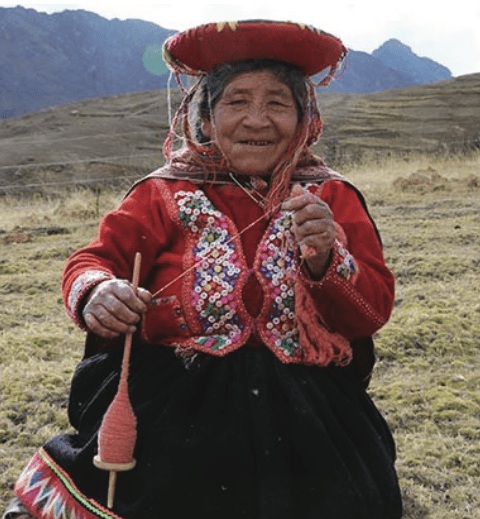 Accha Alta
Accha Alta is located approximately 2 hours northeast of the city of Cusco. At 3,941 metres above sea level, it is the highest community that the CTTC partners with. Nestled on a steep mountain slope close to the ruins of Ankasmarka, an ancient Incan granary, the weaving centre overlooks the stunning vista of the valley below. There are around 40 adult members of the Accha Alta weaving association, and 30 children and adolescents who are learning the craft.
The members of the Accha Alta association are master weavers with great skill, and intensely proud of their heritage and traditions. They have been particularly interested in uncovering pre-Columbian textile techniques, lost for hundreds of years, and are now able to reproduce these designs in the finest yarns.The most common technique used by weavers in Accha Alta is ley, a supplementary warp-face weave which produces a wide variety of one-sided designs, many of which date back centuries. One of the most popular of these ley designs is wasqa qocha, which translates as 'long lakes'. Accha Alta weavers prefer colour combinations of red and white or orange and white, with purple and other secondary colours adding contrast to their textiles. The weavers are increasingly using natural dyes, with beautiful subtle tones.
"We have recovered our traditional clothing, in the same way our desire is that our children in the community…use it. Although they might be professionals one day, we hope that they never let our traditional clothing disappear again." Victor Chura, Accha Alta weaver.
Fabric from Accha Alta has been used on our Rothermere chair.
Our limited edition Peruvian Collection of snugglers, chairs, footstools and cushions is available to by online, and at our Fittleworth, Walton-on-Thames and our Cheltenham showrooms.