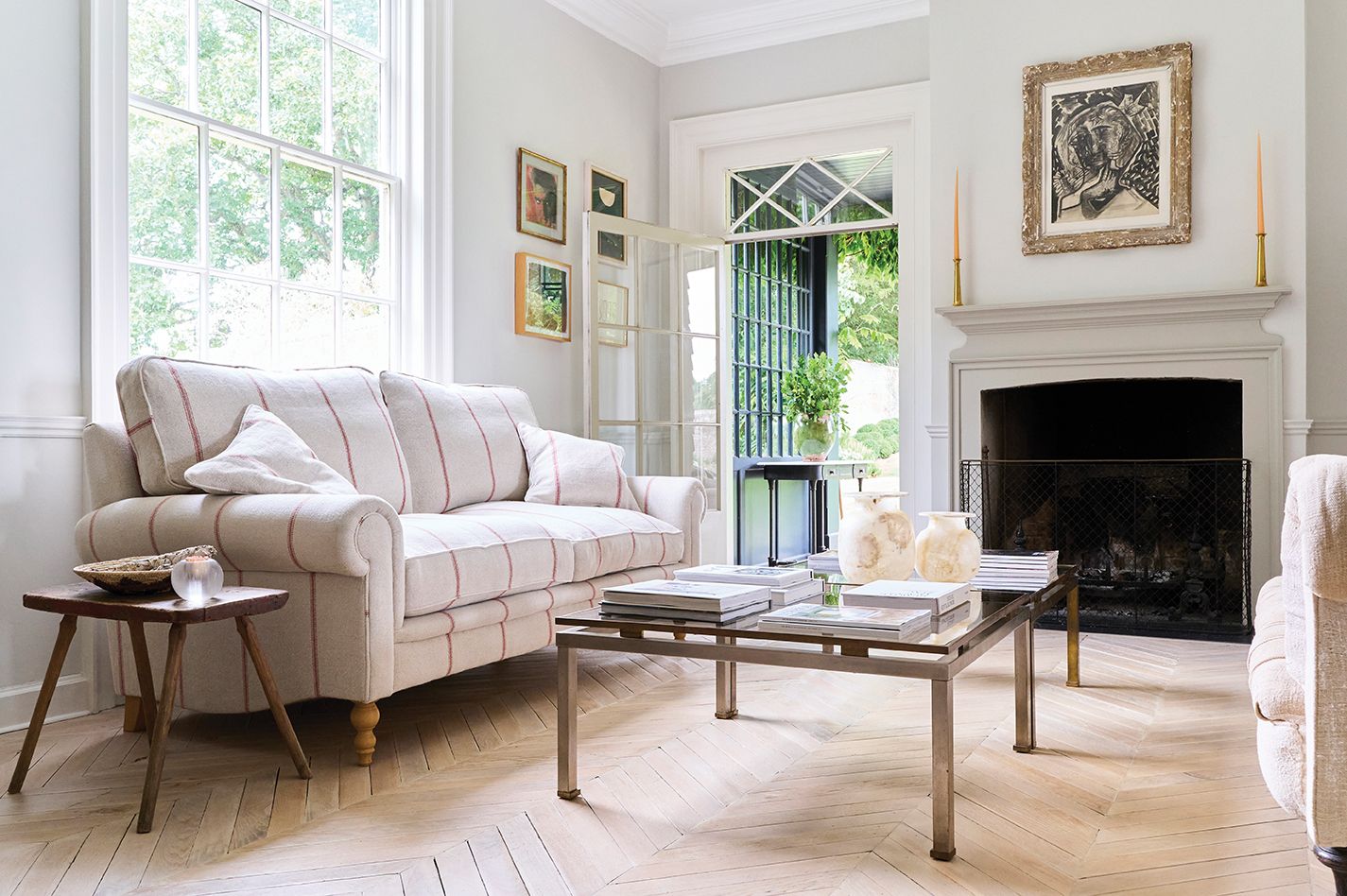 When you are looking for a new sofa, there are many different aspects to consider including its style, shape and size, along with the colour, composition and qualities of the fabric it will be upholstered in. But equally, if not more important, is what lies inside the beautiful exterior. Cushion interiors are an essential component of a sofa, and choosing the right type of cushion for the seat and the back of your sofa can greatly impact the comfort, appearance, and maintenance requirements of the sofa. In essence, the cushion filling can make the difference between whether you love or merely tolerate your sofa.
So to help you decide which sofa cushion filling, or combination of fillings, is right for you, follow our guide to the various sofa cushion interiors that we offer.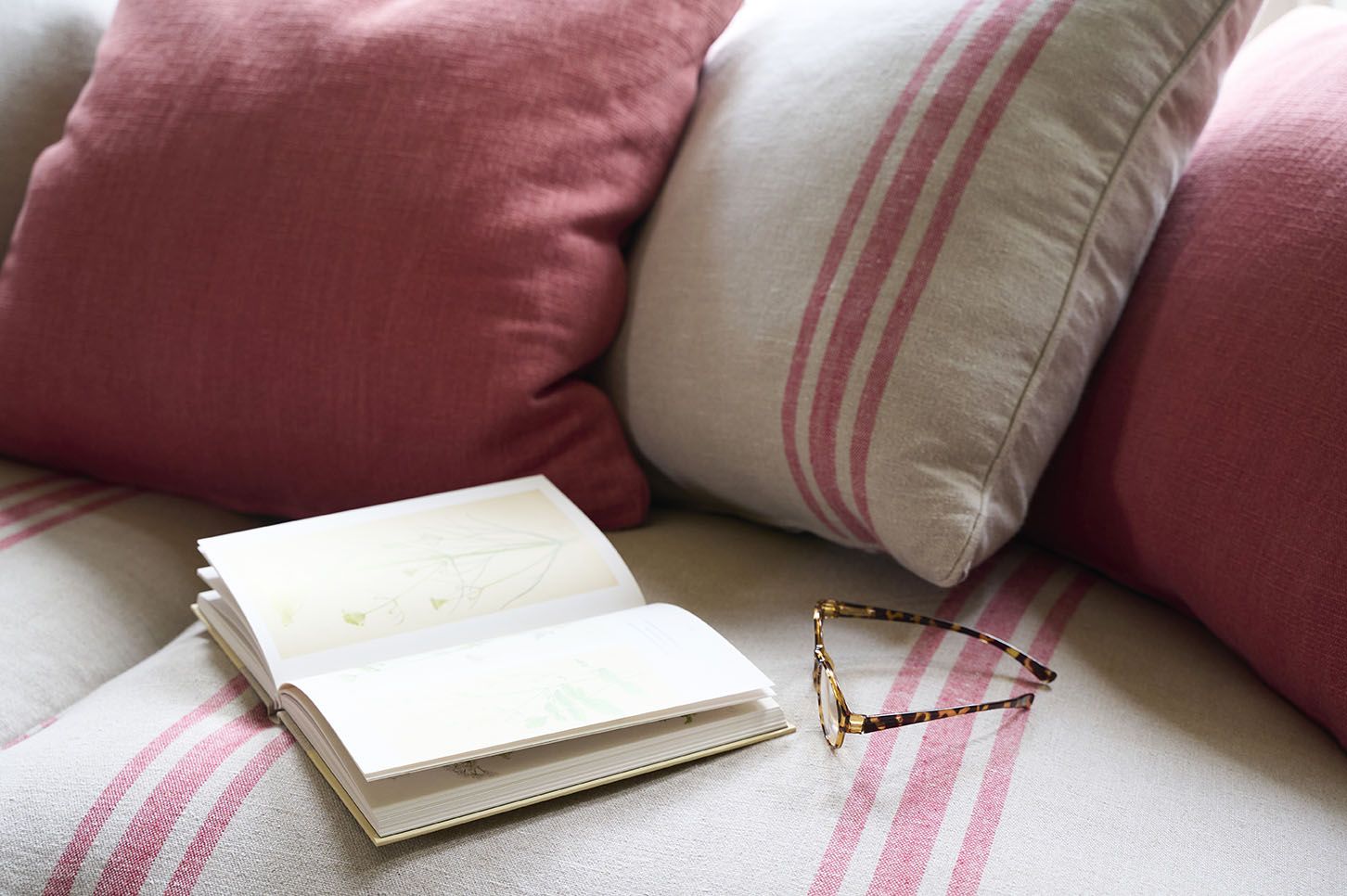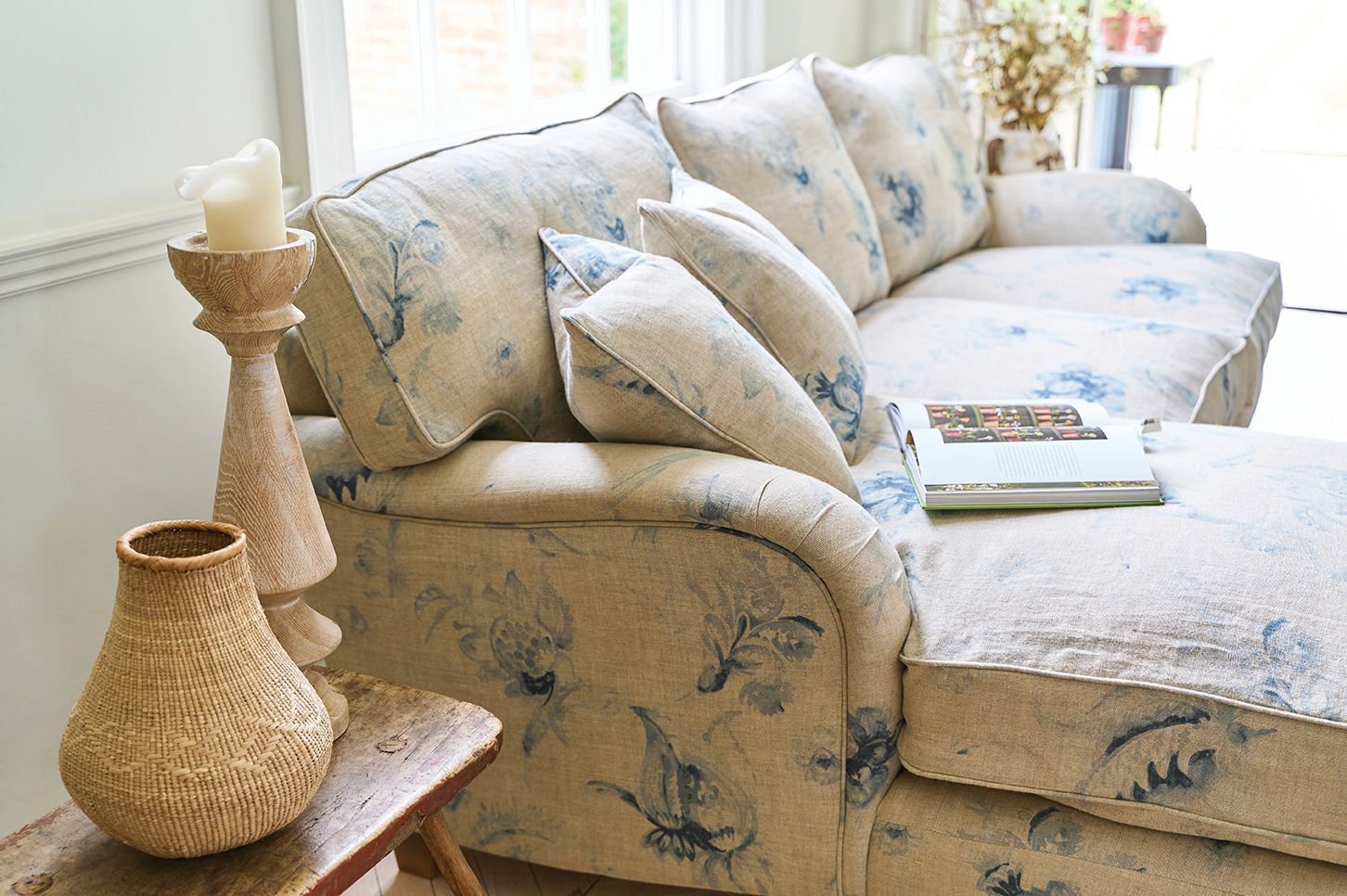 Types of sofa cushion fillings
There are many different types of sofa fillings available. Quite often they are used in combination to achieve different looks, comfort feel and level of support. Our showroom teams are highly experienced in the features of each and will be able to advise you in detail but, to get started, here are our top three options for your sofa cushion filling.
Feather
Soft and pillowy, feather cushions provide a sumptuous and comfortable seating experience. They have a natural "sink-in" feel that contours to your body. Feather cushions add texture and depth, and give a sofa a luxurious and inviting look that is hard to replicate with other cushion fillings. They have excellent temperature regulation properties, and can help keep you cosy in the winter and cool in the summer by maintaining a comfortable and consistent temperature. Made from natural materials, such as down or feathers, which are biodegradable, renewable resources, by-products from other industries.
Feather cushions do, undoubtedly, require frequent and regular plumping to keep them looking and feel their best. We recommend picking the seat cushions up, unzipping the cover, bashing the sides to bring air back into the cushion and circulating around the feathers. Dropping them (safely) onto the floor, too, will separate the feathers and add an airy bounce back to the cushion.

Fibre
Usually made of polyester, sofa cushions with a fibre filling tend to be soft and bouncy, and a relaxed feel. Fibre cushions are hypoallergenic, making them ideal for those who are allergic or sensitive to feathers or down but still want a soft sofa to sink into.
We offer Quallofil Blue fibre sofas cushions made from 100% recycled plastic sourced from Plastic Bank, an organisation which is seeking innovative social and economic solutions to prevent plastic from reaching our rivers, seas and oceans. Quallofil Blue fibre is also 100% recyclable. Not only is this particular form of fibre sofa cushions sustainable, it is scientifically designed to retain its shape and loft, even after prolonged use. Re-dressing after use and daily plumping, nevertheless, is required to give the best look and feel.
3F – feather and fibre around a foam core
Cushions with foam interiors are known for offering a firm feel, as well as their resilience to wear and tear and their relative low maintenance. They can provide a structured and neat look but, many people find that they don't offer enough softness or sink-in comfort. Over time, foam-filled cushions can begin to compress and lose their shape, especially in areas that are used more frequently. Foam-filled cushions can retain heat, which may make them uncomfortable to sit on for extended periods, especially in warm weather. They also bring some environmental drawbacks, with many being made from petrochemicals, which are not renewable resources.
A 3F sofa cushion, however, removes many of these drawbacks. Our 3F cushion interior has a blend of duck feathers and Quallofil Blue fibre set, in pockets around a foam core which adds stability to the cushion. The eco mix filling is blown into individual chambers to keep the feathers and fibre from moving too much inside the cushion.This filling and method gives soft comfort alongside support, and a long-lasting neat look for the sofa. 3F has great bounce-back qualities but we always advise re-dressing after use. They are a great choice for more contemporary sofa designs, or it you prefer a firmer, bouncier feel.
Other things to consider for your comfort
When thinking about sofa cushions and your comfort, don't forget too to consider the style and form of the sofa itself as cushion back, scatter back and fixed or sprung back sofas will all give a very different look and feel.
A cushion back sofa, such as our bestselling Alwinton, will have two, or three box-sided cushions of an equal size across the back of the sofa, whereas as in a scatter back sofa, the upholstered back frame is covered by loose cushions to give a more pillowy, informal style. In a fixed back sofas, such as the Kentwell, rather than using loose or fixed cushions, the back frame of the sofa itself is sprung and upholstered. This style offers neat, more formal lines, as well as slightly firmer seating.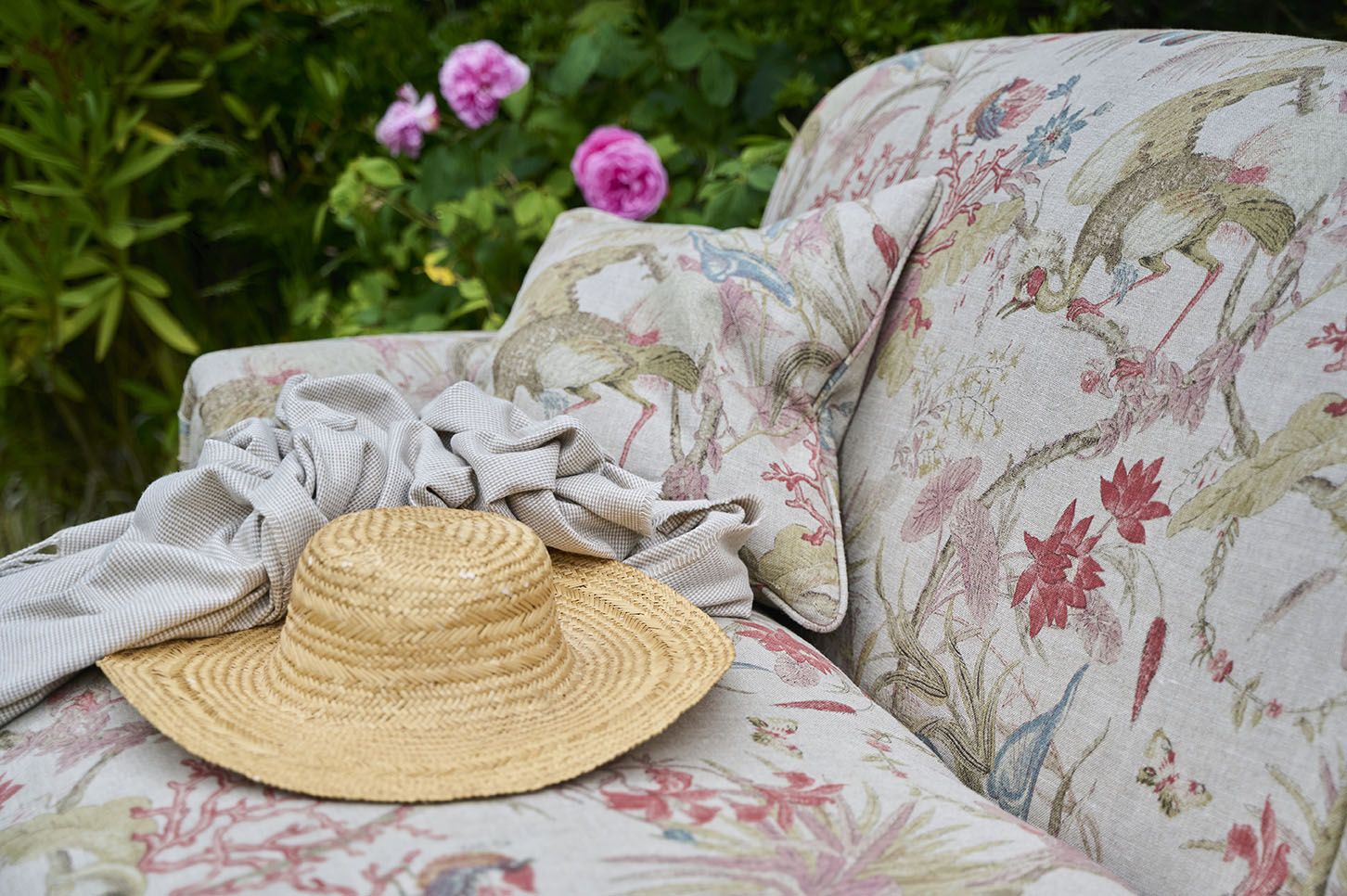 The depth of the seat and the shape, and height of the arms, will also have an affect on your perception of comfort, so it is always worth trying all kinds of different designs to see what suits you best. We have a wonderful range of different sofa styles for you to explore. And, of course, the same advice can be applied to the range of armchairs, snugglers and chaises that we offer.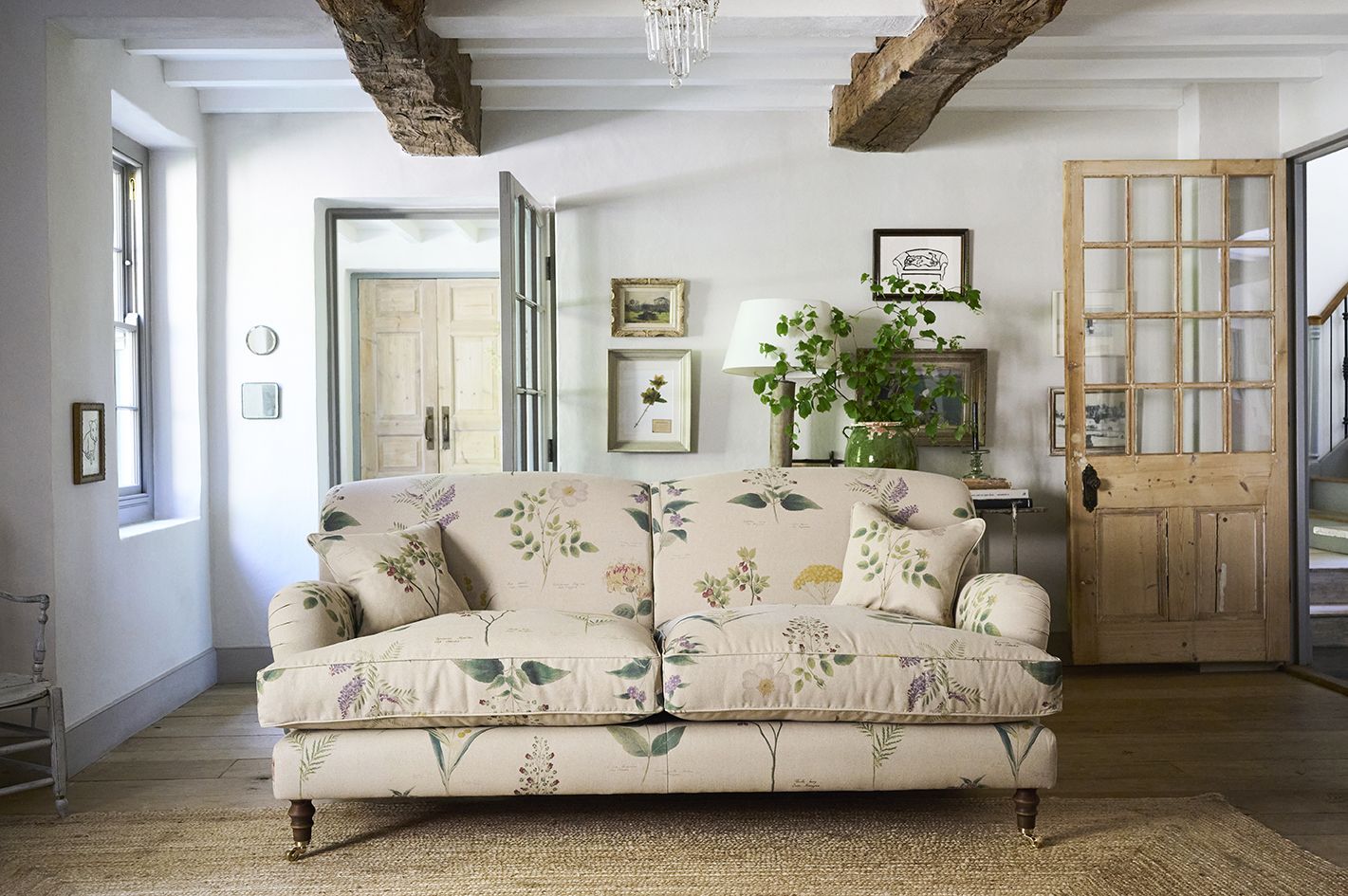 The fabric you choose to upholstered the sofa will also affect the look and feel to some degree, so we do encourage you to consider both in combination. A linen sofa, for instance will develop a more relaxed look than a sofa upholstered in a crisp cotton weave.
We hope this guide is a useful starting point on your journey. We can't recommend enough the value of coming into one of our 23 beautiful showrooms to try out different sofa models and cushion filling options. Our experts design consultants will be on hand to listen to your needs and preferences and help direct you towards exactly the right sofa for you.