During the onset of the pandemic in 2020, Andrew Cussins, Founder of Sofas & Stuff, was looking through past issues of the inspirational textile and cloth magazine Selvedge and decided to approach editor Polly Leonard to see if she had any connections with artisans who could make fabrics suitable for high-end upholstery. He was presented with a range of interesting options, but samples from a community of weavers in Peru particularly caught his attention.
An introduction was made with the Centre for Traditional Textiles in Cusco, in the Andean region of Peru, which works with 500 adult weavers and 250 children who attend a Saturday school to learn the craft techniques of their Inca and pre-Inca ancestors. An exciting partnership quickly followed.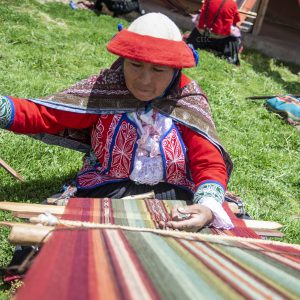 The project got underway with Andrew submitting an order for 360m of cloth to be woven – no mean feat for a textile that is created from hand spun and naturally dyed fibres by many different weaving communities, often far away from each other.
The order in fact turned out to be something of a lifeline for the communities, who were severely hit by the pandemic and the shutting down of Peru's tourism industry. The financial security the project provided helped them through some very difficult times.
Sofas & Stuff are now preparing to launch the results of this remarkable collaboration in October 2022: a unique, limited edition collection of furniture created from the handwoven cloth showcasing the very best in hand craftsmanship from opposite sides of the world. Artisan-makers brought together during a global pandemic, in a celebration of textiles, craft and heritage.
Sign up to our newsletter to be among the first to see this spectacular limited edition collection.



To find out more about the craft of the Peruvian weavers, pick up a copy of the Winter edition of Selvedge https://www.selvedge.org/