We are delighted to introduce the V&A Drawn from Nature Collection in collaboration with the Victoria and Albert Museum, the second of our exclusive fabric collections with the world's leading museum of art, design and performance.
A delightful assortment of designs inspired by the natural world, Drawn from Nature presents a joyous mix of flora and fauna based on wallcoverings, textiles and illustrations from the V&A archives. A feast of botanicals and woodblock prints from the Arts and Crafts era have been reimagined, playing with scale and colourways, creating a refreshing yet familiar suite of prints. These exclusive and captivating fabrics are printed in Lancashire on natural fabrics which are both soft to the touch, yet robust enough to deal with the demands of 21st century living.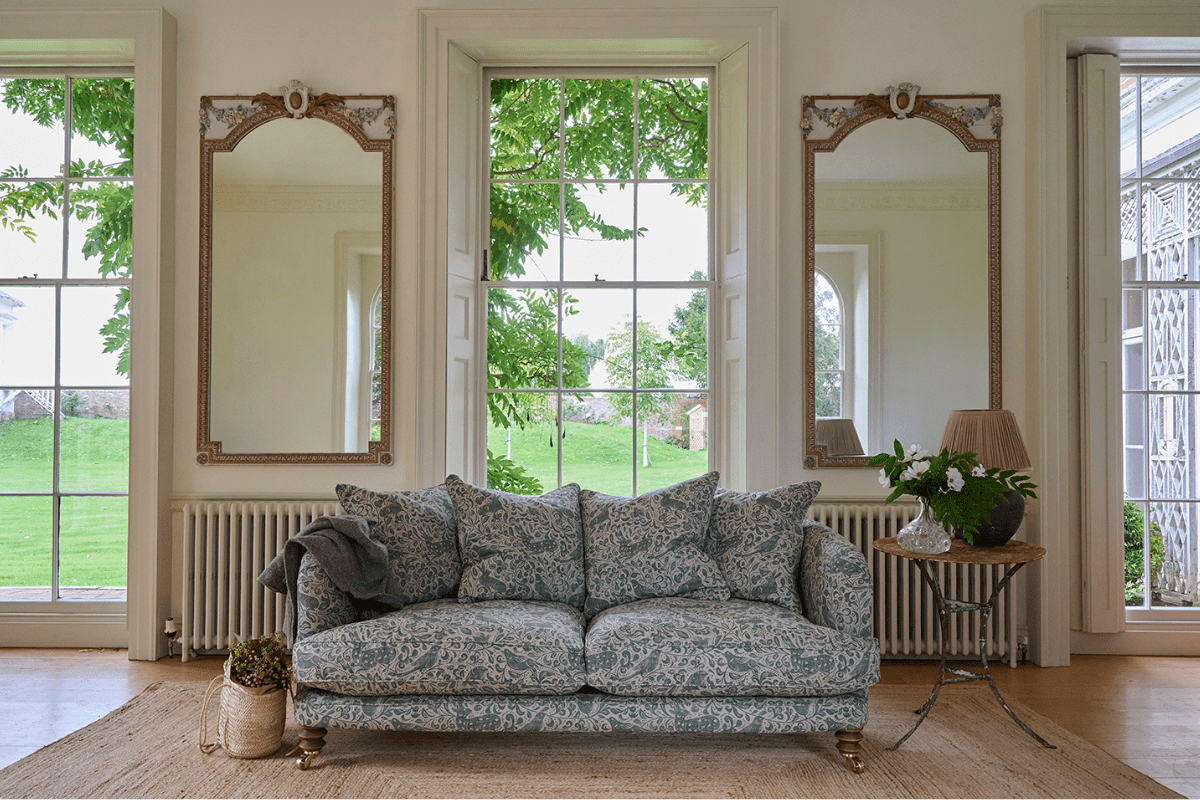 Helmsley 3 Seater Sofa in V&A Drawn from Nature Collection, Bird and Rabbit, Dark Green
This collection reflects our desire to create fabrics and furniture with the long view in mind. We are endlessly inspired by nature, informed by art and heritage and committed to delivering quality that lasts. New designs are introduced, not in response to passing trends, but because of their intrinsic beauty and durability.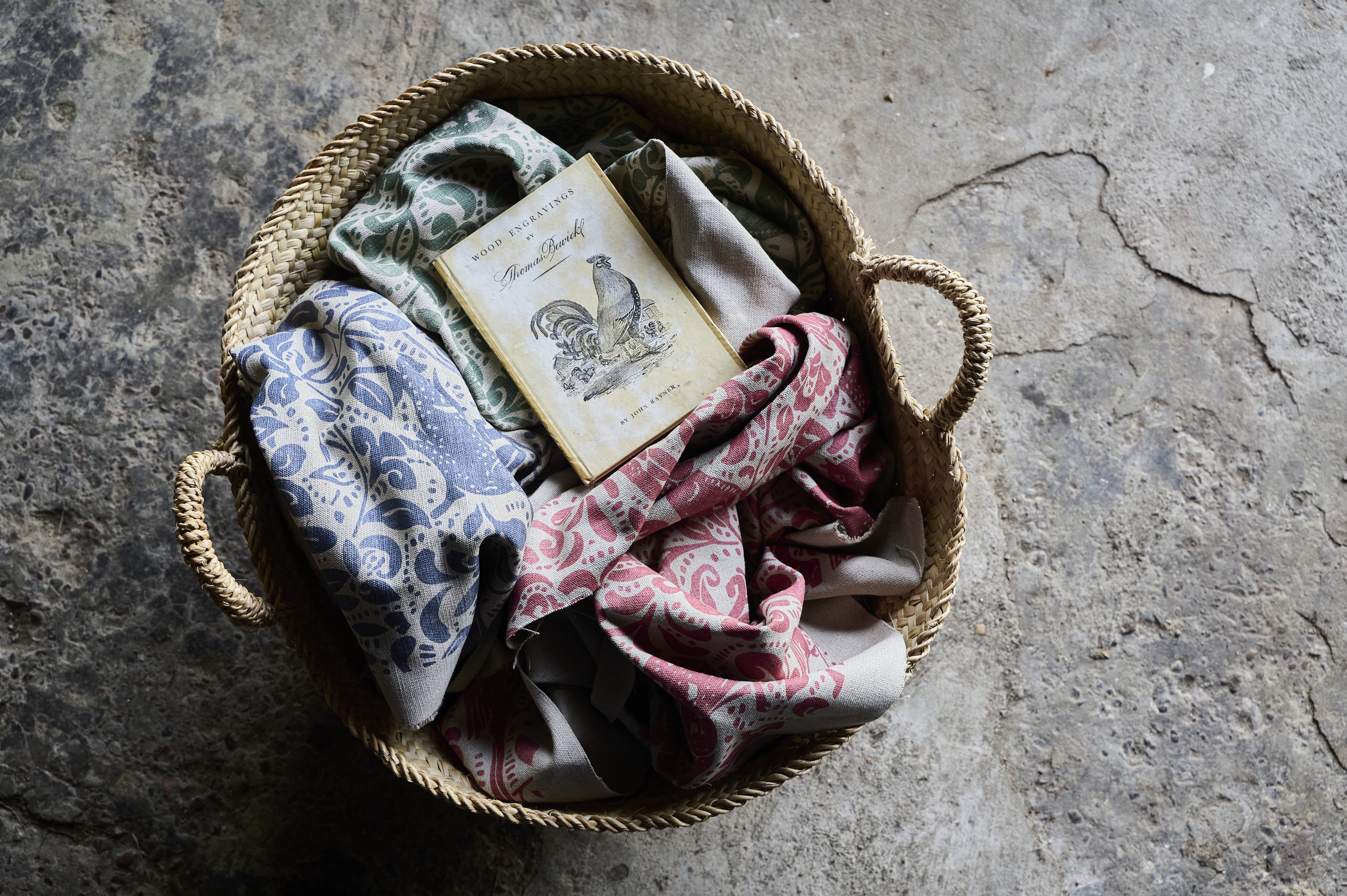 V&A Drawn from Nature Collection, Bird and Rabbit.
Arts and Crafts motifs from the V&A archives, re-imagined
The collection presents four heartwarming print designs based on Arts and Crafts era patterns by William Morris and two of his associates, John Henry Dearle and Thomas Wardle.
William Morris was captivated by nature from childhood, spending much of his time exploring Epping Forest and the surrounding countryside. These themes informed much of his pattern design, as well as those of the artists associated with and mentored by Morris. The Oak Tree fabric design which features in this new collection was originally created by Dearle an immensely talented designer who worked closely with Morris and was appointed Art Director of Morris & Co after William's death in 1896. Dearle designed Oak Tree as a wallpaper that same year. The pattern's use of formalised natural elements strongly echoes Morris's style. Our fabric version adds additional colour variations within the design, bringing versatility and a freshness for contemporary interiors.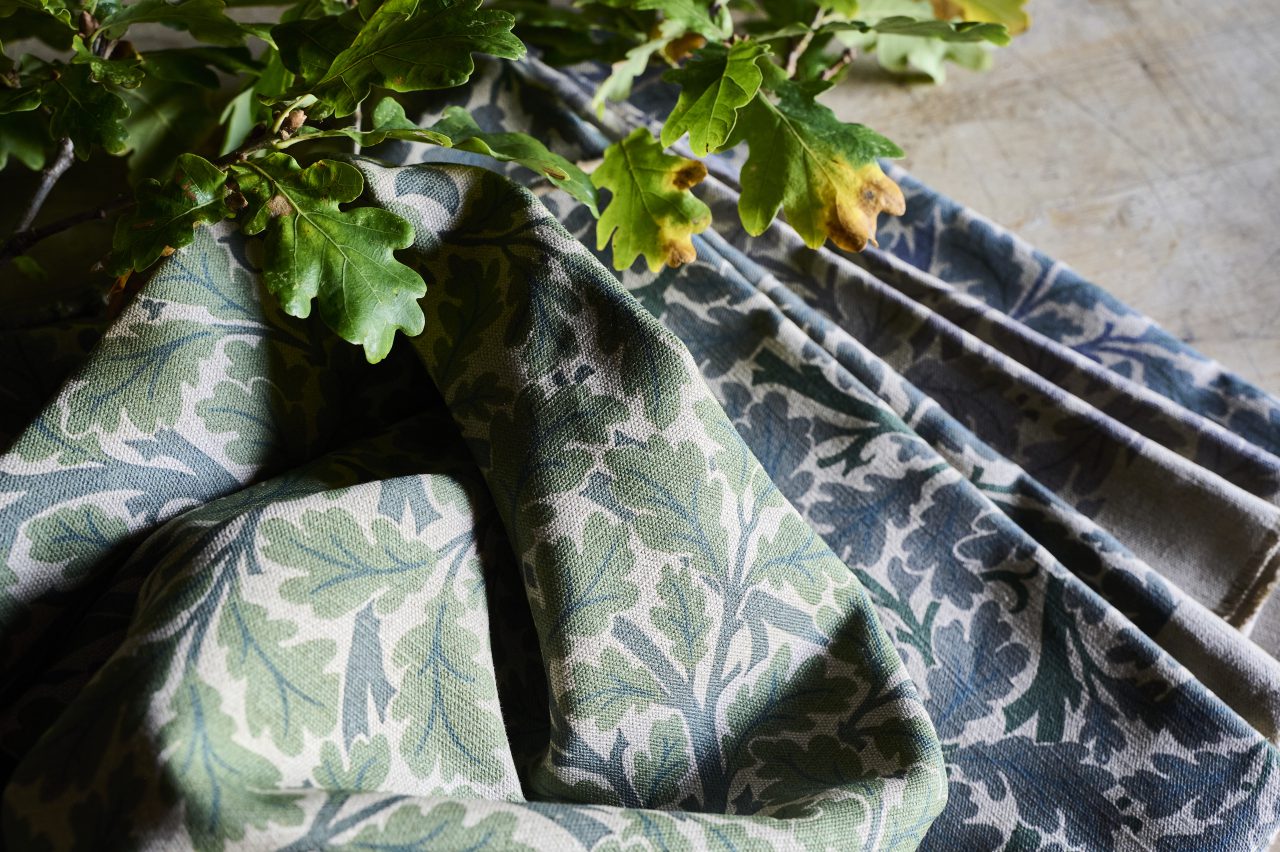 V&A Drawn from Nature Collection, Oak Tree.
Beauty, simplicity and the enduring appeal of woodblock prints
The Drawn from Nature Collection celebrates the traditional woodblock printing technique that lay at the heart of William Morris's wallpaper and fabric designs. Bird and Rabbit demonstrates this perfectly. Originally produced in 1885 by Thomas Wardle, Morris's master dyer and textile printer, the design of woodland creatures amid scrolling foliage is a bucolic delight. Loosely based on traditional Indian and Middle Eastern designs, the original linen textile was used to decorate a book cover. Here we interpret this charming design anew in a broad colour palette of ten soft, natural tones.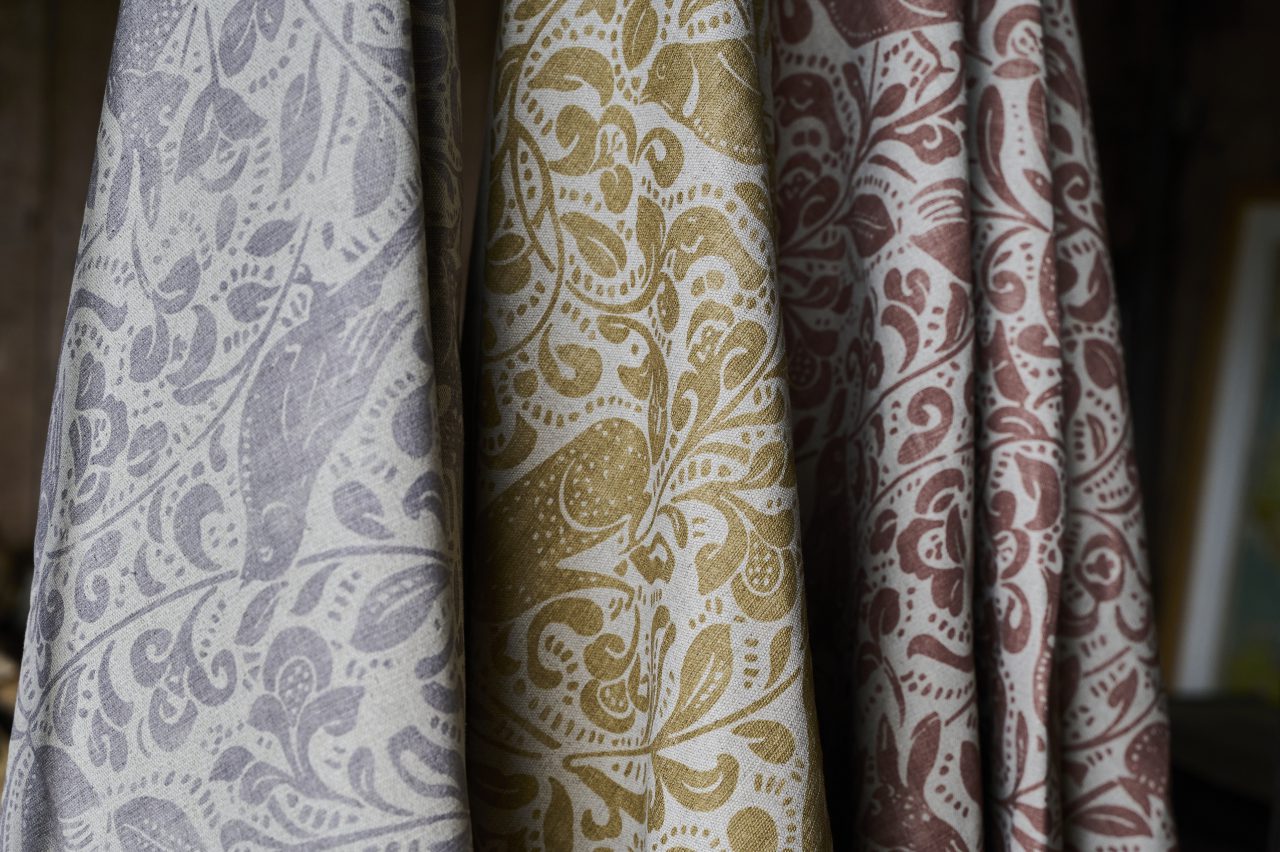 V&A Drawn from Nature Collection, Bird and Rabbit in Grey, Gold and Terracotta colourways.
Drawing inspiration from nature
Many of Morris's wallpaper designs were based on the natural world which he studied at first hand. His exuberant designs interweave plants drawn from his own gardens and the wildflowers and trees which he had seen on country walks. In a 1881 lecture, 'Some Hints on Pattern Designing', Morris presented his view that the ideal pattern should have 'unmistakable suggestions of gardens and fields.' So why not harness the beauty of a nature-inspired pattern, bringing the glories of nature indoors and onto your sofa.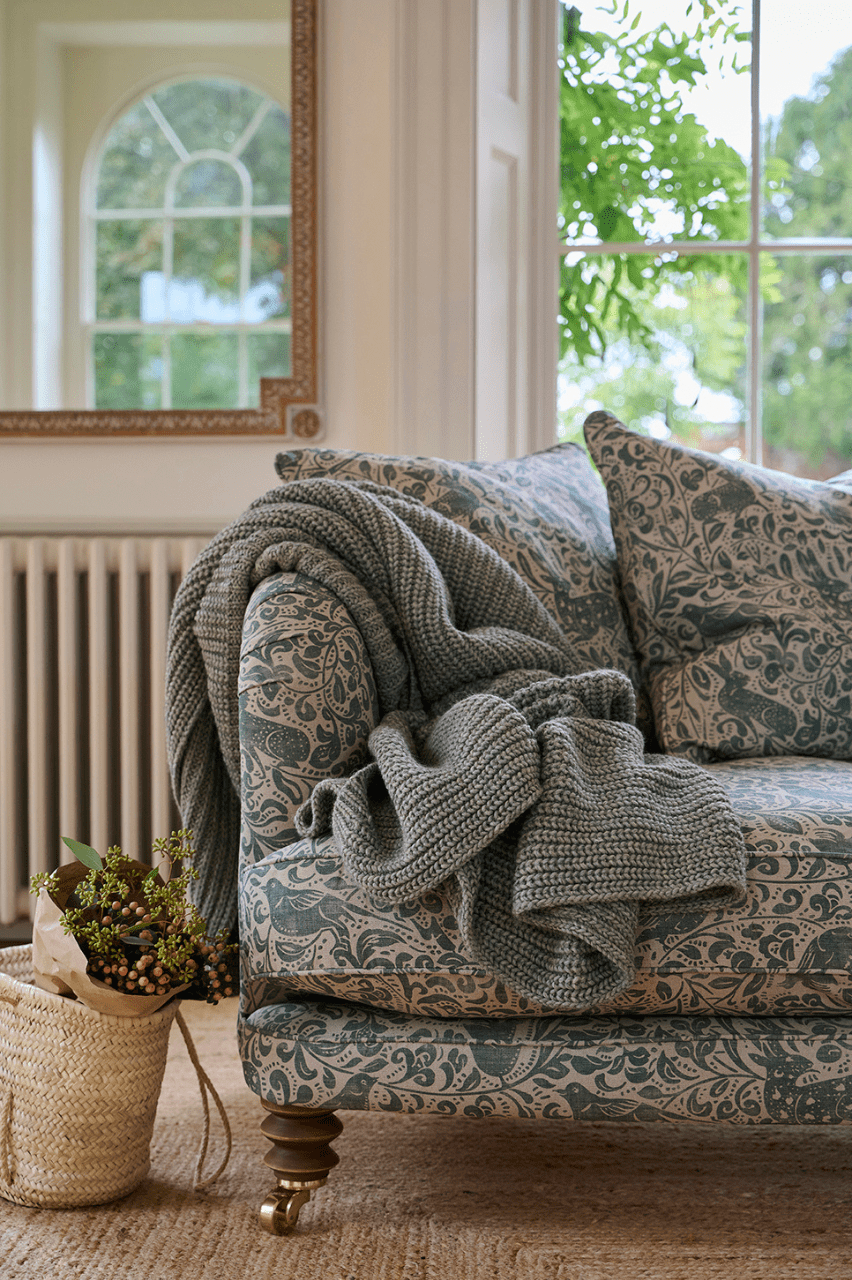 Helmsley 3 Seater Sofa in V&A Drawn from Nature Collection, Bird and Rabbit, Dark Green.
Willow and Willow Bough Large
The willow leaf was one of Morris's favourite motifs, used in several of his designs for wallpaper and for textiles. Our collection features two fabric designs inspired by willow leaves. The first, Willow Bough Large is drawn from Morris's Willow Bough design, an intricate and naturalistic pattern created by Morris in 1887. We've brought our own perspective to this iconic print, enlarging the scale and introducing our own colourways on natural toned 100% linen, which works wonderfully well on furniture.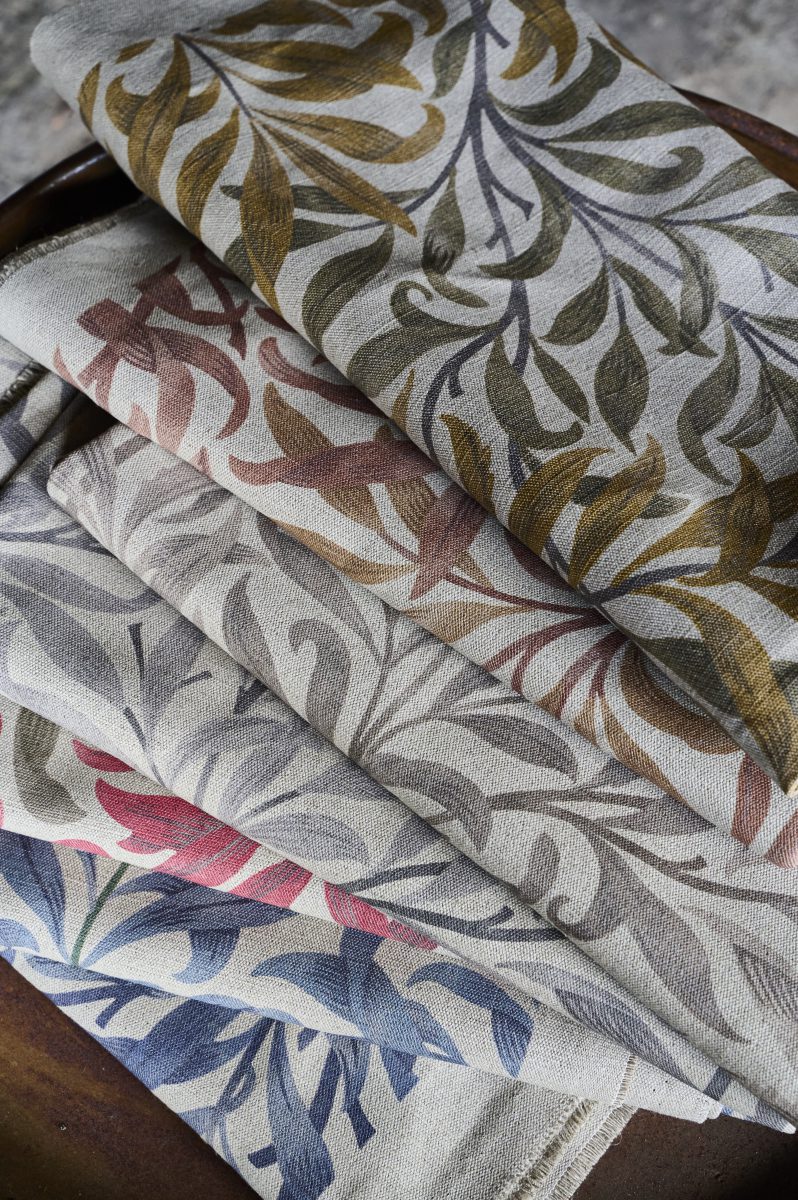 V&A Drawn from Nature Collection, Willow Bough Large fabrics
Our second pattern is the simple repeating Willow design which depicts elongated and overlapping foliage in a wonderfully rhythmic pattern. The design is taken from a printed textile originally produced by Morris & Co. in the 1870s. It is likely to be the work of Dearle, the apprentice who became Art Director of the firm after Morris's death. Its delicate, understated feel will work well in traditional and contemporary properties alike.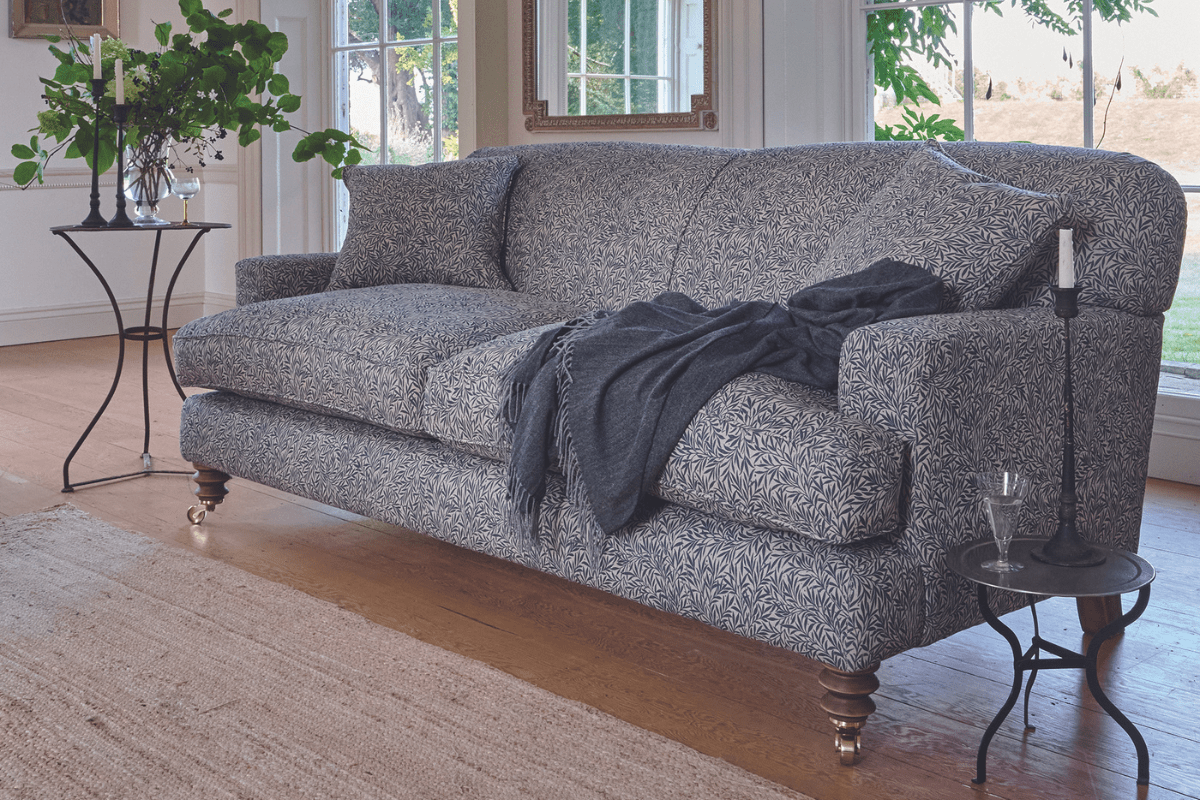 Linton 3 Seater Sofa in V&A Drawn from Nature Collection, Willow, Navy.
Bringing nature indoors
These beautiful fabrics join our first collaborative collection with the V&A, the Brompton Collection, which features designs from textile patterns from the 16th to the 19th centuries – elegant stripes, exotic birds and floral chintzes – alongside botanical illustrations. We've developed a fabric from this first collection, Botanical Collage, which features exquisitely detailed fruit and vegetable illustrations from the V&A's collection of nature studies into a versatile new design, Botanical Collage All Over. This cheerful decorative print, shown here on the elegant Midhurst 2 Seater Sofa, creates an engaging and stylish piece that will add everlasting character to any classic abode.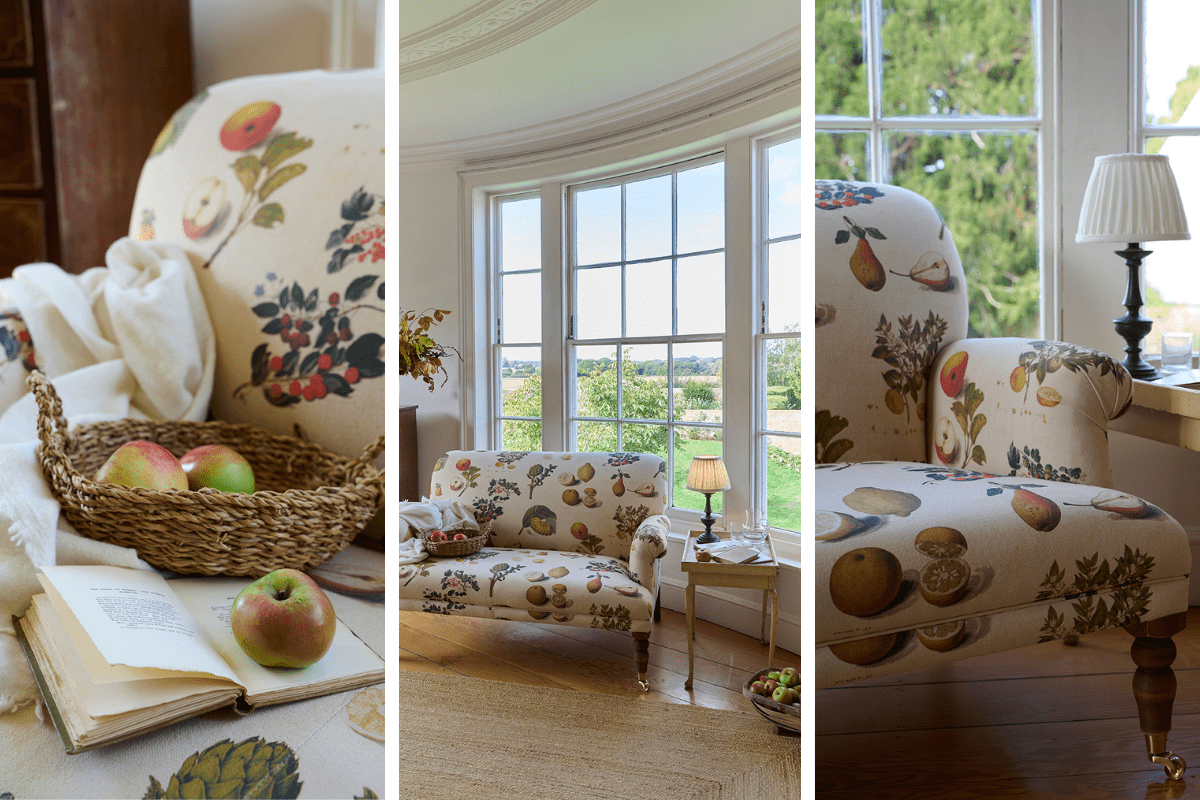 Midhurst 2 Seater Sofa in V&A Drawn from Nature Collection in Botanical Collage All Over
Feeling inspired? The Drawn from Nature Collection is now available in showrooms, and online. Find your nearest showroom to come in-store and see the soft yet characterful colours and feel the lovely quality of the fabrics in person. Of course, if you want to start exploring immediately, you can view and order fabrics samples online today.