"My garden is my workshop, my private study and place of rest."
Gertrude Jekyll, Colour in the Flower Garden, (1908).
Our latest fabric collection with the Royal Horticultural Society (RHS) brings a fresh perspective on one of British horticulture's most famous garden designers, Gertrude Jekyll, by reimagining and reworking onto fabric a selection of her sketches, drawn from a single scrapbook housed in the RHS Lindley Collections, that span 45 years of her life.
To help us dig deeper into the story of the extraordinary woman that underpins so much of this collection, we visited Munstead Wood, the garden created by Gertrude Jekyll in the 1880s and her home until her death in 1932, and spoke with Annabel Watts, who, for the last 10 years, has been head gardener at this remarkable place.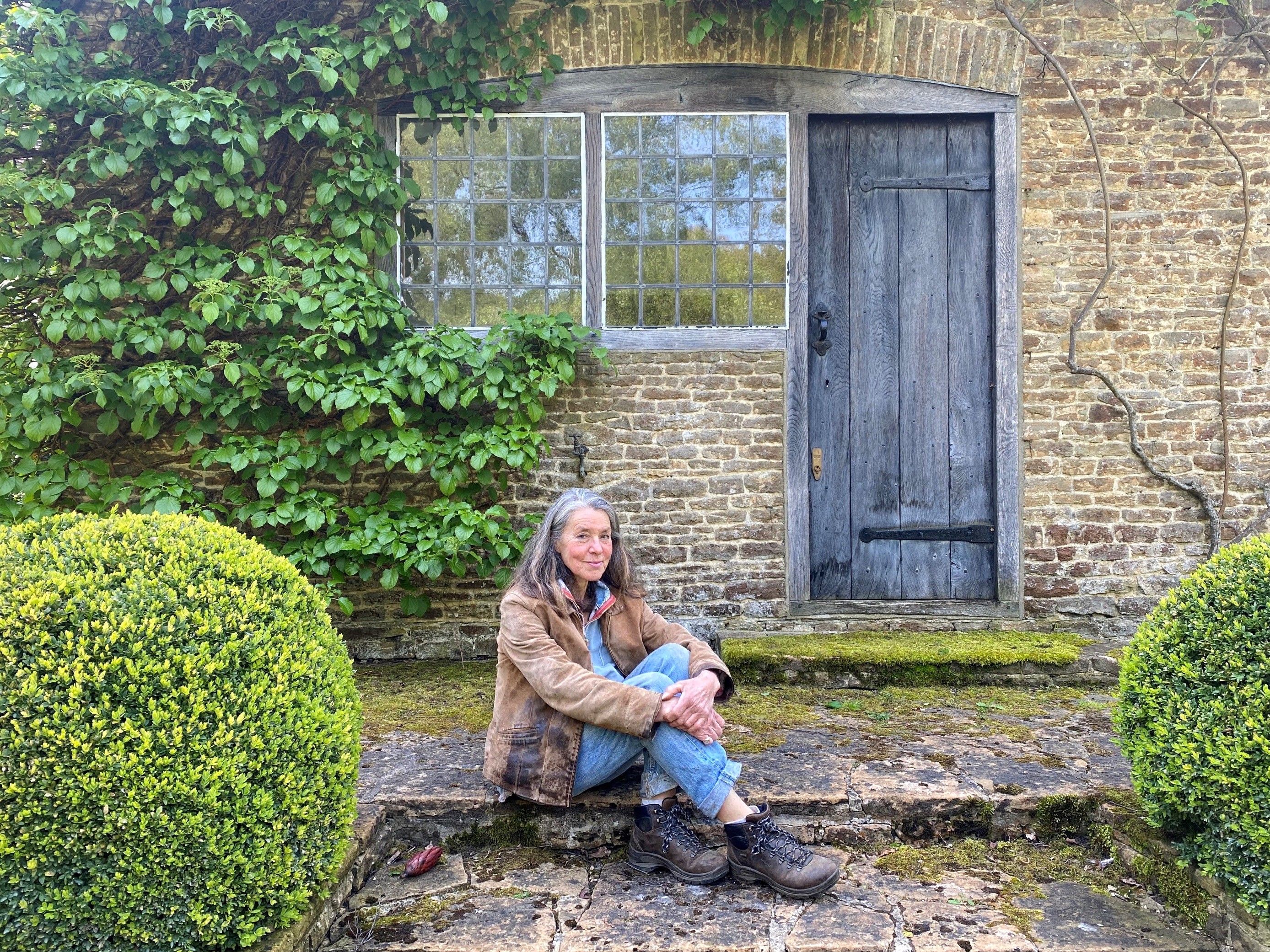 Annabel, your familiarity with Munstead Wood, built up over the 20 or so years you have been here, first as an apprentice gardener and then as head gardener, must mean you have garnered a great deal of knowledge about the life and character of Gertrude Jekyll.
What first brought you to Munstead Wood?
I had been working in London as a secretary/PA for some 20 years when I decided I had enough of commuting and should look for a part time job in nearby Guildford. There was nothing suitable under the Secretarial column in the local paper, but a short advert under the title Horticulture caught my eye. It said Part-time Gardener required, no experience necessary. It had a local number, so I rang it. I went for an interview that afternoon and the following week, I was a part-time gardener at Munstead Wood!
What have been some of the highlights of working as head gardener here?
Recently I was invited by Royal Danish Horticultural Society to give a lecture on Munstead Wood at their AGM in Copenhagen which was a great honour. Munstead Wood is part of horticultural history and attracts architects, garden designers, landscape architects, historians, writers and artists from all around the world. I thoroughly enjoy meeting all the visitors who join my tours of the garden. It has also been interesting meeting head gardeners from other Jekyll gardens. My association with Munstead Wood has opened all sorts of doors which I would never have thought possible.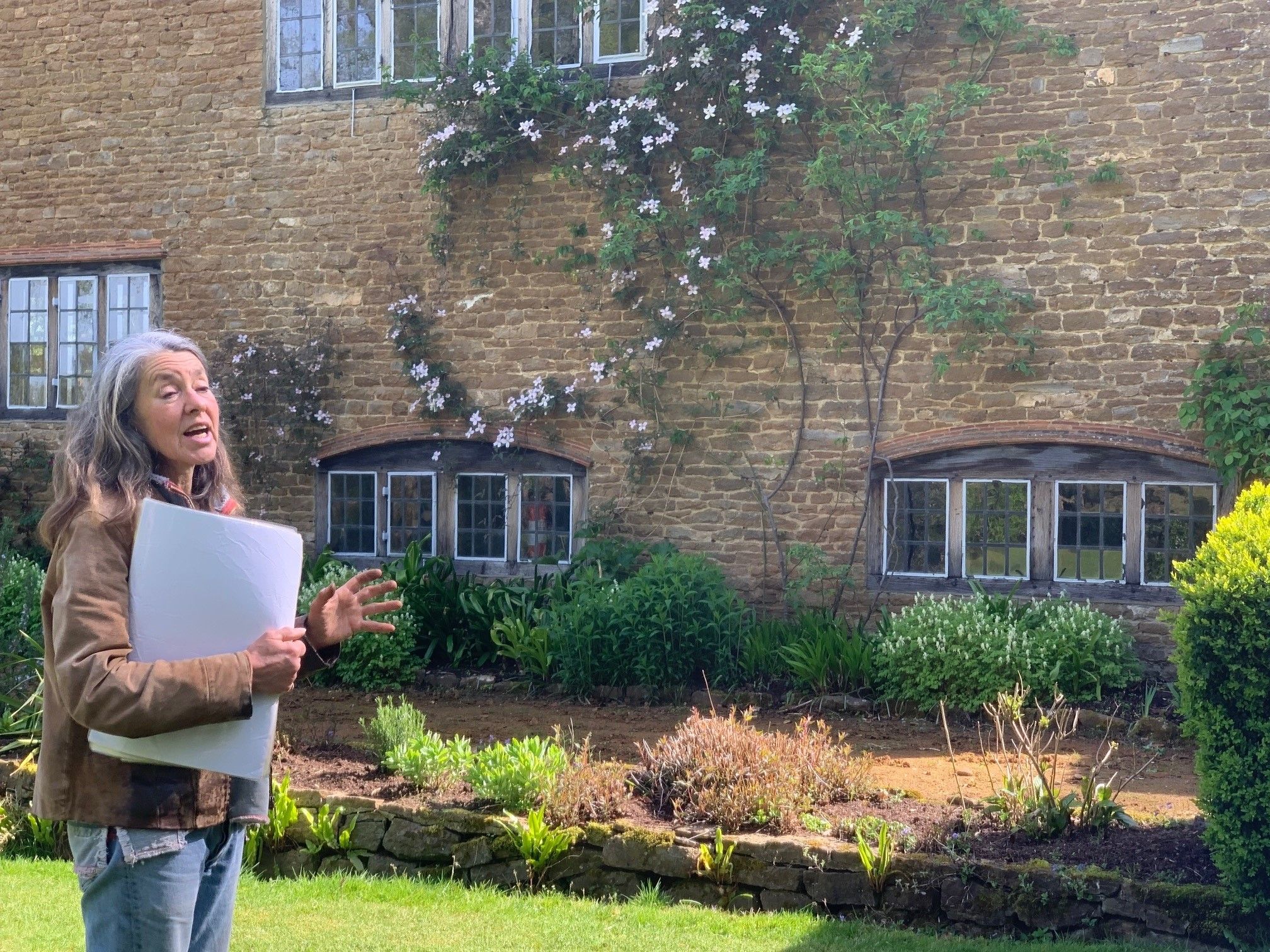 Are you supported by volunteers here at Munstead Wood?
As Munstead Wood, up to this point in time, has always been a private home we do not have volunteers, just a very small team of gardeners.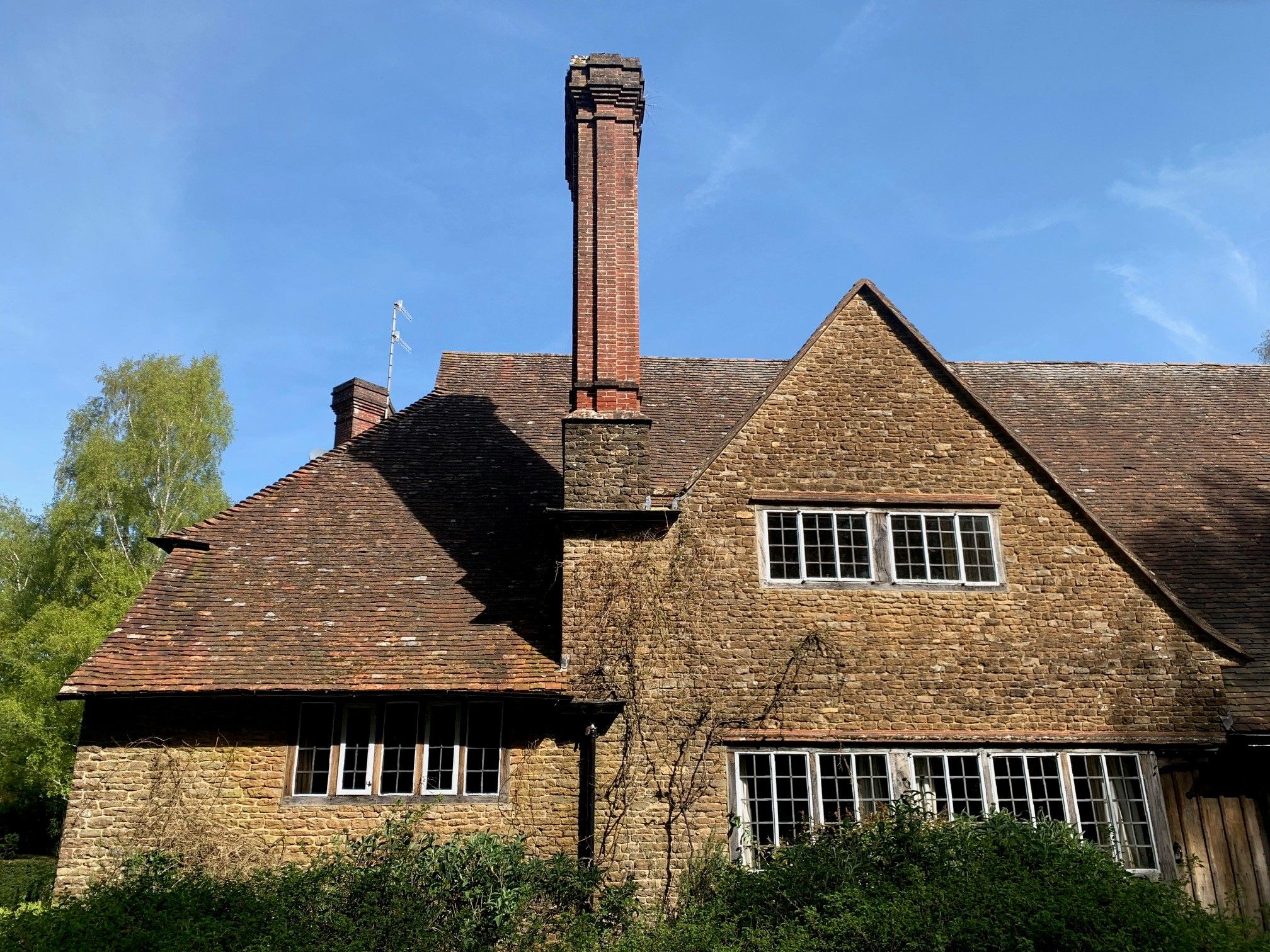 Gertrude Jekyll is obviously best known for her contribution to the British planting style and, Munstead Wood is key to understanding that story.
What else, in your opinion, does the house and garden reveal about this remarkable person?
What I find remarkable about Miss Jekyll is that Munstead Wood was a place of work – she ran a business from there. Miss Jekyll designed herself a house, with young Lutyens, to have a book room (where she did all her writing), a dark room to process all those black and white photographs that accompany her books and magazine articles, a work room where she did wood carving, inlay work and silver repousse work, and a garden shop where she sold cut flowers to florists in Godalming High Street and where she made flower arrangements for clients. Outside, she had a nursery, trial gardens as well as formal gardens.
Munstead Wood, like many of Gertrude Jekyll's garden designs, is divided into different sections, with specific planting schemes for seasonal interest.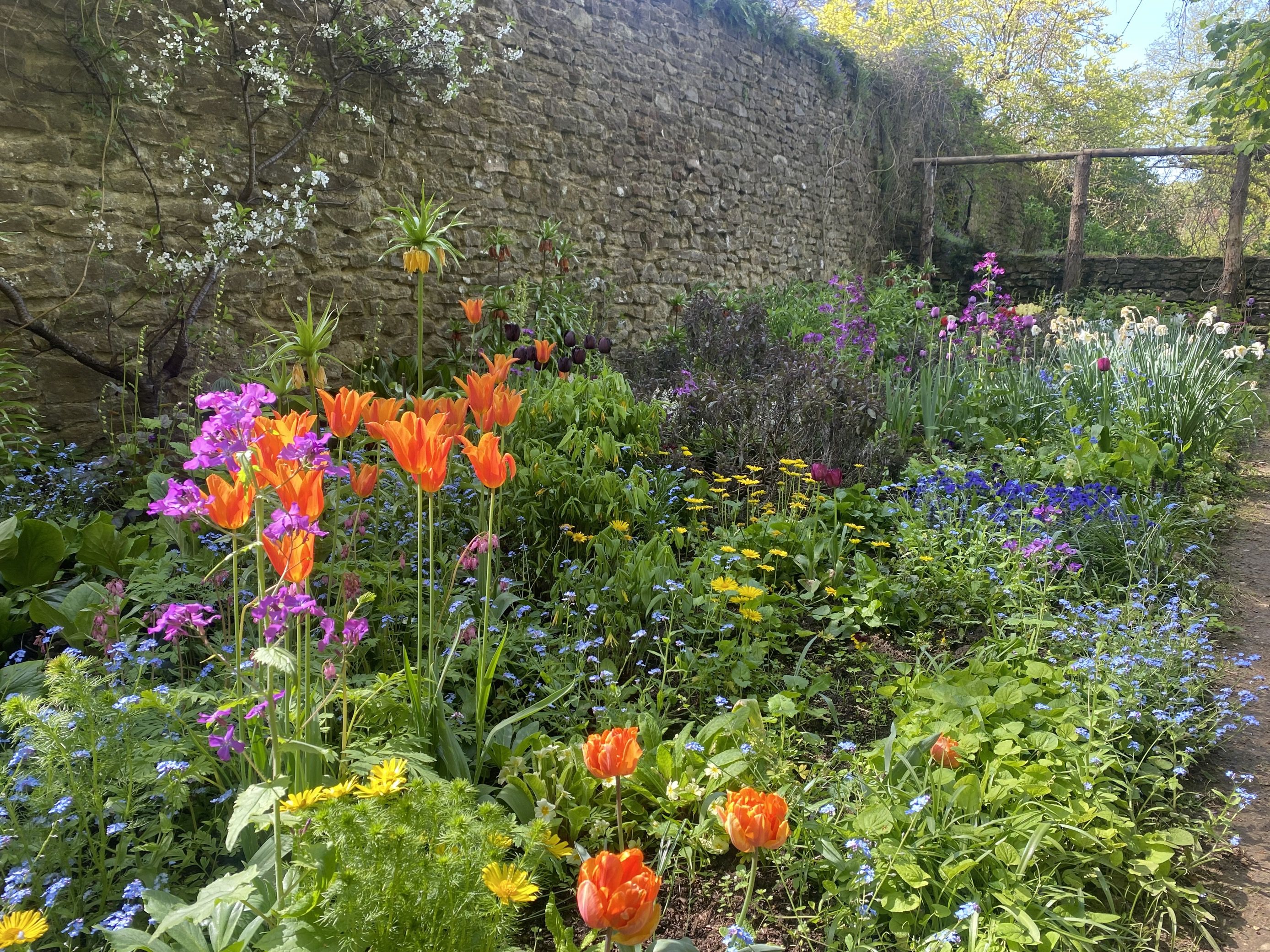 Do you have a favourite area of the garden?
I especially love the Three Corner Garden which is in bloom in early summer. It is full of lupins, peonies, poppies, euphorbia, Canterbury bells, bearded irises, Nigella Damascena Miss Jekyll and species roses.
What is your favourite view here, perhaps of the house, or within the garden?
My favourite view has to be of the doorway from the Main Border to the Three Corner Garden – you need to see it for yourself!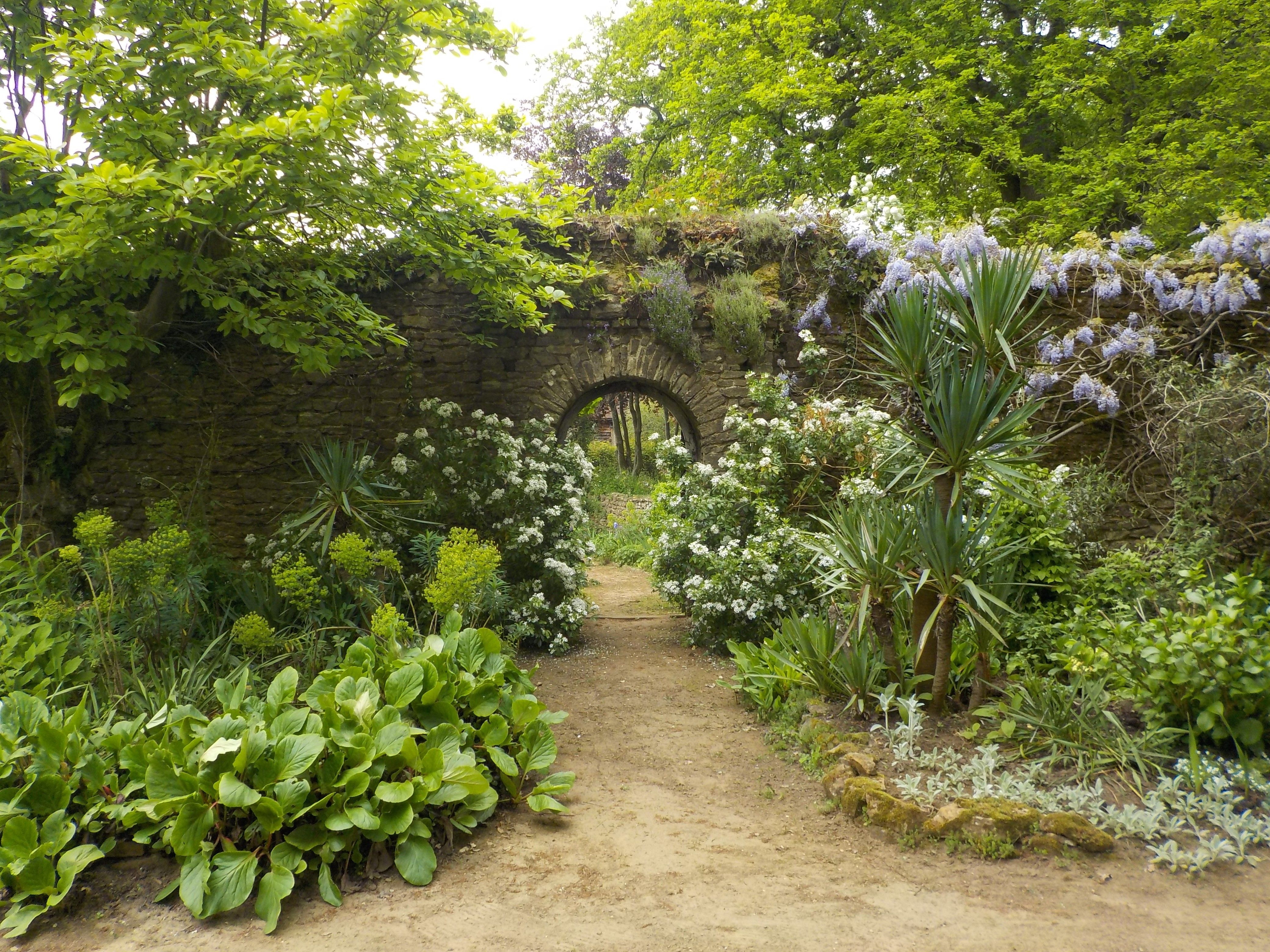 To create our new RHS fabric designs we turned to a scrapbook of Gertrude Jekyll's with sketches and tracings from over 45 years of her life – that is part of the RHS Lindley Collections (excerpts are pictured below). This fascinating source shed light on the breadth of her creative talents beyond garden design, such as woodcarving, silver repousse work and embroidery.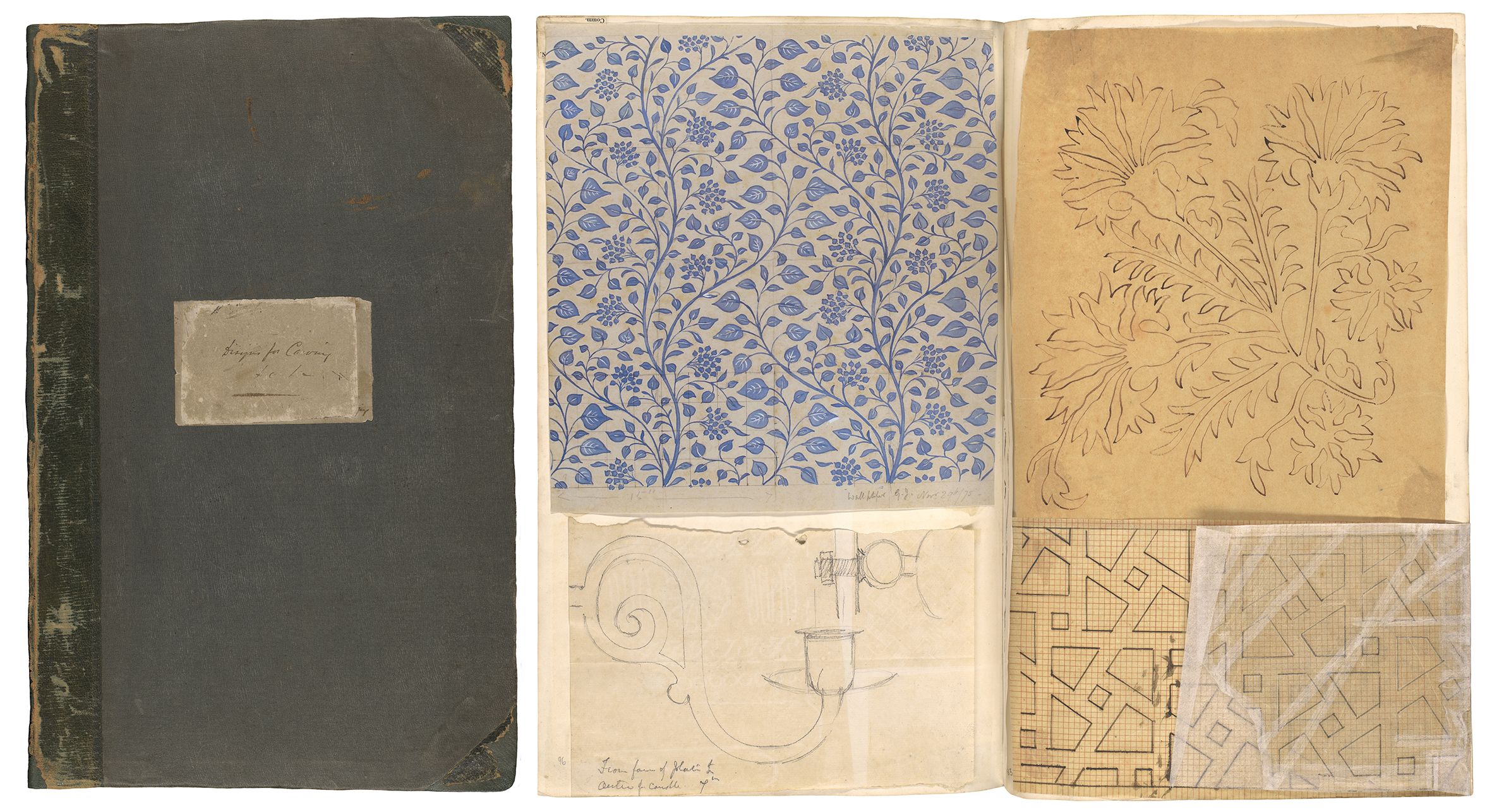 Does Munstead Wood and its garden, give a sense of Miss Jekyll's wider interests in design and craft?
Oh yes, I've already mentioned how the layout of the house was expressly designed to include designated areas for Miss Jekyll's varied creative pursuits. And of course, her artistic eye is much in evidence in her garden. The use of different textures and shapes of foliage plants in her borders provide structure and interest all year round. We may be aware of this today but she recognized this some 120 years ago, adding permanence to a border when carpet bedding was all the rage. The coarse, round leaf of Bergenia was a great favourite (although she recommends that the emerging flower spike is removed). Silver leafed plants, spiky yuccas and purple leaf sage are trademark Jekyll plants. Her clever idea of training clematis Montana in a swag or garland shape enhancing a shady area of the house is most effective.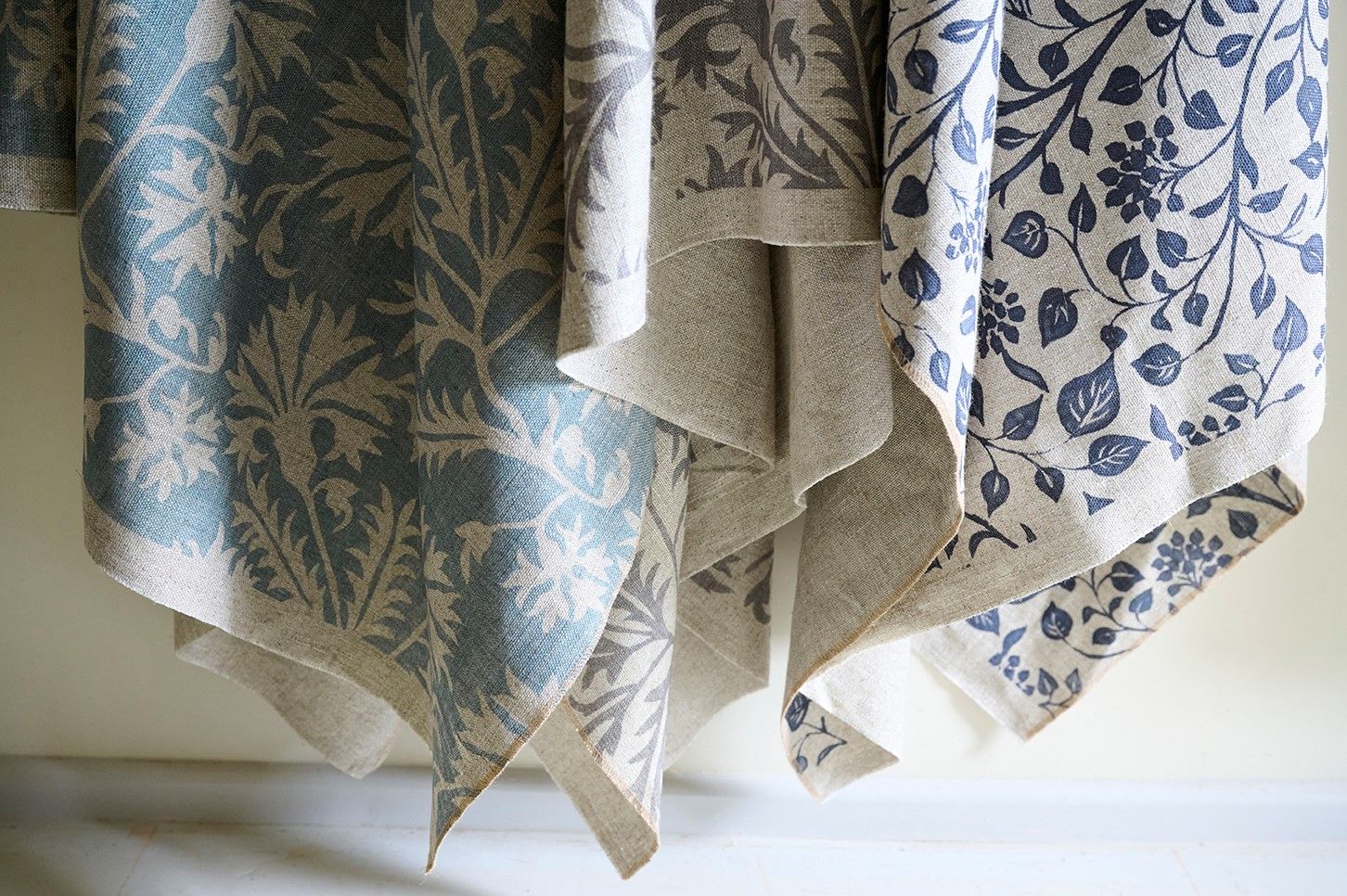 We'd love to know if you have a particular favourite among our new collection of Gertrude Jekyll fabrics, and why?
The Trailing Vine design. I love the green tones, but it also reminds me of Gertrude Jekyll's friendship with William Robinson, the founder and editor of The Garden magazine, who was promoting wild gardening at the time. Robinson bought the Tudor Gravetye Manor (now a beautiful hotel) in 1885. He helped Miss Jekyll with the garden at Munstead Wood, while she provided plants for his garden at Gravetye. She also wrote extensively for The Garden during this period of her life.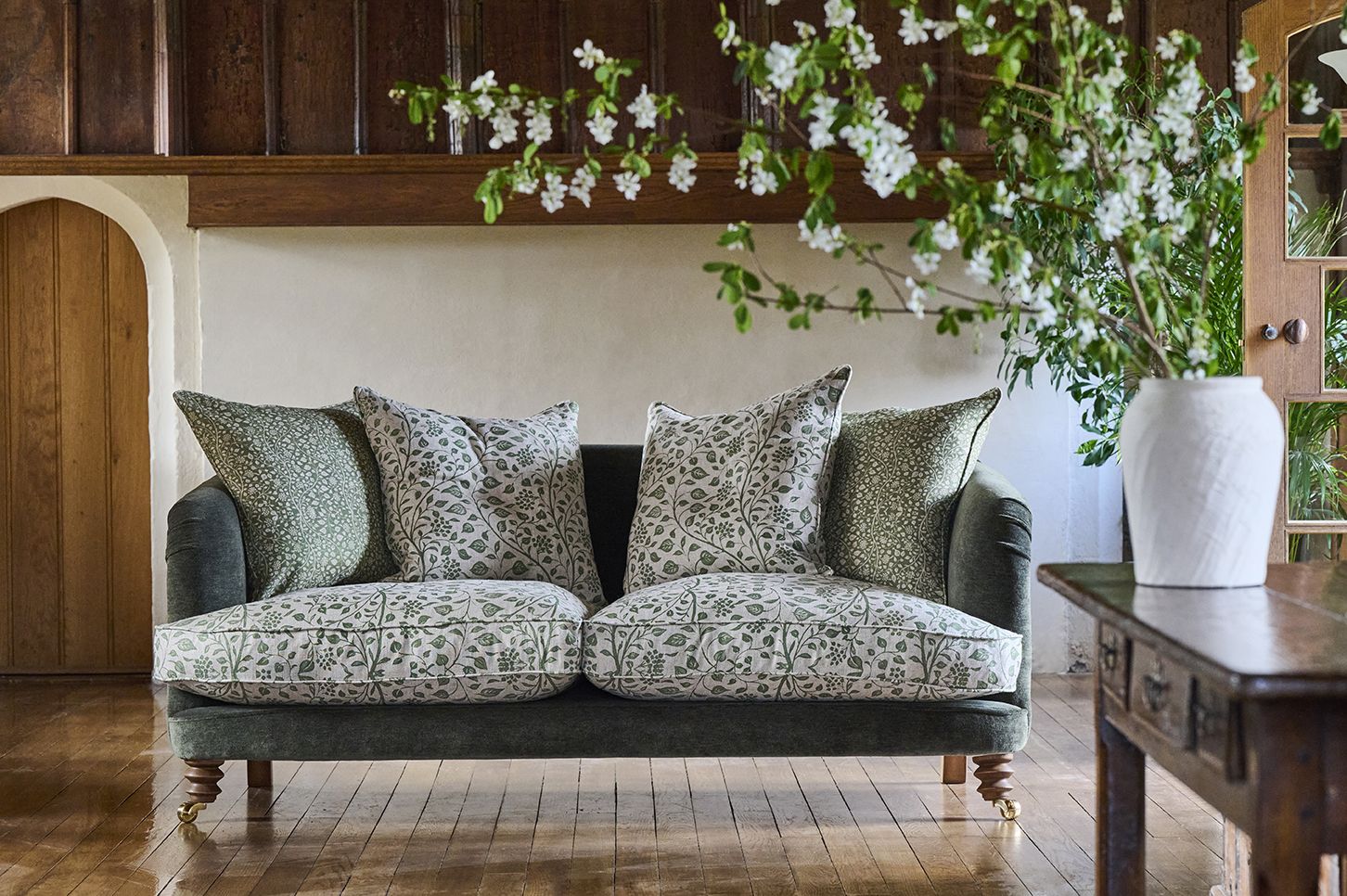 Looking forward
Munstead Wood has been privately owned since Gertrude Jekyll's death in 1932. The property was divided up in the early 1950s, with the house sold with 11 of the original 15 acres. The garden was simplified, hedges, shrubs and trees removed, many of the original borders lawned over and some of the sandy paths covered up, though the formal paths, walls and pond designed by Lutyens near the house remained intact. A change of ownership came in the late 1960s, but it wasn't until the Great Storm of 1987 wrought considerable damage to the garden that the opportunity to uncover and restore Jekyll's original design and planting schemes was presented. This was initiated by the former head gardener Stephen King, who spent two years clearing the surplus timber and five years to research, measure, re-landscape and replant the layout of the original gardens. Annabel Watts then played a huge part in that stewardship becoming intensely familiar with the surviving documentary evidence – photographs, planting plans and written descriptions, much of which was produced by Jekyll herself, capturing the spirit of the pioneering garden designer.
In April 2023, the house and garden was acquired by the National Trust. The gardens are now closed to the public while the National Trust conducts a period of planning and consultation on the best way to open the property to visitors in the future. We feel extremely fortunate to have had the opportunity to visit the garden at this important point in its history, and to hear Annabel's personal testimony on why it is, and remains, such an incredibly special place. Annabel will be retained in post by the Trust, joined by a new team in due course. We look forward to following this new chapter in Munstead Wood's fascinating history.
You can find out more about our design collaboration with the RHS here. The full range of fabrics can be viewed online and fabric samples ordered. Alternatively, why not visit one of our 23 showrooms and see the beautiful fabrics up close.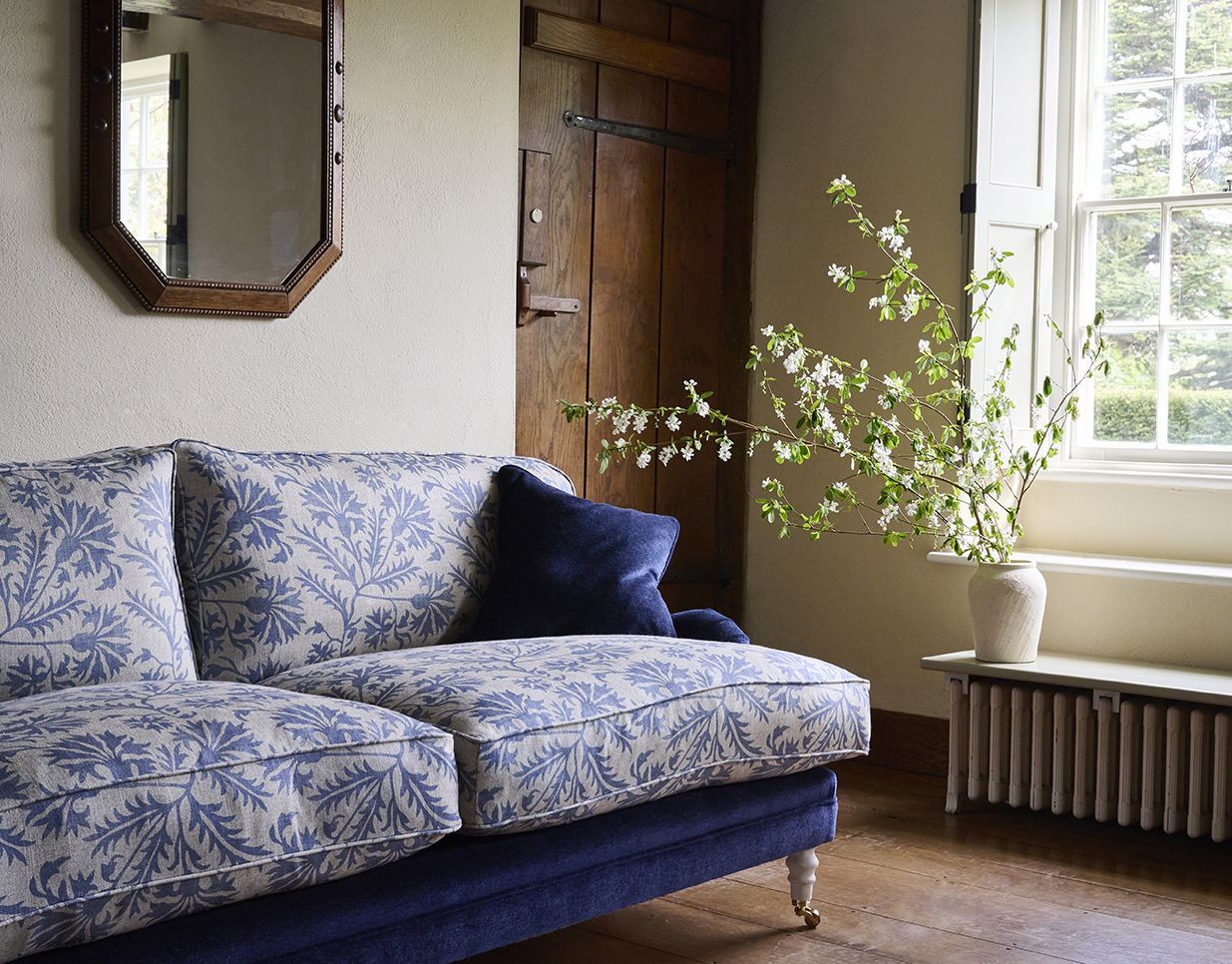 ® The Royal Horticultural Society. The Royal Horticultural Society and its logo, are trade marks of The Royal Horticultural Society (Registered Charity No 222879/SC038262) and used under licence from RHS Enterprises Limited.