Corner sofas are not only admired for their space maximising qualities, but they're a great way to bring family and friends together too.
If you're considering a cosy corner, let us help you choose one that is simply perfect for your home.
Why should I choose a corner sofa?
At one time, you might have opted for a larger sofa with a couple of coordinating chairs for extra seating, but a corner sofa brings all of that together, becoming a space saver all on its own. The corner sofa has many comforting and social benefits too. Is there any better feeling than snuggling up right in the corner and putting your feet up, whilst watching your favourite film or sneaking in a chapter of your favourite book?
Corner sofas are great for gatherings with family and friends too; the shape helps to bring everyone closer together in conversation, and over time each person will claim their own favourite spot to settle into for a cup of tea and a chat.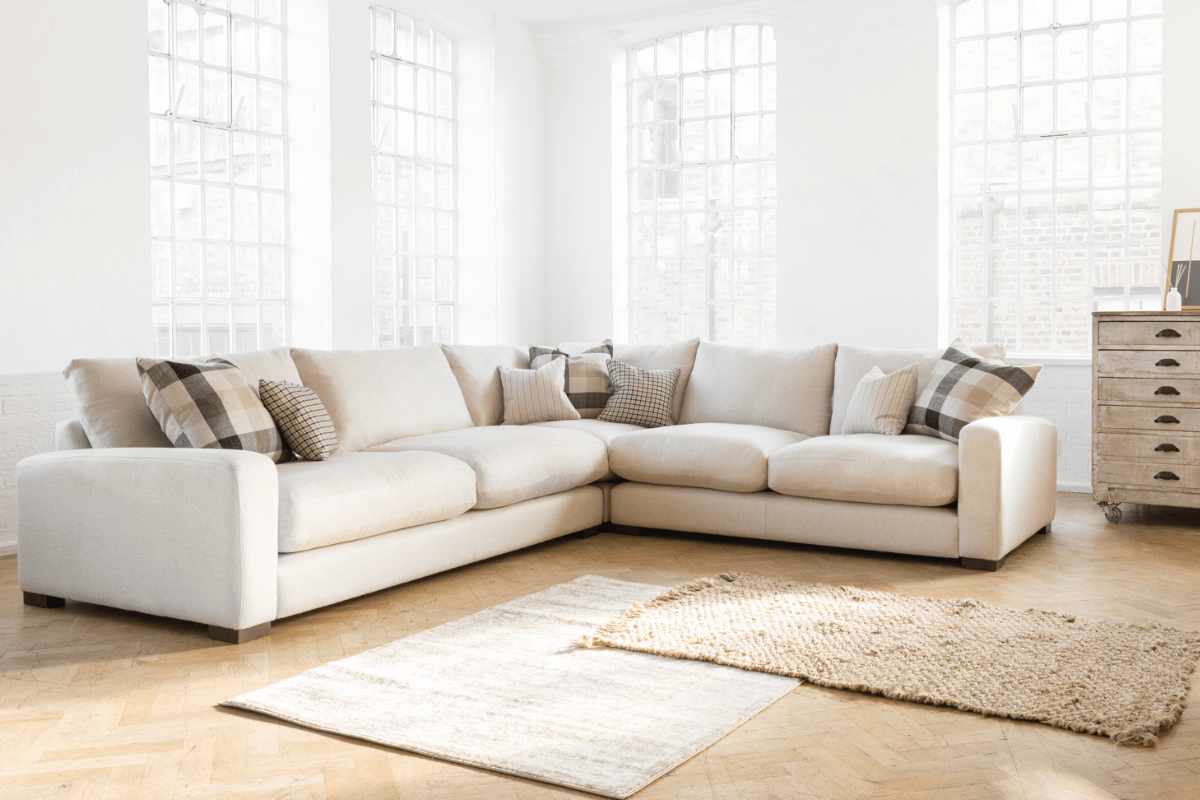 Stockbridge Corner Sofa in Sanday Natural
Which corner sofa style should I go for?
For gathering family and friends we would recommend our Wadenhoe corner – soft, slouchy and offering classic comfort, this is the ultimate movie watching sofa.
To combine comfort with classic design, we'd suggest our bestselling Alwinton range. The Alwinton is a timeless silhouette, complete with an iconic Howard arm, high back and deep, comfy seat.
Our Stockbridge sofa brings a modern feel with generous seats for all of the family to sink into, whilst our Langland corner provides a comfy haven for relaxing in daytime before transforming into a spacious sofa bed for a dreamy night's sleep.
Where should I position my corner sofa?
You might think that the obvious place for your corner sofa is of course in the 'corner' of the room, but this style can be more versatile than you think.
If you have an open plan lounge/dining area, a corner sofa can help to act like a bridge between the two to create two separate living spaces. Our smaller corners are also great for giving a more snug living room a cosy and sociable feel.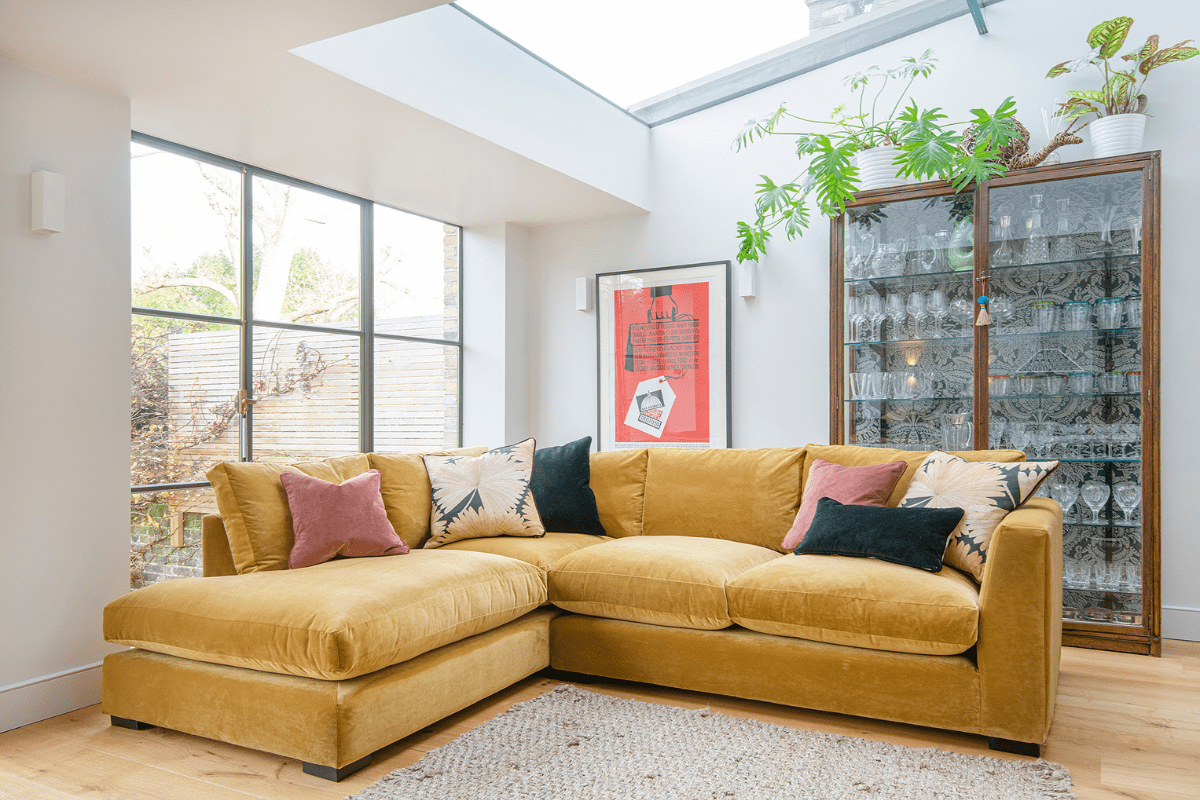 Wadenhoe Corner Sofa in Portland Brass
What features should I look out for?
Let us help you understand some key corner sofa features.
Left hand facing – When the corner sofa is in front of you, the longest section is on the left hand side.
Right hand facing – When the corner sofa is in front of you, the longest section is on the right hand side.
Chaise end – This is often referred to as an L-shaped sofa, a chaise end gives the sofa that corner appearance without taking up too much room. A great choice if you need a sofa that is just a little smaller, but still gives that same look and feel.
Bed – Sofa beds are a great solution for making the most of your space, providing a place for your guests to relax during the day and sleep on at night. A popular choice if your home tends to be buzzing with visitors, but you don't have the space for another bed. Our Langland corner sofa glides seamlessly from sofa to bed, with a natural sprung mattress for a divine night's sleep.
Curved – Most corner sofas will have a squared corner, but a curved corner as seen on the Alwinton, gives a softer, rounded appearance which allows you to place it in the centre of a room.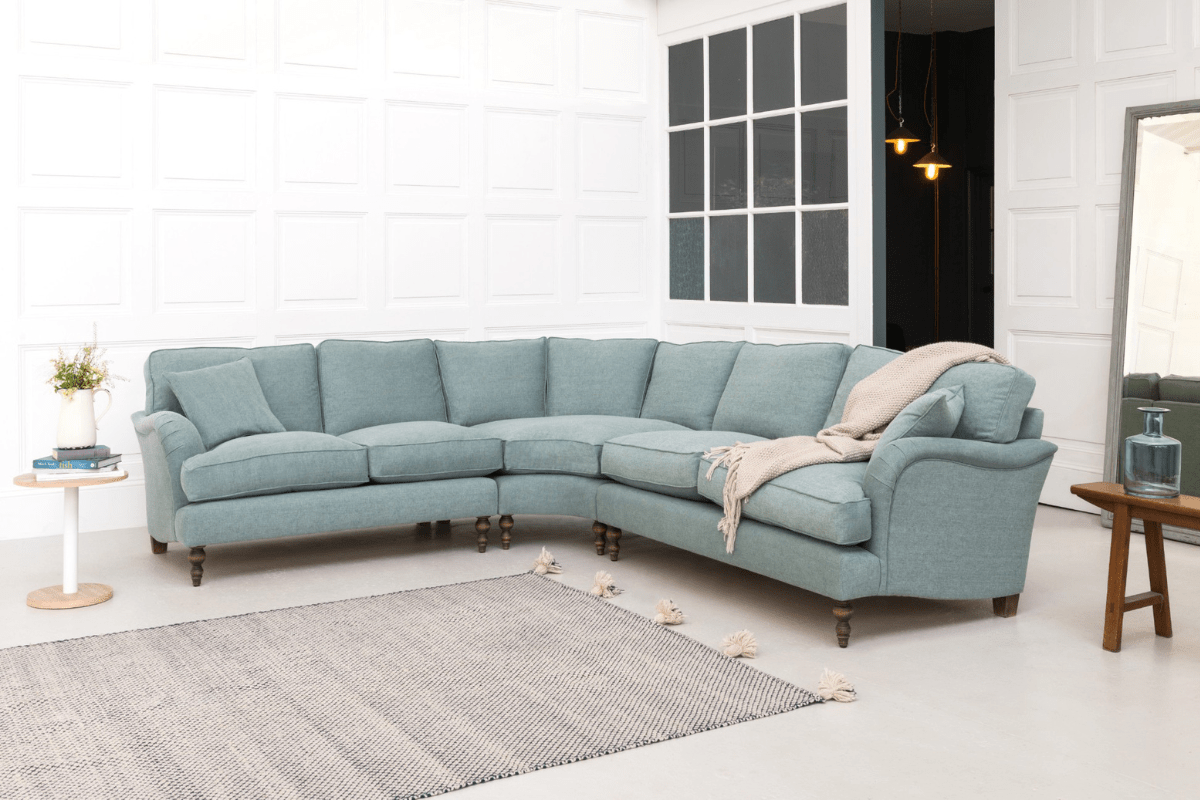 Shop our range of corner sofas, or why not start designing your cosy corner sofa today, with the help of our expert design consultants at your nearest showroom?