The Orford 3 Seater Sofa in RHS 22 Large Knot Garden, Gold.
"How I would love to be transported into a scented Elizabethan garden with herbs and honeysuckles, a knot garden and roses clambering over a simple arbor."
— Rosemary Verey, garden designer and writer
Our exclusive collaborative fabric collection with the Royal Horticultural Society (RHS) features exuberant and delicate botanical illustrations and sketches inspired from the RHS Lindley Collections. But it also reflects a different aspect of the history of horticulture, one which celebrates the beauty of geometric forms. The Knot Garden fabric designs reimagine two historic garden plans from the 17th century in a fresh, contemporary style, while maintaining a sense of romance, timelessness and a strong connection to history of gardening.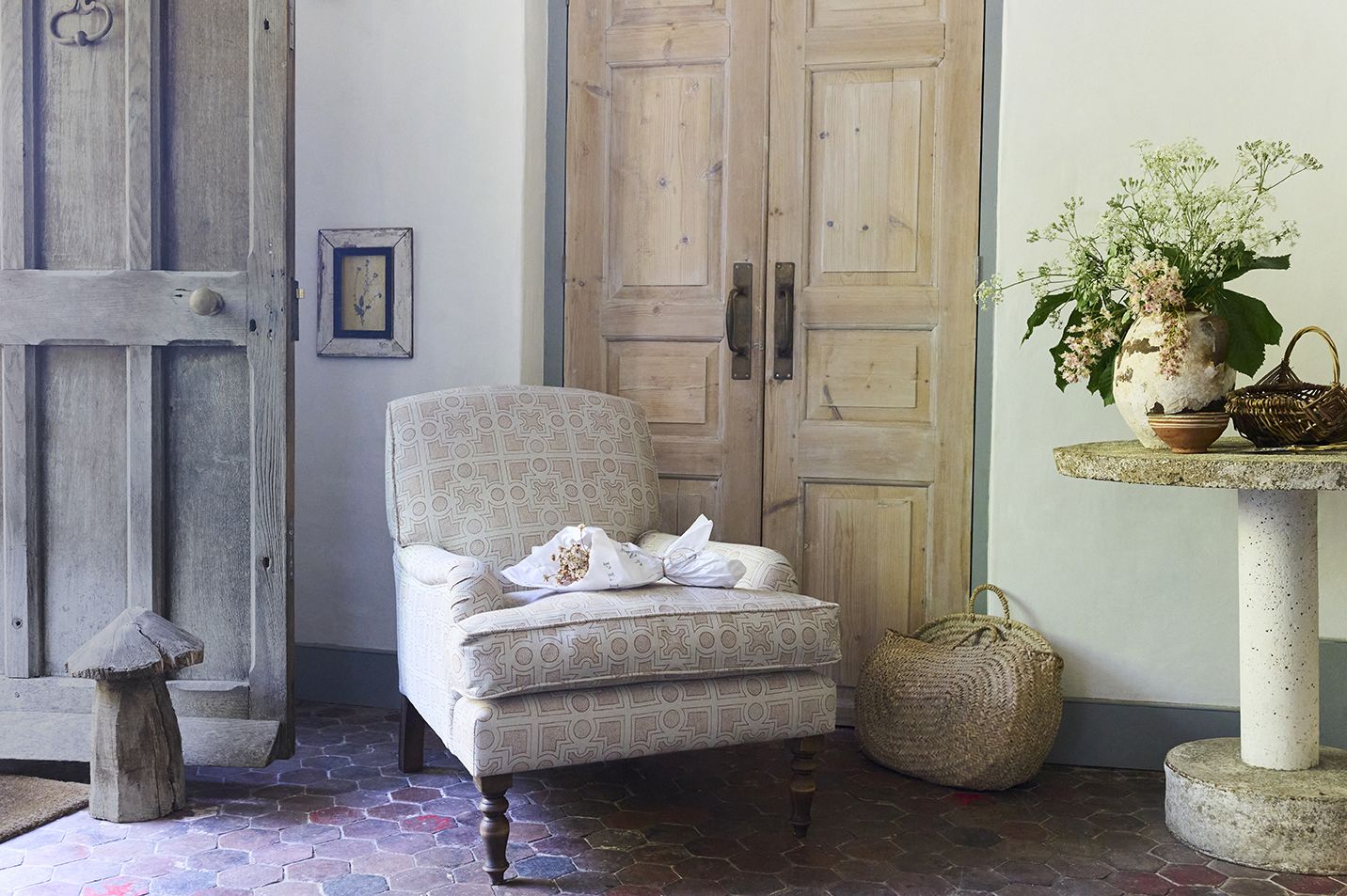 The history of Knot Gardens
Garden historians remain uncertain of the origins of knot gardens. The earliest use of the word 'knot' in relation to gardens occurs around 1500. By the mid-16th century knot motifs had found their way into British garden designs inspired by those seen on travels through Renaissance Italy and France. Garden design in the Tudor period signified control over nature as well as displaying a person's wealth and importance, and knot gardens reflect both of these intentions. Arranged in squares in a formal, symmetrical design, they appealed to the Tudors' love of structure and order.
Positioned close to the house, these gardens were designed to be viewed from an upstairs window. They were planted with different coloured hedging plants and aromatic herbs such as English and cotton lavenders, thrift, hyssop, marjoram, and thyme, often in criss-crossing patterns. Simple knot gardens were adorned, not with flowering plants but with coloured stones, sand or gravel, and red brick dust acting as contrasting pathways between the greenery. A popular design was a quartered garden of four knots surrounded by fruit trees with the addition of a central feature such as a fountain, similar perhaps to the design featured in our Small Knot Garden fabric.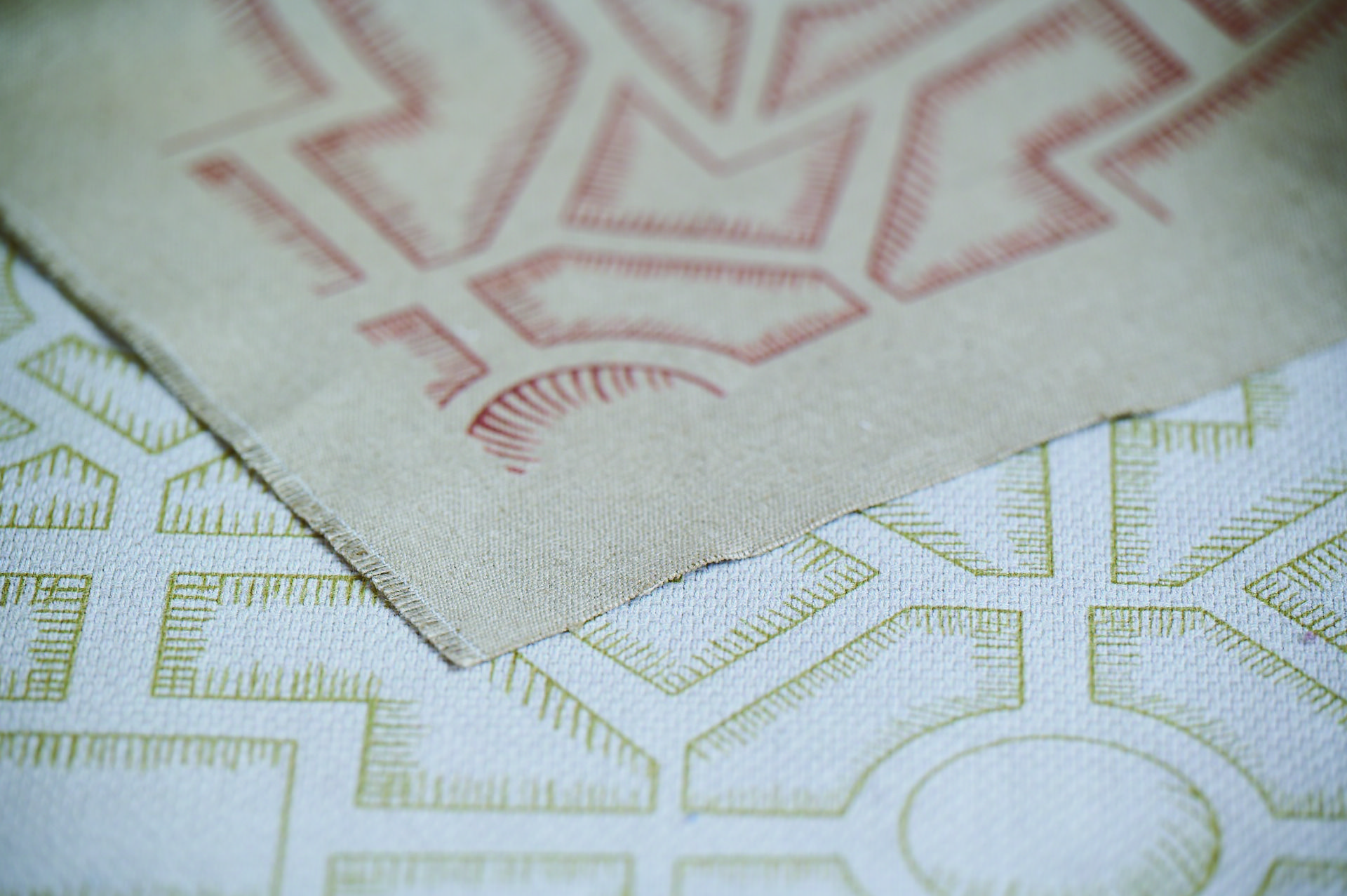 Bringing the outside in, and vice versa
As lovers of interiors, we're fascinated to learn that many Tudor designs for knot gardens were inspired by patterns on objects found in the home, such as carpets, cushions, carvings and embroidery, creating a link between the garden and the interior. In many cases, the interlocking ribbons of two different shrubs seem to imitate lines of stitching on textiles.
Our Knot Garden fabrics embrace this connection between the inside and the outside. The colour palette we have chosen for the fabrics anchors the designs in nature, reflecting the subtle shades of the herbs and plants that would have featured in an traditional knot garden – a soft green, deep gold and grey, along with an earthy terracotta.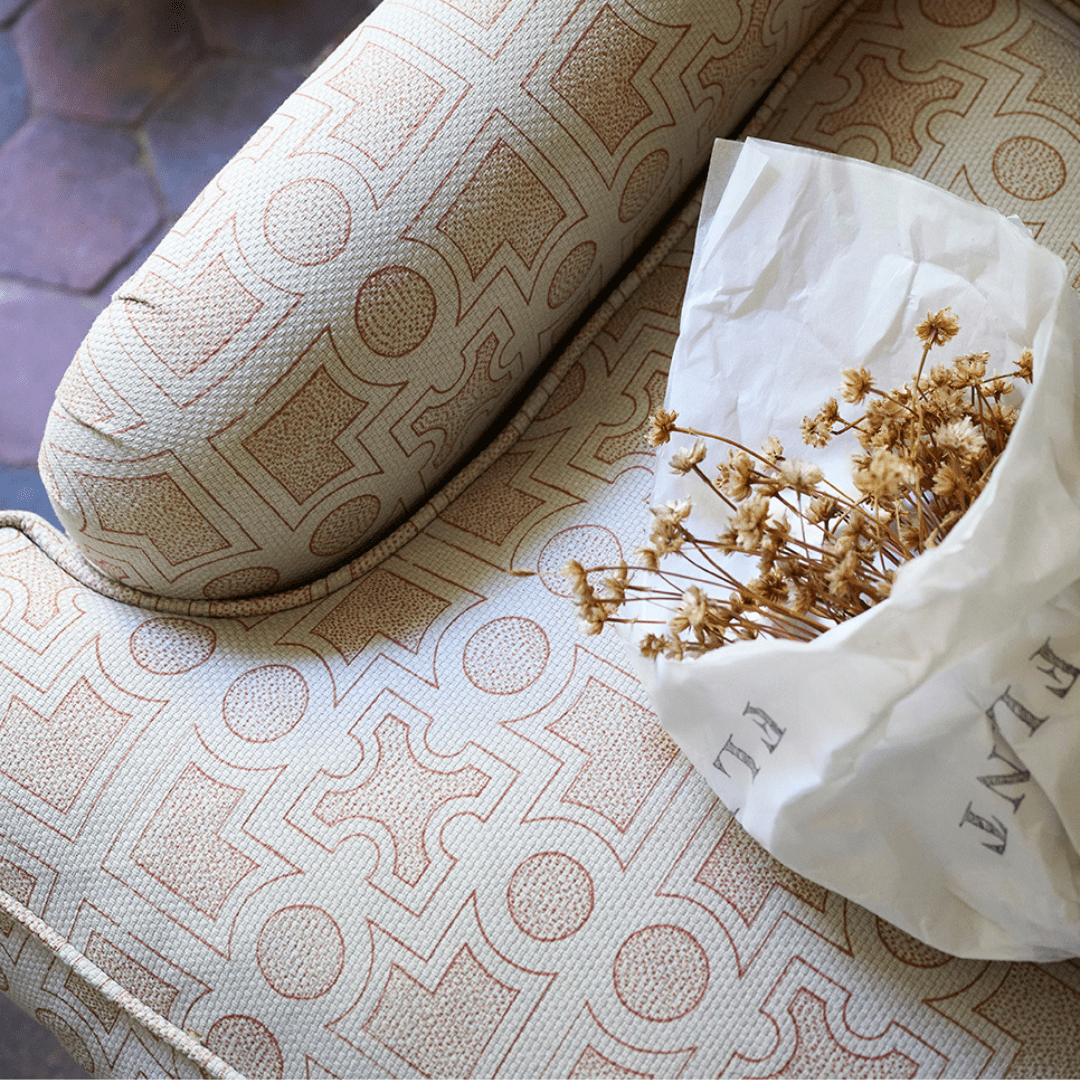 Small Knot Garden fabric
This elegant knot garden fabric design is taken from an engraved bedding plan by Leonard Meager from 'The English gardner', published in London by M. Wotton and G. Conyers in 1688. The design is rooted in a soft, neutral ground and presented in six nature-inspired tones ranging from inky blue through a palette of soft greens through to warm ochre.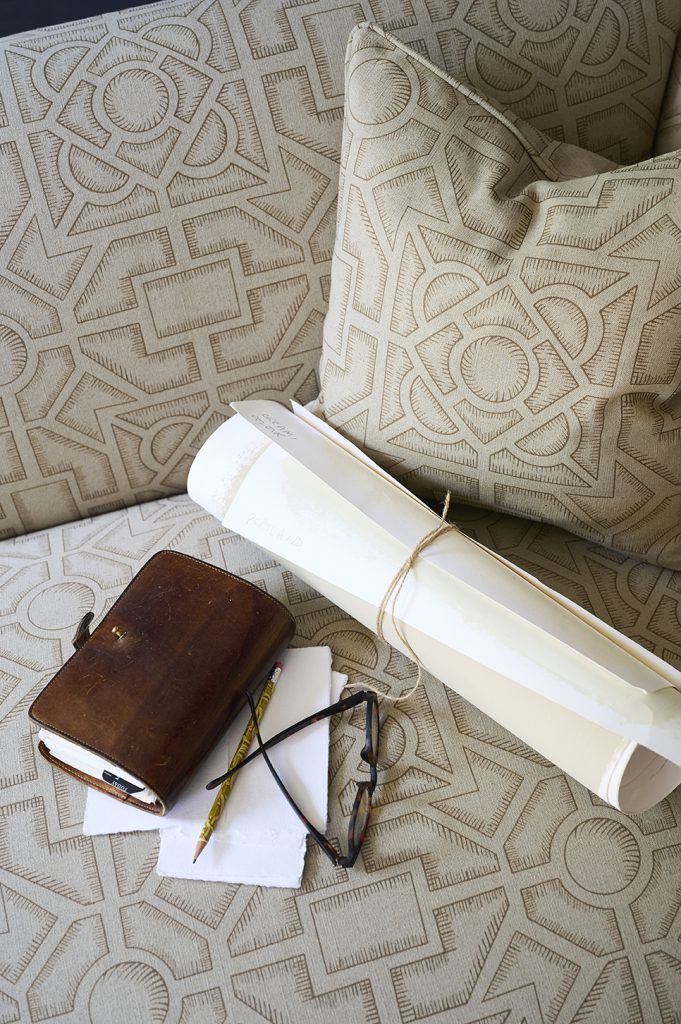 Large Knot Garden fabric
Our Large Knot Garden fabric design reflects the more complex structure and symmetry of a large Tudor knot garden. It is drawn from a garden plan sourced from 'The orchard and the garden', printed by Adam Islip in London in 1602, which is held in the archive of the RHS Lindley Collections. It is remarkable for the intricacy of the design, and the beautiful shading which gives the knot garden fabric design depth and interest.
Knot Gardens to visit
It is striking to note that no original Tudor garden remains; those knot gardens that we have are recreations from much later, with some more authentic than others. Nevertheless, there are several Tudor-style knot gardens that are beautiful, inspiring and well worth a visit. Here are some of our picks.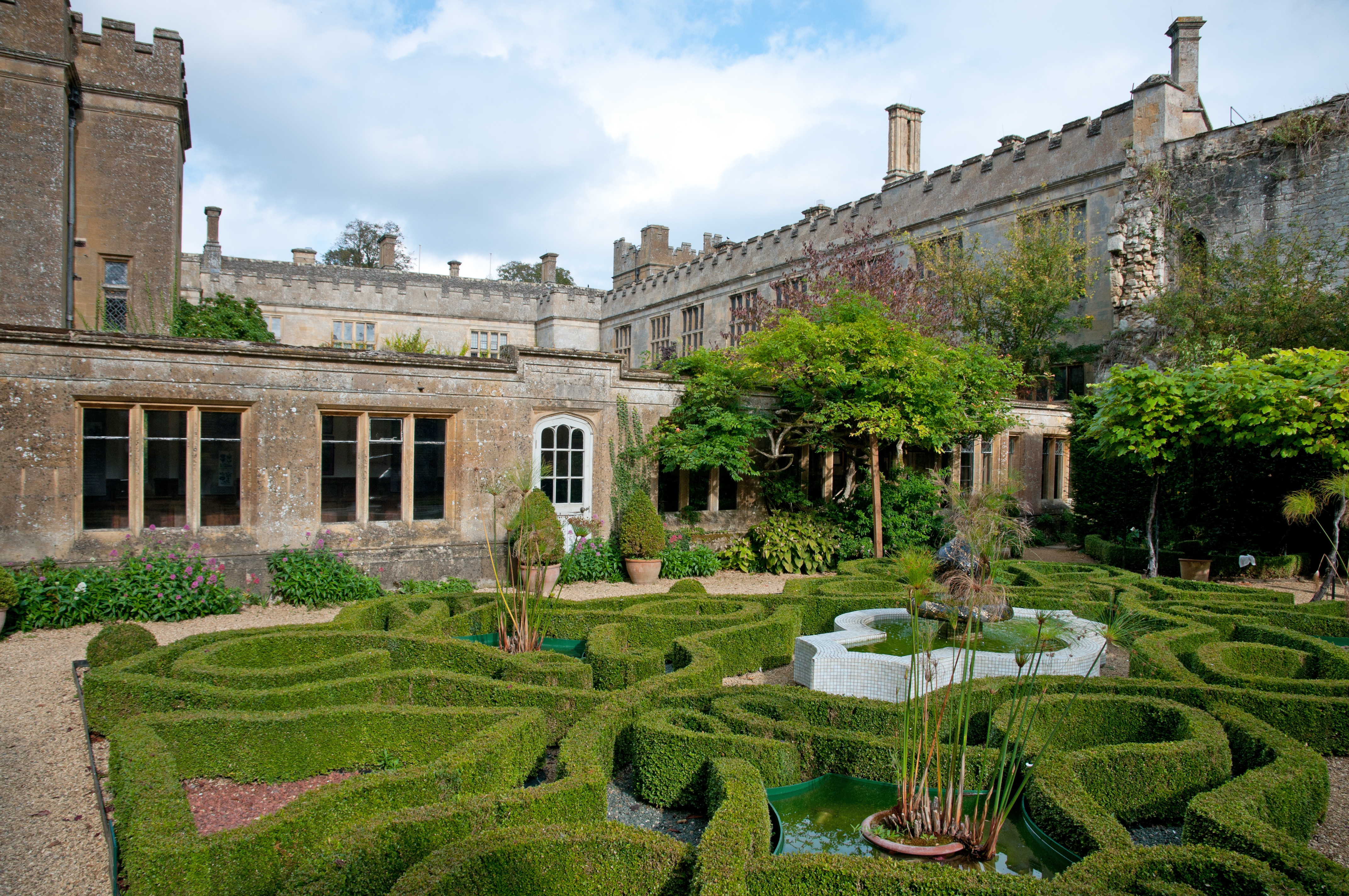 A short distance from our Cheltenham store, in Winchcombe, Gloucestershire is the knot garden at Sudeley Castle. Made up of more than 1,200 box hedges interspersed with coloured gravel, its intricate design was inspired by the pattern of the dress worn by Queen Elizabeth I in "The Allegory of the Tudor Succession", a painting that hangs in the castle.
A little over half an hour's drive from our Manchester showroom, in the rolling parkland between Penrith and Ullswater, is the RHS Partner Garden at Dalemain Mansion. The family home of the Hasell family since 1679, Dalemain is a beguiling mix of medieval, Tudor and Georgian architecture and its garden include an Elizabethan cobbled courtyard and a Tudor knot garden for herbs.
Just a short drive, or 20 minute walk from our Bristol sofa shop, The Red Lodge Museum has an Elizabethan-style knot garden. Built in the gardens of The Great House, an Elizabethan house built by Sir John Yong, courtier to Henry VIII, the Red Lodge would have originally been used for guests and entertainment. The garden can be viewed from the Parlour and the Great Oak Room. It was restored in the 1980s, the box hedge 'knot' copied from the ceiling design in the Great Oak bedroom. Herbs and flowering plants similar to those that would have featured in a knot garden from the 1630s are mixed together in the beds.
Not too far from our Knutsford showroom in Cheshire, is an iconic moated half-timbered Tudor manor house, Little Moreton Hall near Congleton, with an Elizabethan Knot Garden planted in 1972 to a design taken from Leonard Meager's Complete English Gardener in 1670 The intricate design of the knot can be seen from one of the two original viewing mounds, common in 16th-century formal gardening, one inside the moat and the other to the southwest. Unfortunately affected by box blight over recent years, it is currently being restored.
The knot garden at Moseley Old Hall, in Staffordshire, is just a thirty minute drive from our Birmingham showroom at Sutton Coldfield. The design for this garden was adapted from an original design from the 1630s by the Reverend Walter Stonehouse, the manuscript for which is held in the library at Magdalen College, Oxford.
Lastly, the Museum of the Home in Hoxton, east London, has a knot garden design which is taken directly from a motif found on an English oak cupboard in their collection dating from around 1620.
Inspiration for your own garden design
You may even wish to explore elements of this ornamental approach to garden design in your own planting schemes. The RHS is a wonderful resource for inspiration and ideas. Why not take a look at their suggestions for plants for formal garden schemes here.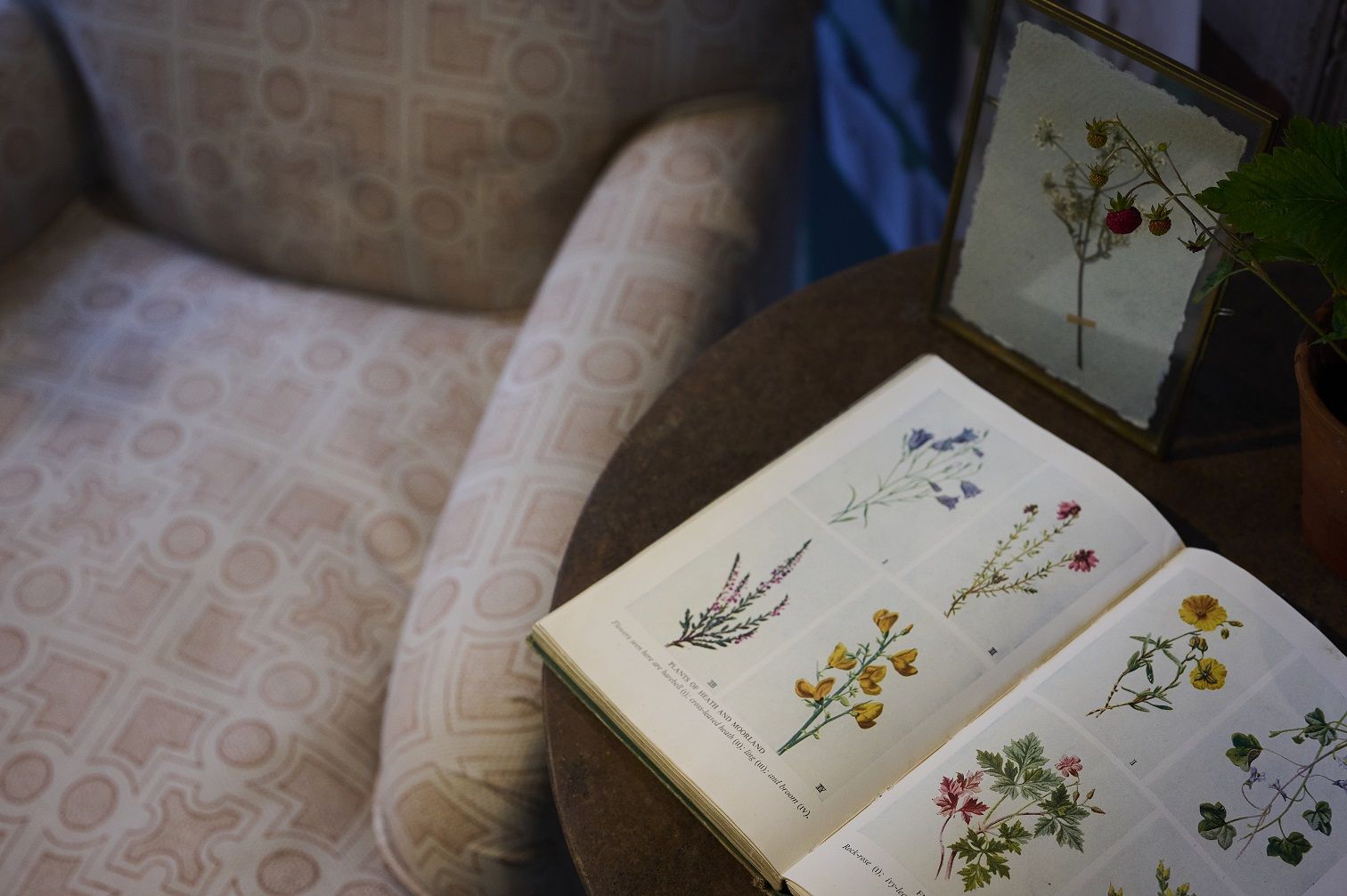 Both of the RHS Collection Knot Garden fabric designs are available in six nature-inspired tones, on two different upholstery fabrics – a tight woven naturally-toned 100% linen and a lighter-toned cotton weave, all of which are available to see in our 23 showrooms. The fabrics can be used across any of Sofas & Stuff range of British handmade bespoke sofas, chairs, beds, footstools, and cushions or purchased as fabrics for curtains and blinds or other soft furnishing projects. Come into your nearest showroom to explore the range and start imaging how you can bring the outside into your home with these an elegant and distinctive fabric designs.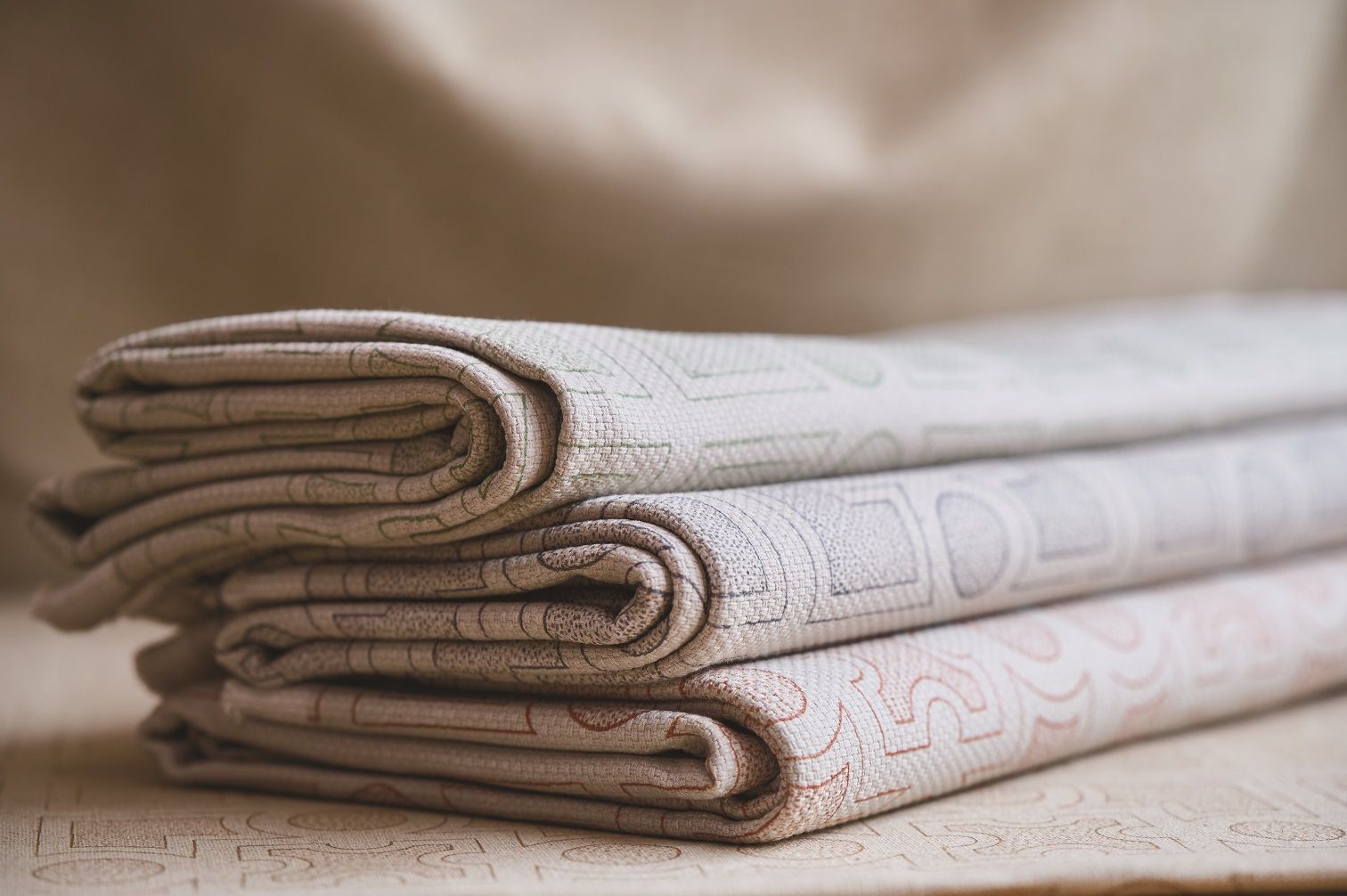 ® The Royal Horticultural Society. The Royal Horticultural Society and its logo, are trade marks of The Royal Horticultural Society (Registered Charity No 222879/SC038262) and used under licence from RHS Enterprises Limited.