October is a sensory delight. Hedgerows studded with bright berries and rosy hips, trees aflame with red and golden leaves, the swish of fallen leaves underfoot after a spell of dry, windy days. And, then there's the smells of the changing season: damp earthiness, the return of wood smoke, and the scent of ripened apples and pears hanging heavy on the boughs. Apple season, indeed, is firmly upon us. Here in Britain the humble apple runs deep in our national psyche. With evocative names like Garden of Eden, William Tell, and the Tower of Glamis, there's no doubting the quintessential Britishness of an apple orchard in Autumn. So we're embracing its arrival, finding inspiration for our interiors in the visual treat it provides, and looking for new ways of bringing the outside into our homes.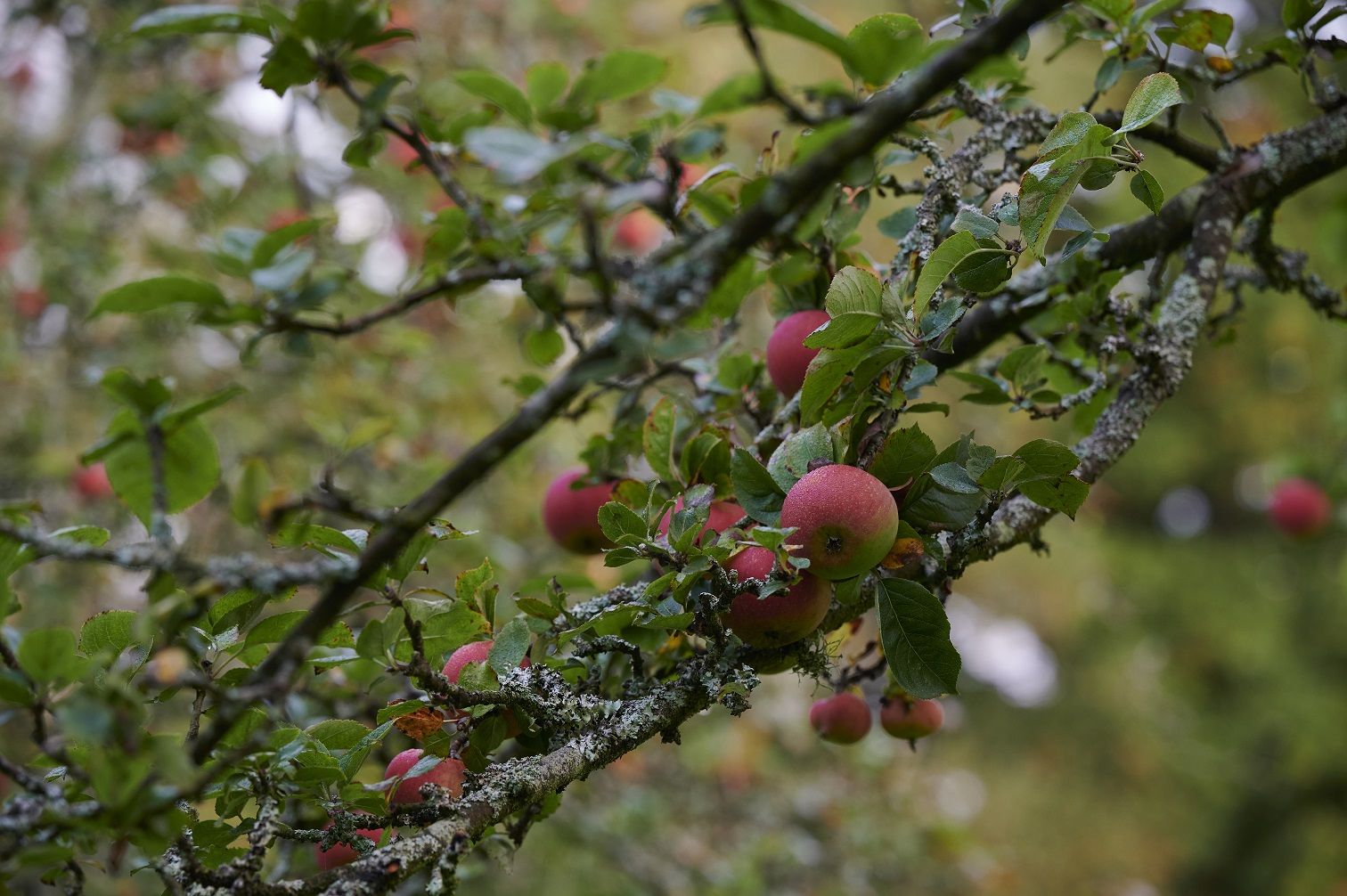 Bringing the Outside in with Hooker's Fruits
We're drawing inspiration from the glorious fruit paintings of 19th century artist William Hooker which feature in our collaborative fabric collection with the Royal Horticultural Society (RHS), enjoying the rich colours and the painterly detail, bringing the beauty of nature into our living spaces. William Hooker is widely regarded as the greatest fruit illustrator of his day, perhaps of all time. In 1815 he was commissioned by the Horticultural Society of London to paint a series of fruit portraits to authenticate the names of different varieties. This celebrated collection of over 150 paintings known as 'Hooker's Fruits' is held in the RHS Lindley Library. Their intrinsic beauty, combined with their resonance with British countryside and gardens, make them the perfect subject for a furnishing fabric.
RHS 22 Fabric Collection
The William Hooker RHS fabric design, like all of those from our RHS collaboration, can be used across our range of bespoke sofas, chairs and beds, or purchased separately for curtains or blinds, or other soft furnishing projects. A surprisingly versatile print, you can pick out any of the natural tones of the illustrated fruits, to suit your preference and existing interior scheme. The design is undeniably appealing. The bright base fabric, combined with the rich but soft colours of the fruits, is fresh, welcoming and uplifting. It also has a heartwarming and comforting familiarity about it, creating a mood of ease and repose. See how the fabric might work in your home by requesting free fabric samples, or visit one of our showrooms to see the fabric in person and on our handmade furniture.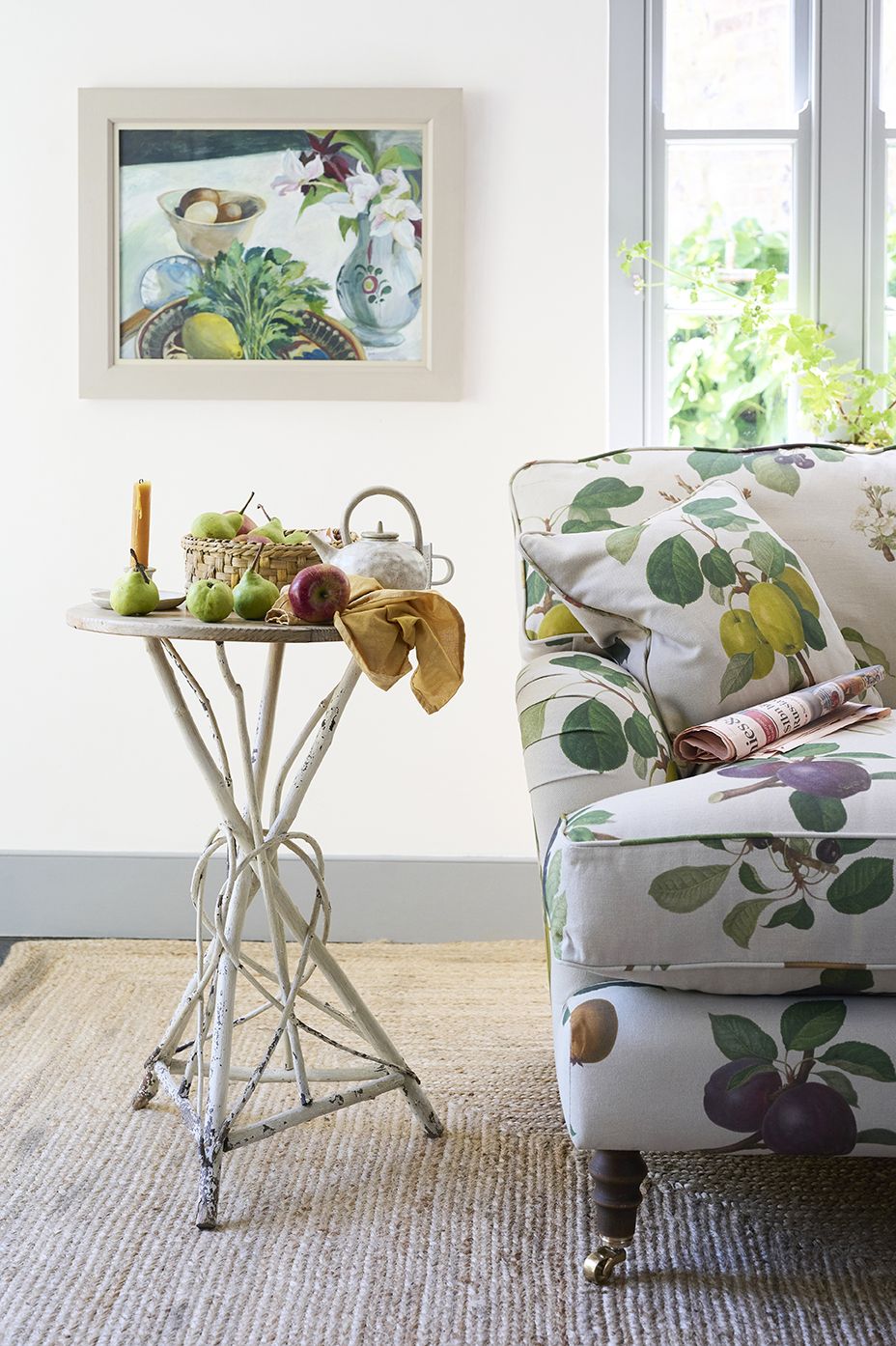 Homely comfort this Autumn
We are seeking out homely comfort in all its forms, harnessing the smells and tastes of the season, and creating a sense of warm abundance within our homes. And there is little better way of doing this than by baking with seasonal produce. We asked talented cook and dedicated forager, Sada Ray, from the Sussex Secret Supper Club if she would share one of her favourite Autumnal apple recipes. Sada's atmospheric supper club events are a seasonal celebration of local produce, designed to bring people together over delicious food in interesting and unusual settings. Her choice for us this apple season is this scrumptious, yet satisfyingly simple Apple & Frangipane Tart – the perfect recipe for making windfalls wonderful!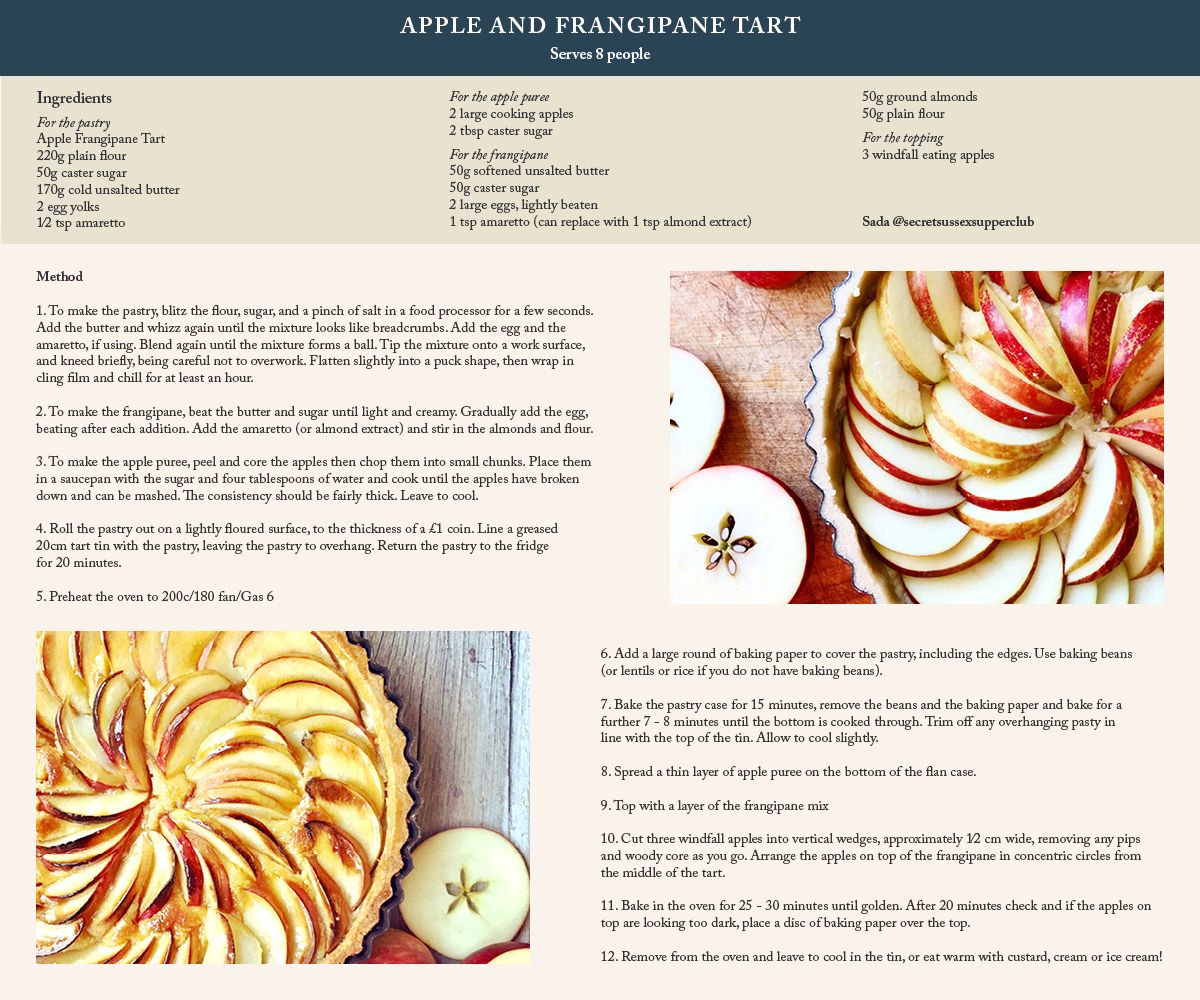 And to work up that appetite before you settle on your sofa with a slice? A bracing walk through some of the country's most beautiful orchards should do the trick.
Apple Day Events and Orchards to Visit
With apple season coming to its peak this month, you should be able to find a burgeoning variety of British apples at farmers markets. There are also plenty of special events for Apple Day (designated as 21st October here in Britain) being held at orchards across the country,
Thousands of apple varieties can be found at the National Fruit Collection at Brogdale Farm  in Faversham, which is about an hour's drive from our Kent showroom at Tunbridge Wells. You'll find over 4,000 varieties of fruit threes there, from apples, pears, quinces, medlars and plums – a living archive of our tree fruit heritage. Brogdale is open to visitors, and hosts a heritage orchard apple festival.
There are a wealth of beautiful, historic orchards to visit with within the umbrella of the National Trust, many of which will be hosting special events this apple season. These include Hughenden Manor, High Wycombe, Buckinghamshire, not far from our Henley-on-Thames showroom. Once the country house of Prime Minister Benjamin Disraeli, this 19th century home includes a beautiful walled garden and has extensive apple orchards with 47 varieties of old English apples. And at Snowshill Manor and Garden, the unconventional Gloucestershire home of the eccentric artist and architect Charles Wade located around 30 minutes drive from our Cheltenham showroom, the theatre group Shakespeare Morris are performing an 'Apple Day' mummers' play following the story of England's ancient orchards and their heritage varieties.
Harvest, heritage, and home
It's fascinating how the apple has such an ingrained place in British culture, each variety having its own features in taste, texture and looks, with subtle variations in flavour, sweetness and acidity, and each region, indeed county, having varieties particular to them. But not all in the orchard is rosy, nor has been for a number of decades. Earlier this year the National Trust found that an alarming 81% of traditional orchards have vanished from England and Wales since the early 1900s, impacting on on biodiversity and the wildlife drawn to the mix of woodland, hedgerow and meadow in traditional orchards. It has also massively limited people's experience of heritage apple varieties. However, a growing movement to push back on this trend is building. Our collaborative fabric design with the RHS, celebrating the work of William Hooker is, in some sense, a reflection of our appreciation of the cultural heritage of the humble apple and its valued place in our homes and our hearts.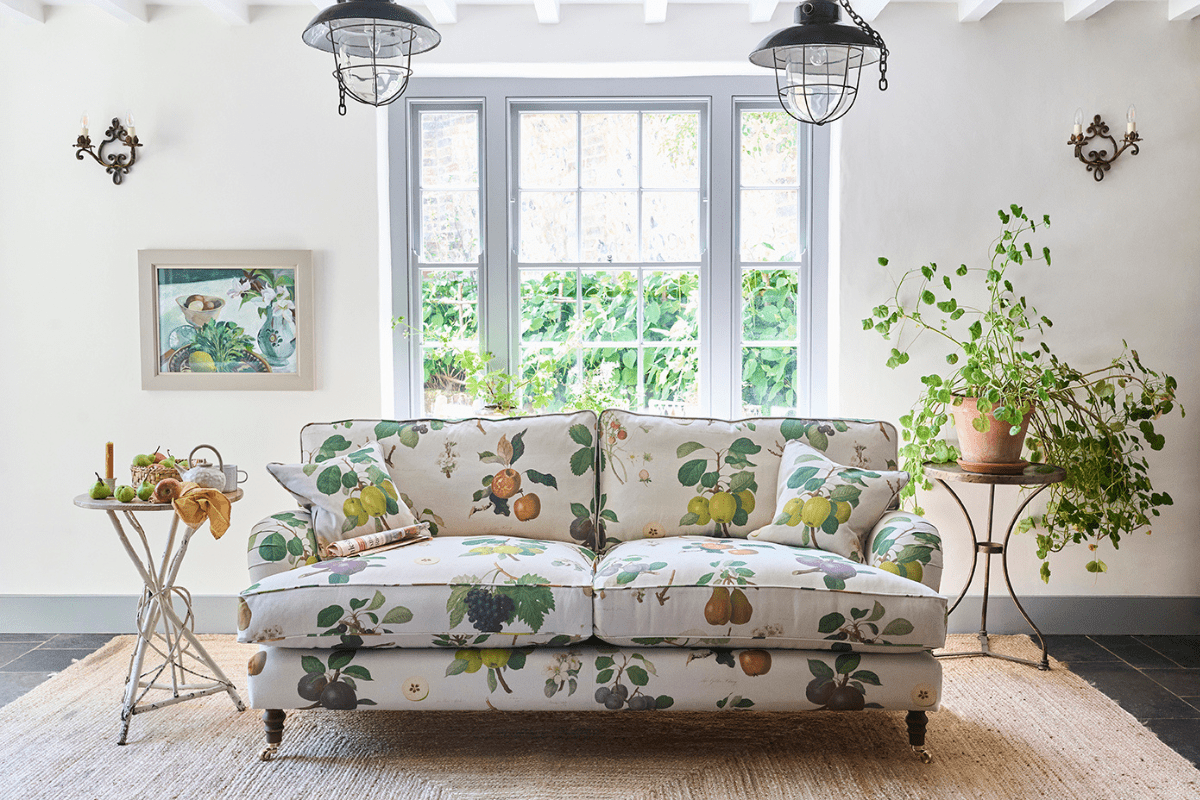 Read more about our collaborative fabric collection with the RHS and view our film about our partnership journey here.
® The Royal Horticultural Society. The Royal Horticultural Society and its logo, are trade marks of The Royal Horticultural Society (Registered Charity No 222879/SC038262) and used under licence from RHS Enterprises Limited.