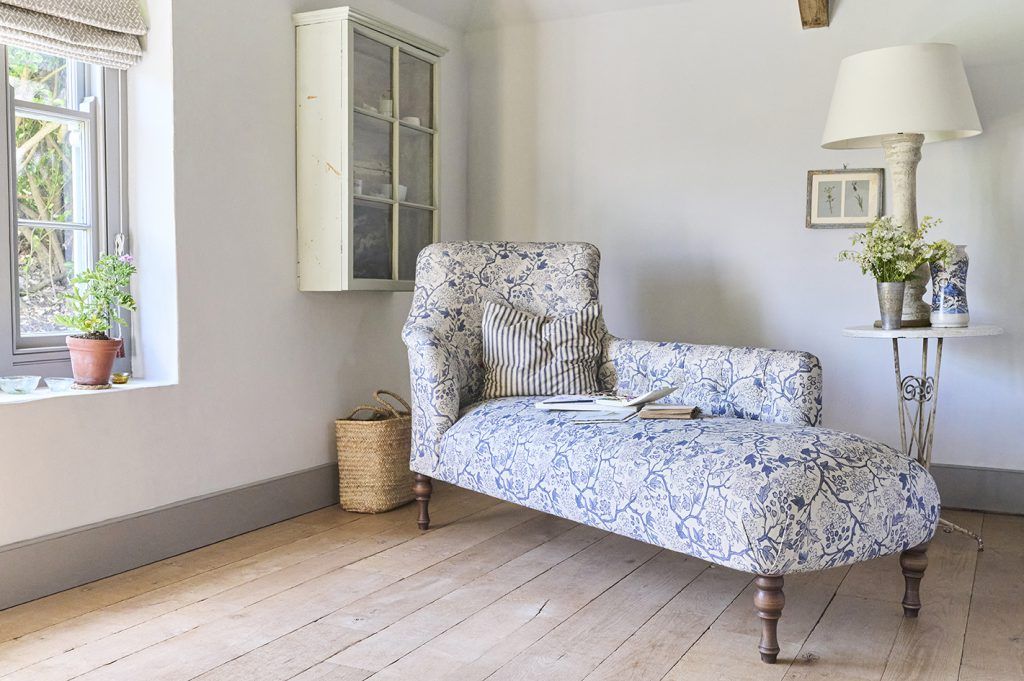 "The first purpose of a garden is to be a place of quiet beauty such as will give delight to the eye and repose and refreshment to the mind."
Gertrude Jekyll, A Gardener's Testament.
For those with an interest in the history of horticulture, the name of Gertrude Jekyll (1843-1932) conjures up visions of English gardens of great beauty. Jekyll came to garden design later in life but still created some 400 gardens in the UK, Europe and America: a remarkable output. Her influence on garden design is pervasive and persists to this day. She was also a prolific author, writing eloquently on the soothing qualities of plants and gardening; wisdom that we wholeheartedly share and celebrate in our new fabric collection created in collaboration with the Royal Horticultural Society (RHS).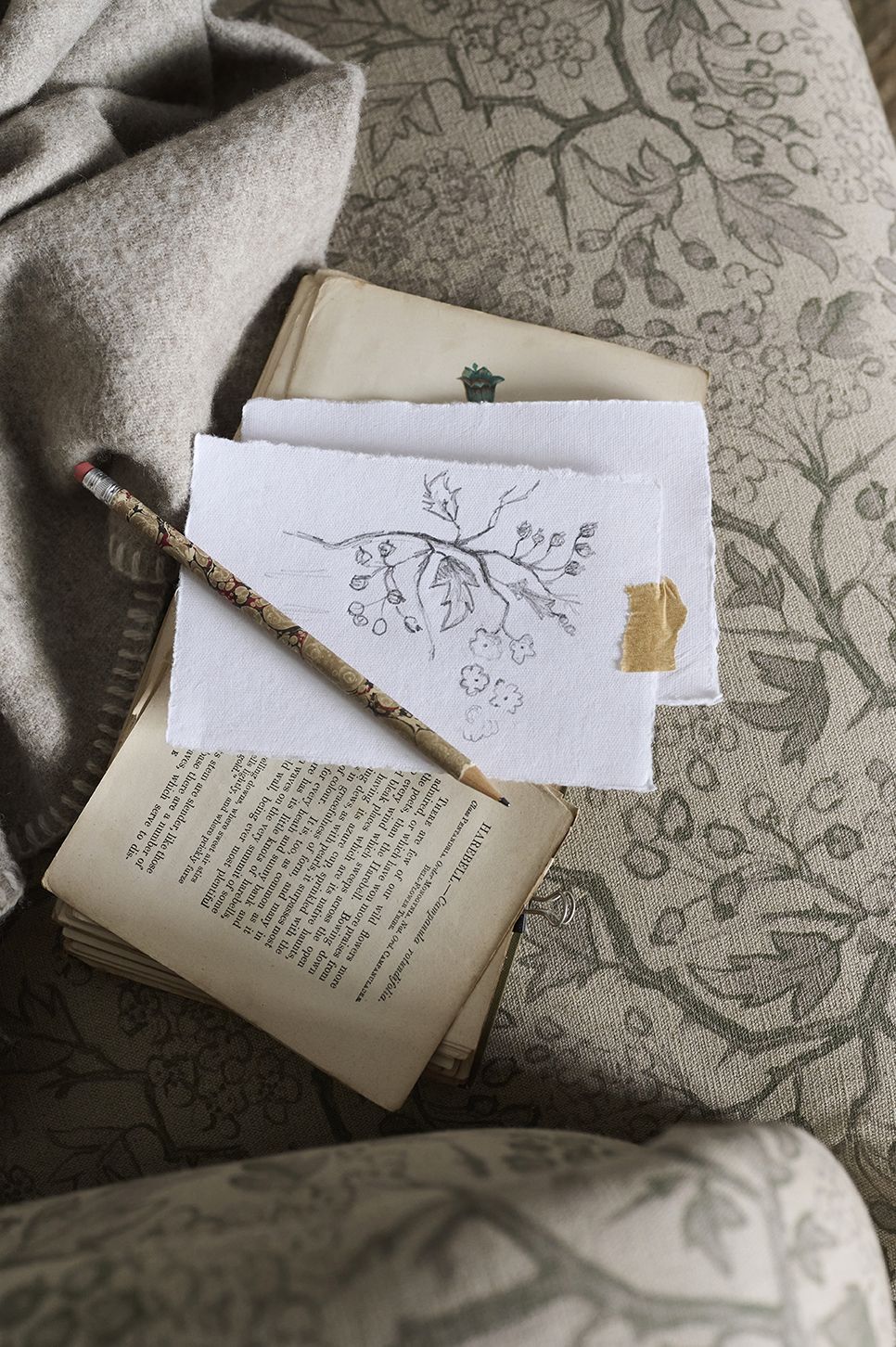 RHS 22 fabric collection
One of the things which drew Sofas & Stuff's founder and CEO, Andrew to collaborate with the RHS was the direct connection it offered to the well-documented British love of gardening. And, more particularly, to the feelings of contentment and repose that plants and gardening can bring. In Andrew's words, 'we want our homes to feel calm, and what better way of doing it than by bringing nature in and onto your sofa.' Enthused by the passion of Britain's leading gardening charity, and inspired by their incredible archive of botanical drawings, paintings and writings, Andrew was able to draw on the incredible resource of the RHS Lindley Collections, selecting works from artists and garden designers from the 17th to the 20th centuries. Among them, he found a painted sketch by Gertrude Jekyll which caught his eye.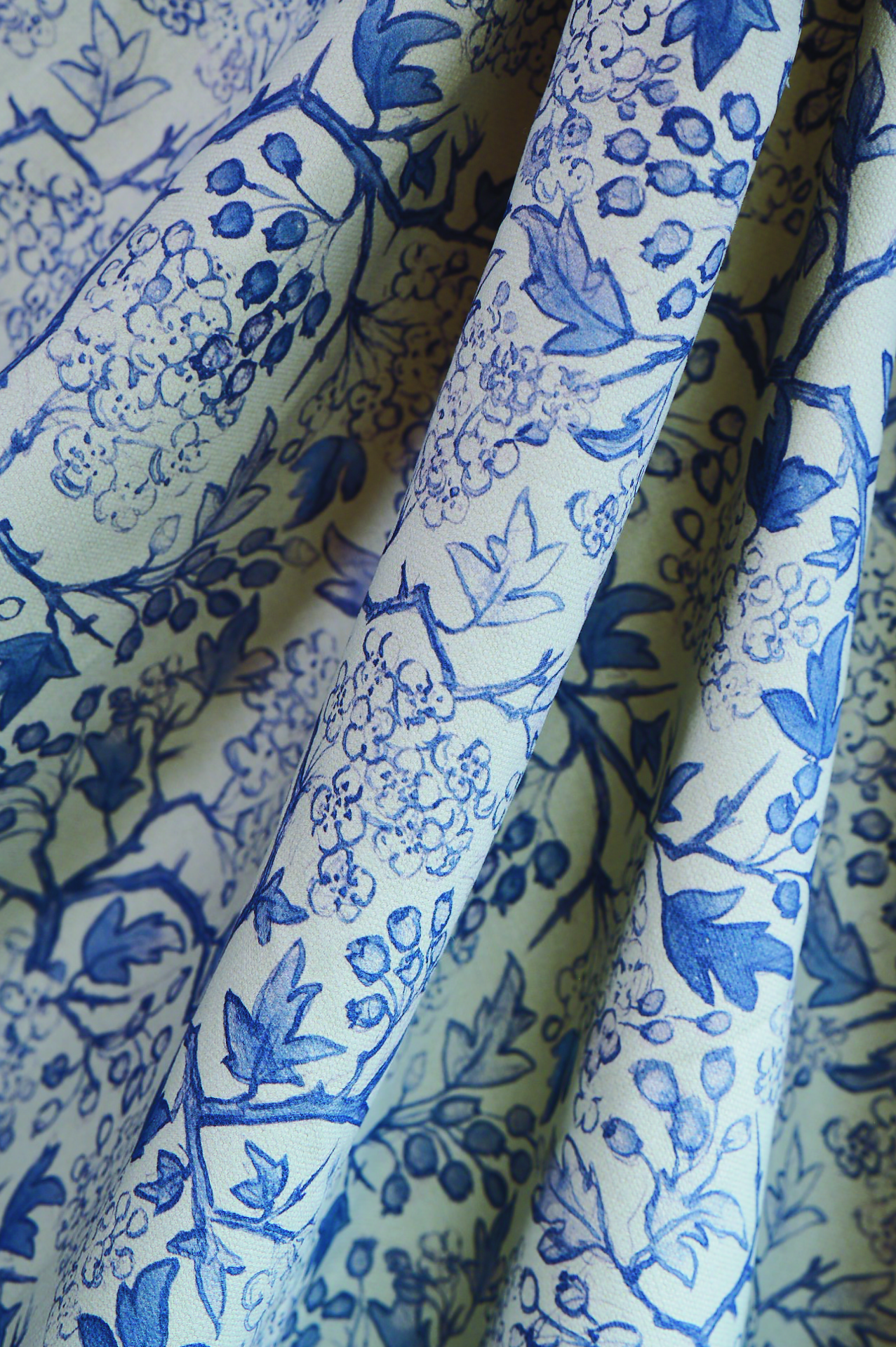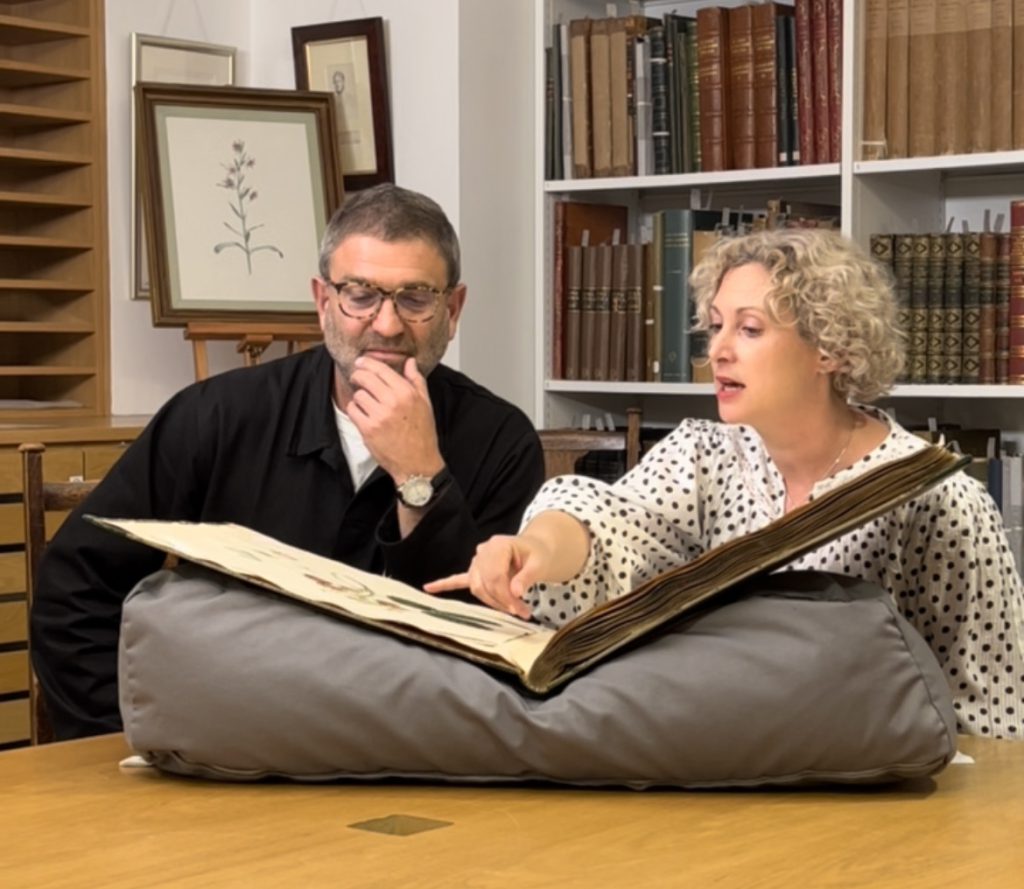 Gertrude Jekyll fabric design
The design takes Jekyll's original sketch of a floral and leafy spray, reproducing and repeating it in a free flowing tumbling design across the fabric. It captures the fresh and naturalistic approach to her planting as well as honouring her skill as an artist. We've created it in six naturalistic colourways, presented on a wonderfully tactile 100% linen and on a linen/cotton blend fabric. This design, like all of the fabrics in the RHS 22 Collection, can be used across any of Sofas & Stuff range of British handmade bespoke sofas, chairs, beds, footstools, and cushions or purchased as fabrics for curtains and blinds or other soft furnishing projects.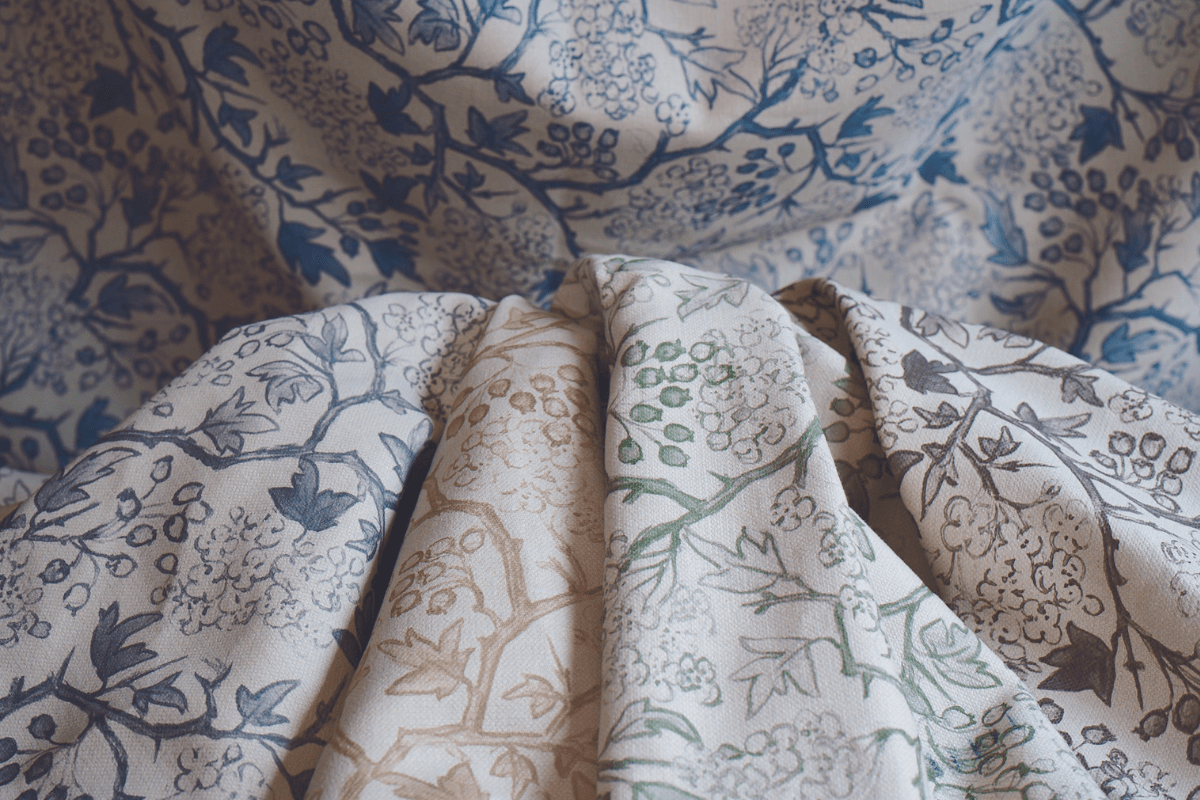 RHS 22 Gertrude Jekyll in Navy, Sand, Green and Grey
In celebration of this lovely design, we wanted to delve a little deeper in the life and work of this remarkable woman.
Gertrude Jekyll – Painter and Polymath
As a young woman in the early 1860s, Gertrude trained as an artist at the South Kensington School of Art in London. She was undoubtedly a talented painter having her work exhibited at the Royal Academy of Arts by the age of 23. She was equally adept at a whole range of crafts, including embroidery, metal work, carving and interior design. These creative pursuits brought her into contact with key figures in the Arts and Crafts movement, including Ruskin, Frederick Leighton, Burne-Jones, GF Watts and William Morris. These connections and relationships were to play a huge role in her life and work, most notably bringing her into contact with the principal architect of the Arts and Crafts movement, Sir Edwin Lutyens in 1889, a man 25 years her junior but with whom she collaborated with on her most significant garden designs and planting schemes.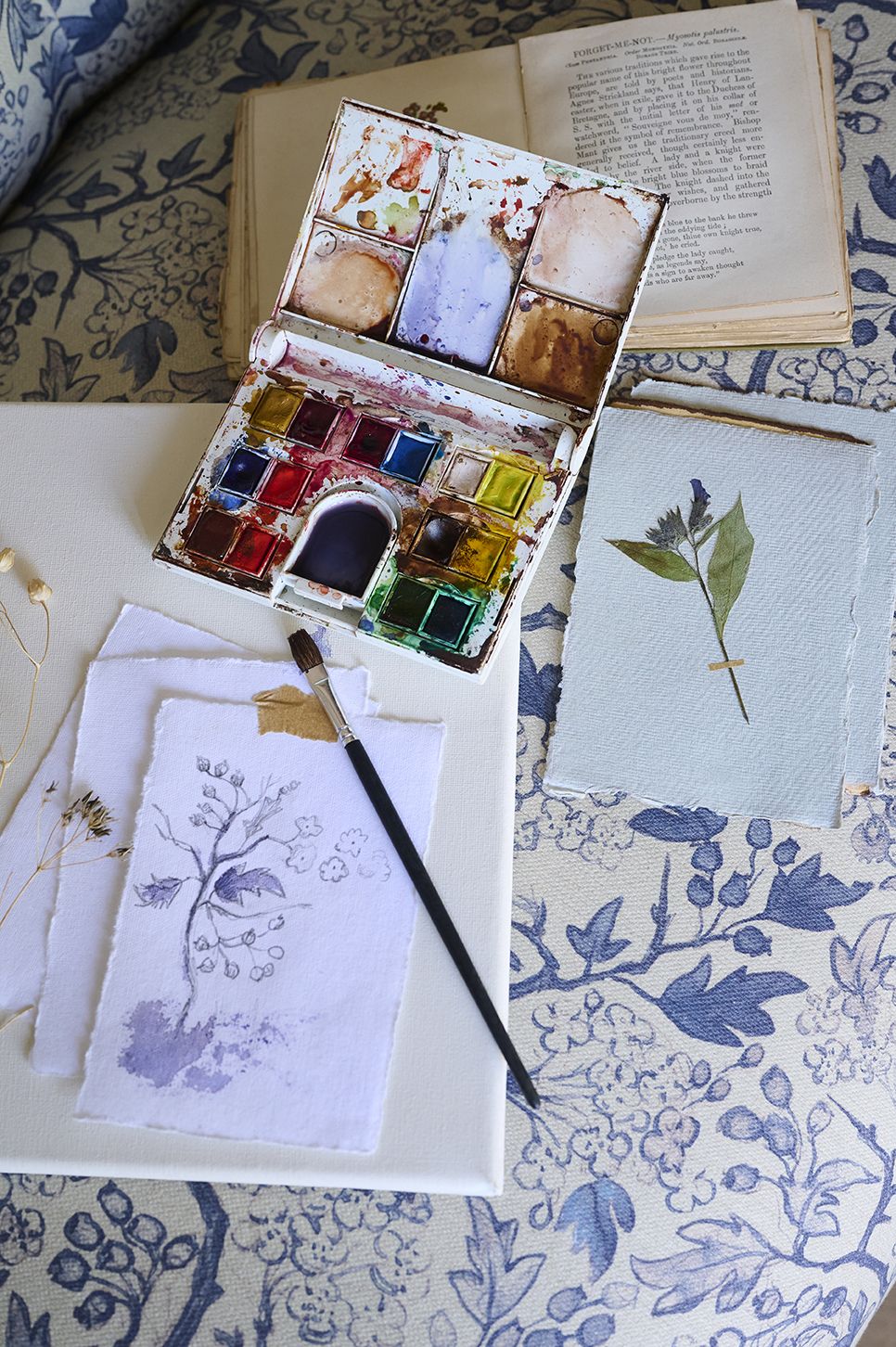 Jekyll's attitude towards garden design was strongly influenced by Arts and Crafts principles. Her approach required each individual plant to be chosen for its habit, foliage and colour, so as to achieve a practical and natural, as well as beautiful effect. At its heart was the belief that a sensitive connection between house and surroundings was vital. The garden should reveal unexpected views and pictorial surprises, both from the house, and as you journeyed through it.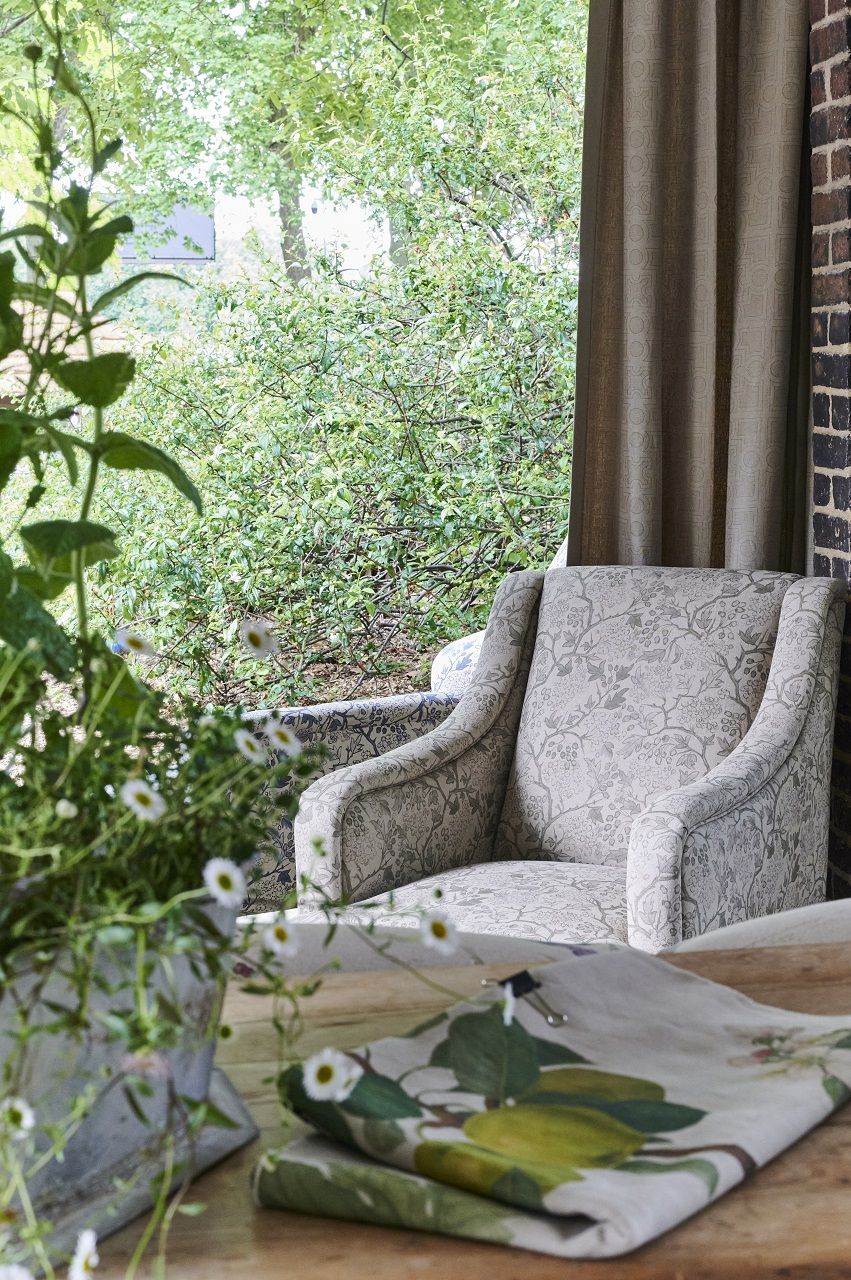 Traveller and expert plantswoman
Gertrude Jekyll was a knowledgeable botanist, collecting and studying specimens from cottage gardens and around the Surrey countryside where she lived. She also travelled widely, visiting Turkey, Italy and Algeria during the 1860s-1880s, bringing back plants from these trips. She used her botanical knowledge and her practical skill to improve varieties and adapt them for use in domestic English gardens. In 1878  she and her mother moved to Munstead Heath, near Godalming, where Gertrude began to design and create the garden surrounding the house. Just a few years later in 1883 she bought the land across the road at Munstead Wood, where she began to create her own garden, arguably one of her greatest creations.
During these decades spanning the turn of the century, Jekyll received awards for her plant breeding, and in 1897 became the first woman, alongside her fellow plantswoman Ellen Willmott, to receive the RHS Victoria Medal of Honour. In 1908 she established a nursery at her home at Munstead Wood, Godalming, supplying clients and other gardeners. Many of those plants have Munstead or Munstead Wood in their names, referencing her home gardens. Lots of these are still readily available today, grown and enjoyed by thousands across the world.
Gertrude Jekyll gardens open to the public
Jekyll created hundreds of garden designs and plans for borders. Not all were built and of those that were, many have not endured in their original form. However, a number of those that have survived are open to the public to visit.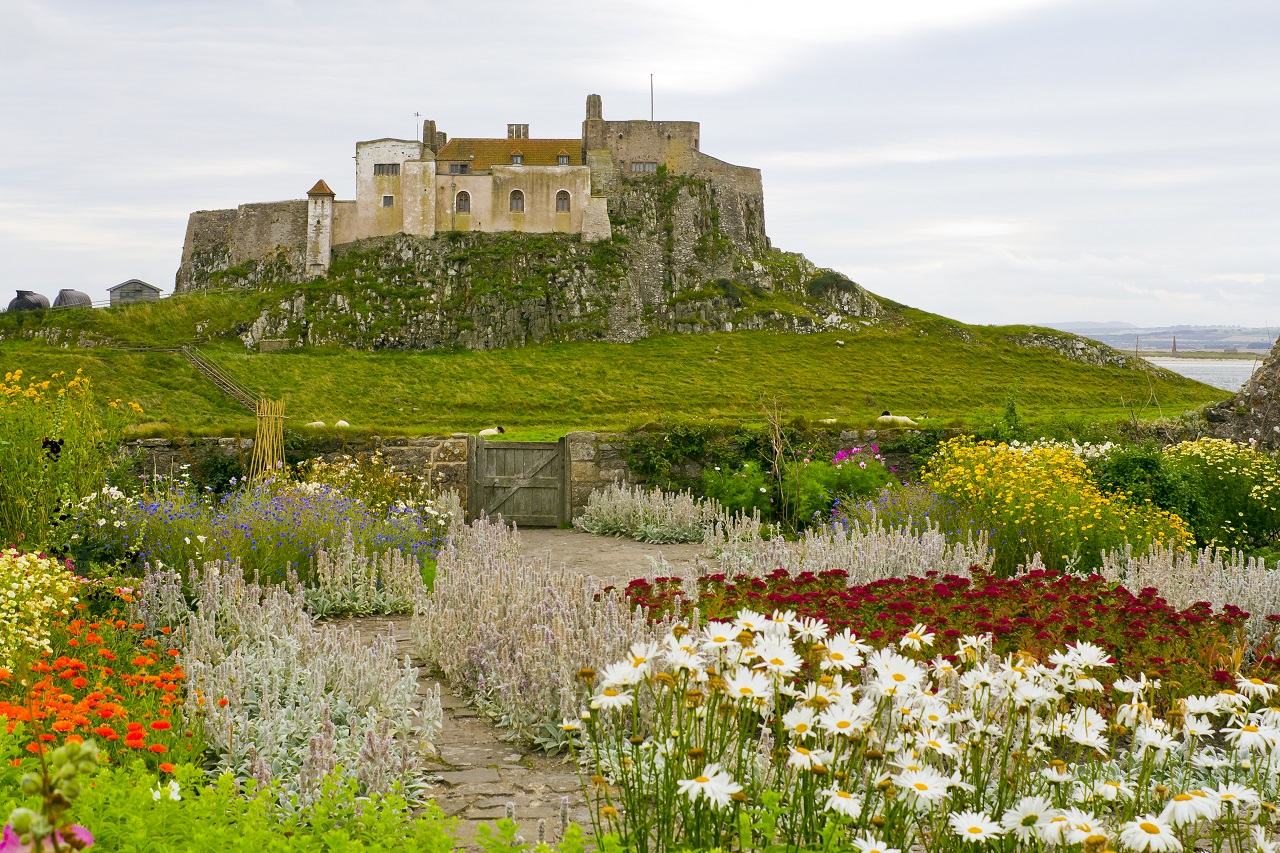 There are Jekyll gardens belonging to the National Trust that are open to the public, including the beautiful walled garden at Lindisfarne Castle, Northumberland and at Barrington Court in Somerset. Many remain in private ownership but open by appointment or under the National Gardens Scheme. Some are now part of beautiful hotels or restaurants and can be enjoyed as part of that experience.
One of the most faithful restoration of a Jekyll garden can be found at Upton Grey in Hampshire, which is just a short drive from our Basingstoke sofa store. Framing a 15th century manor house that was renovated at the start of the 20th century for Charles Holme, founder of the leading Arts and Crafts magazine The Studio, the garden was designed and planted by Jekyll in 1908-1909. It is one of the most accurately and fully restored of her gardens.The story of this immense labour of love can be found in a book by its owner and restorer Rosamund Wallinger, Gertrude Jekyll's Lost Garden: The Restoration of an Edwardian Masterpiece (2000). The garden is open annually from May until July, on weekdays only.
Also in Hampshire, is the Jekyll garden at Tylney Hall Hotel set on wonderful hilltop position near Hook in Hampshire. The gardens, which have been restored over a period of 25 years are, of course, accessible to guests of the hotel, but also open under the National Garden Scheme several times a year.
Another beautiful Jekyll-influenced garden now part of a country house hotel, can be found at Gravetye Manor, Sussex, not too far from our Tunbridge Wells sofa store. This Tudor manor was was bought in 1885 by William Robinson, founder and editor of The Garden magazine and an early advocate of the naturalistic planting style. A close friend of Jekyll, Robinson helped her with the garden at Munstead Wood, while she provided plants for his garden at Gravetye Manor. Jekyll took over the editorship of The Garden for a couple of years in 1899 and contributed many articles to his publications.
And in Scotland, not too far from our Edinburgh showroom, there is Greywalls, a Lutyens house overlooking Muirfield Golf Course, also now a hotel and restaurant, with a strongly Jekyll-influenced garden.
Other notable gardens include Hestercombe, near Taunton, Somerset about an hour south of our Bristol showroom, and for those more centrally located, there is Putteridge Bury, now part of the University of Bedfordshire in Luton, and Knebworth House, near Stevenage, the historic home of the first Earl of Lytton whose daughter Emily was the wife of Sir Edwin Lutyens.
Gertrude's own garden at Munstead Wood can also be visited, although the house built for her by Lutyens is not open to the public. Jekyll lived in Surrey for much of her life, and the area has plenty to offer those interested in her work. Godalming Museum holds a set of forty one notebooks relating to Jekyll's garden design commissions. Other Jekyll-designed or influenced gardens in the area include the woodland water garden at Vann, in Hambledon. And, of course, there is the RHS's historic home at Wisley. It's original garden was established by George F. Wilson in the last decades of the 19th century with some help from Jekyll, who later wrote that 'Mr Wilson was kind enough to let me come and do actual spade work with him. All are located less than an hour from our flagship Fittleworth showroom, and are certainly worth a visit.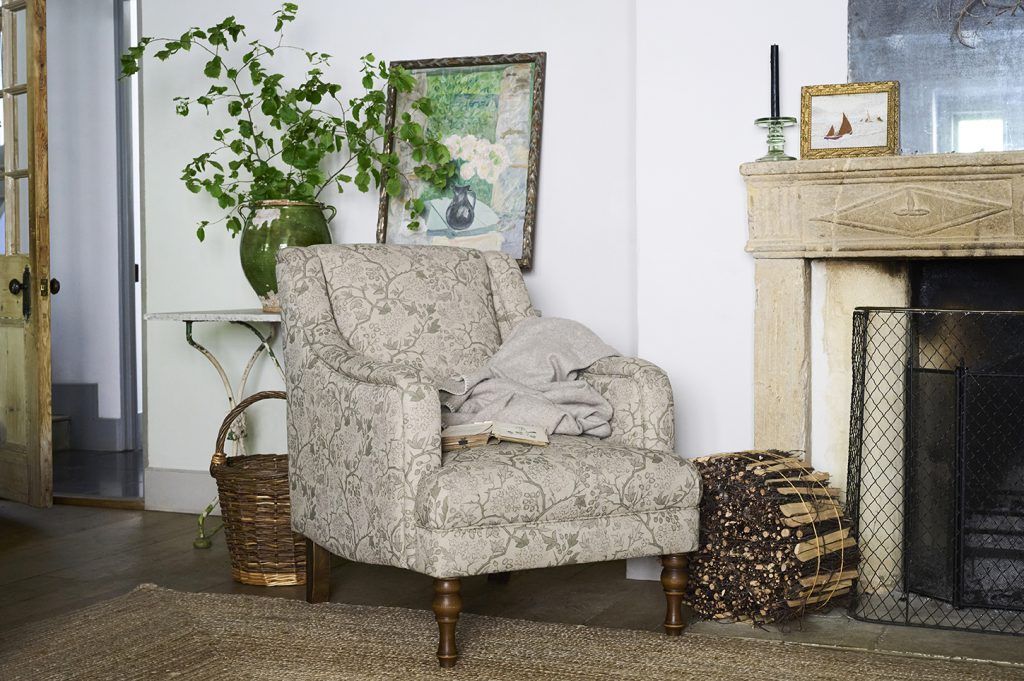 "The best purpose of a garden," wrote Jekyll, is to give delight and to give refreshment of mind, to soothe, to refine, and to life up the heart in a spirit of praise and thankfulness." We are minded to agree, and perhaps to suggest that a wonderfully comfortable sofa or armchair, especially one covered in a beautiful patterned fabric inspired by plants and the tranquility of a garden, might offer a similarly restorative boost!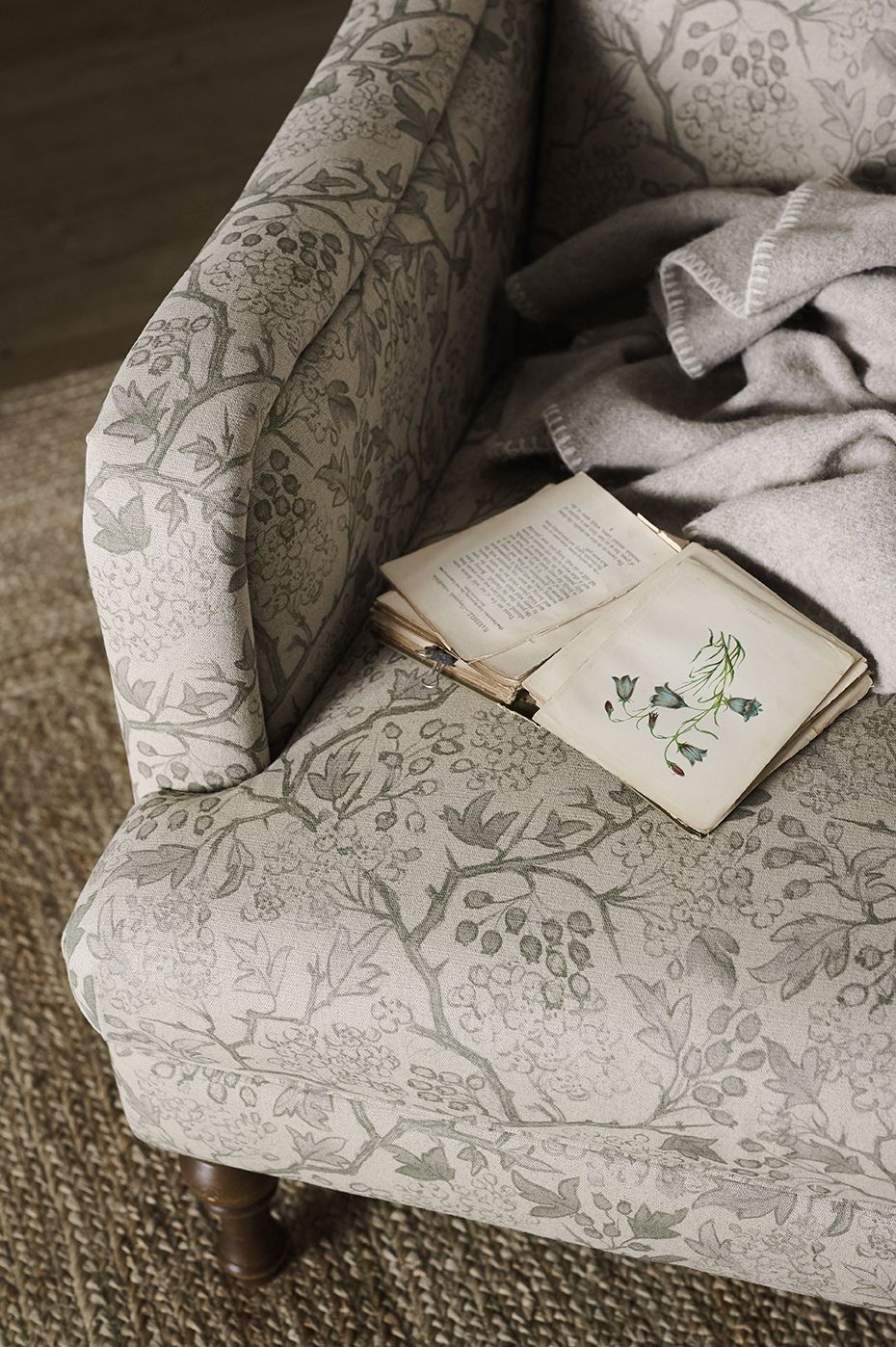 ® The Royal Horticultural Society. The Royal Horticultural Society and its logo, are trade marks of The Royal Horticultural Society (Registered Charity No 222879/SC038262) and used under licence from RHS Enterprises Limited.