If, like us, you have dogs and cats, you're going to be sharing your sofa with them. There's nothing like a warm cuddle with your pet at the end of a stressful day, and it's hard not to give into their pleading looks when they want to snuggle.
At Sofas & Stuff, we love our pets too, and we have a whole range of cat and dog-friendly sofas and fabrics for your home. Child proof and pet-friendly sofas are a practical choice for any busy home. In all our sofa stores, we understand the importance of family and pet-friendly fabrics because understanding our customers' is what we do best. Puppies, crayons and the odd spillage is always an eventuality in any home, no matter how hard we try to avoid it.
Stain resistant fabrics are incredibly practical for accident prone households and are proving more popular than ever. Fabric styles are evolving to ensure that they are hardwearing and suitable for whatever life throws at them. We have many options for the mess-conscious but don't just take our word for it, discover our endless possibilities for yourself.
Pictured above is Rex, the winner of our recent 'Your pets on our sofas' competition, photographed regally sitting on the Aldingbourne 3 seater sofa in Floral Linen Lela Mystery Oat Indigo by his owner Katie.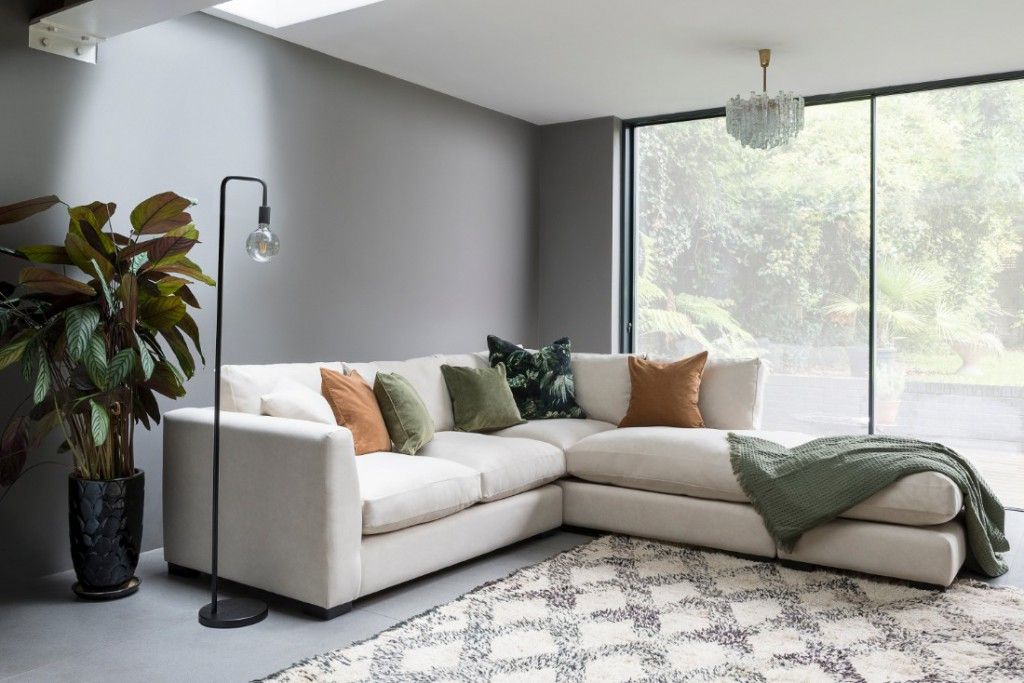 Pet-Friendly Fabrics
Aqua Clean by Ross Fabrics is a beautiful collection of wipe clean technology stain resistant fabrics that only requires clean water and a cloth or sponge to bring your sofa back to looking brand new. The technology works on mucky paws, pens, mud, tea, wine, chocolate and so much more. In the range, as shown above, is a beautiful fabric named 'Dunbar' that cleans like a dream.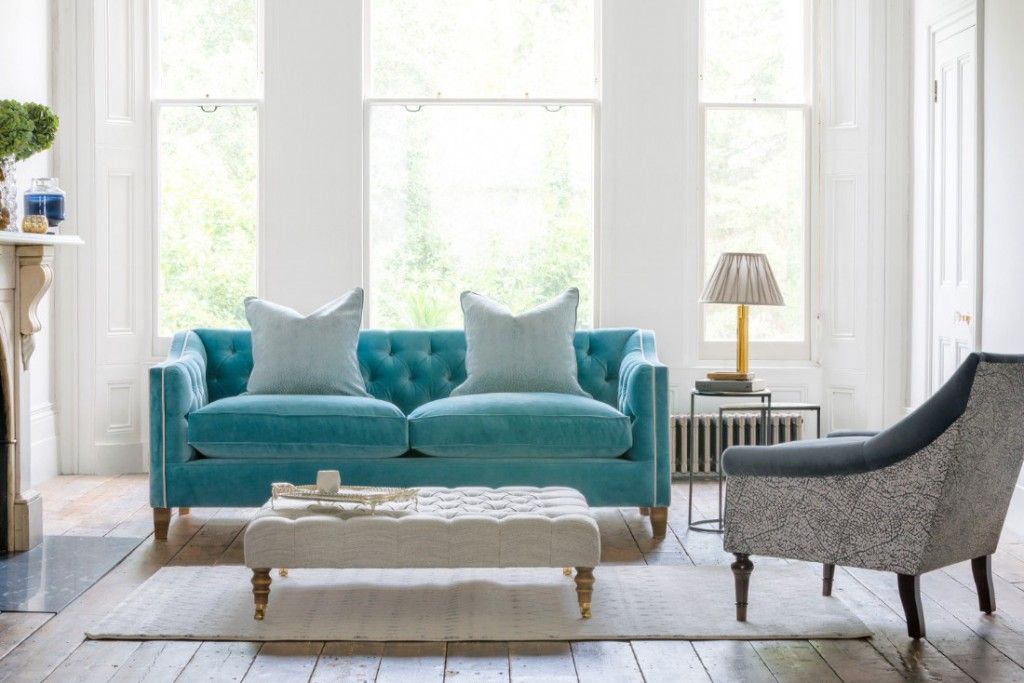 Dog-Friendly Velvets
Omega Velvet is one of our favourite and best-selling sofa fabrics. It also comes in a multitude of gorgeous colours both bright and subtle. Omega Velvet is 100% polyester and is finished with a stain resistant layer to ensure ease of use – perfect for spills and messy pups. The colour range in this collection is substantial, and we are sure to have the right one for your room. The sumptuous blue pictured above is named 'Airforce Blue' and is just one of the many fabulous hues available.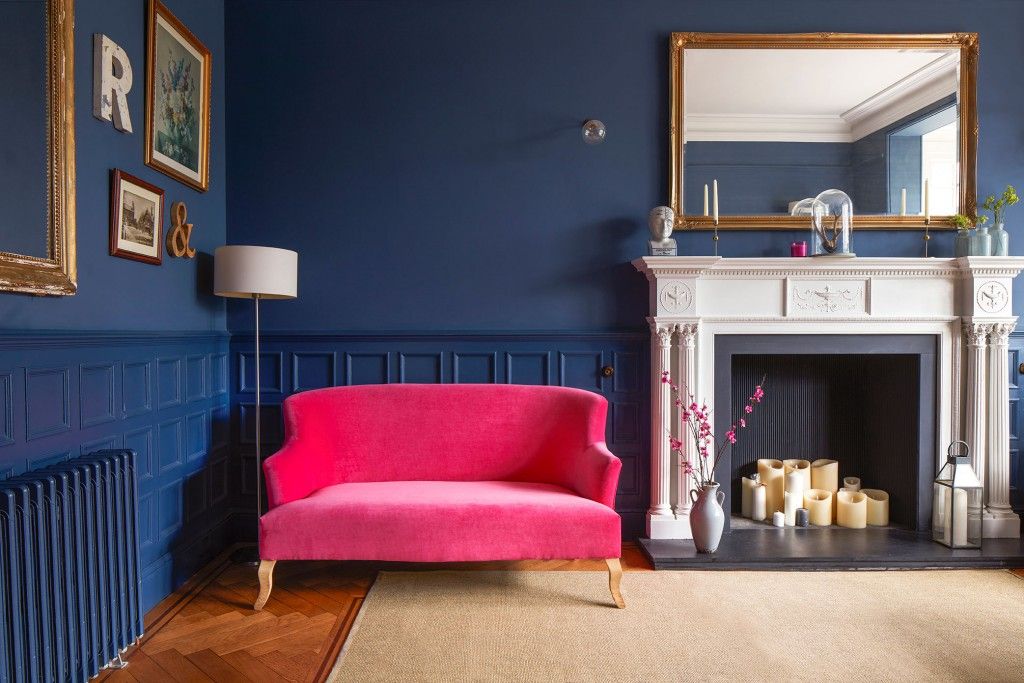 Fabric Protection
As well as fabrics designed for mucky pets and accidents, we offer a service called Staingard which is a policy that can be taken out on any of our fabric, be it a house linen, cotton, velvet or whatever you desire.
Our Staingard service is an optional extra to give you 5 years of stress free living with your sofa. If you decide to take a Staingard policy out on your sofa or chair – we will give you a handy cleaning kit with all of the essential sofa cleaning products, should you wish to tackle a mark yourself, as well as a promise to remedy rips, tears stains, ink, paints & bleach and even burns for a total of 5 years. You would also be covered against premature softening of cushion fillings, dye transfer from clothing such as Denim and pet damage. This makes any sofa an easy-care sofa – at £40 per seat, a 3 seater sofa would be covered for just £24 a year for 5 years. Ask your nearest local sofa shop for the full low-down on what you're covered for and why it's such a fantastic service to have for your furniture.
Whether you are looking for new sofas for your busy home or wondering which fabric is best to make your sofa a pet-friendly sofa, our design consultants are on hand to guide you through the process to find you the ideal easy care fabric for your home. Book a free design consultation with them today, or order your free pet-friendly stain resistant furniture fabric samples to test them out for yourself.
We'd love to see your four-legged friends on your Sofas & Stuff sofa, chair or footstool so please do send us your pet pictures or tag us on social media @sofasandstuff. Take a look at some of our favourite proud pet moments captured by customers so far…