We are really excited to relaunch our 'On the sofa' series featuring interviews with experts from the interiors industry.
Our first interview is with Pippa Jameson, an interior stylist, who has worked for many of the leading interiors magazines, as well as high profile TV shows.
Pippa has 20 years of styling experience and has worked in all areas of the industry. She was Deputy Interiors Editor for BBC Good Homes magazine, Interiors Editor at Best magazine, and was interior designer for the ITV1 prime time show 'Bad Builders Bang to Rights' with Dominique Littlewood. Pippa was also the designer for The Hotel Inspector with Alex Polizzi and industry expert for the The Fixer. Recently she produced and styled the launch of Dulux Colour of The Year 2020; so we couldn't wait to ask her some questions about her career, what inspires her styles plus get some handy interior design tips from her. 
Here's what Pippa had to say when we caught up with her…
Can you tell us more about how you got into interior styling?
My passion for interiors started from a very young age and led me to study textiles at university. Interior styling was a very niche career back then with very few interior magazines. I remember styling my own set-ups at home and then making appointments with the magazines to showcase them to editors. One editor suggested that I should try styling and shared all of her contacts with me. I phoned every single one of them until one of her stylists offered me an assistant role and that was the start of my career.
My first shoot assisting was for The World of Interiors magazine. It was a very daunting experience but as soon as I was on set, I knew that that was the career for me.
How would you describe your own personal style?
It has taken a long time to find my true identity and style and I think that's because as a stylist, you are in some ways a chameleon, adapting to the brief of the client but always adding your own mark. Over the years I began to discover what colours really resonated with me, also the type of fabrics and materials that I like to be around. This became clearer when I bought my first home and started to collect and invest in furniture and accessories.
My style is calm. Lots of wood, texture, patterned textiles, large art pieces and an earthy palette. Nothing plastic, shiny or bright!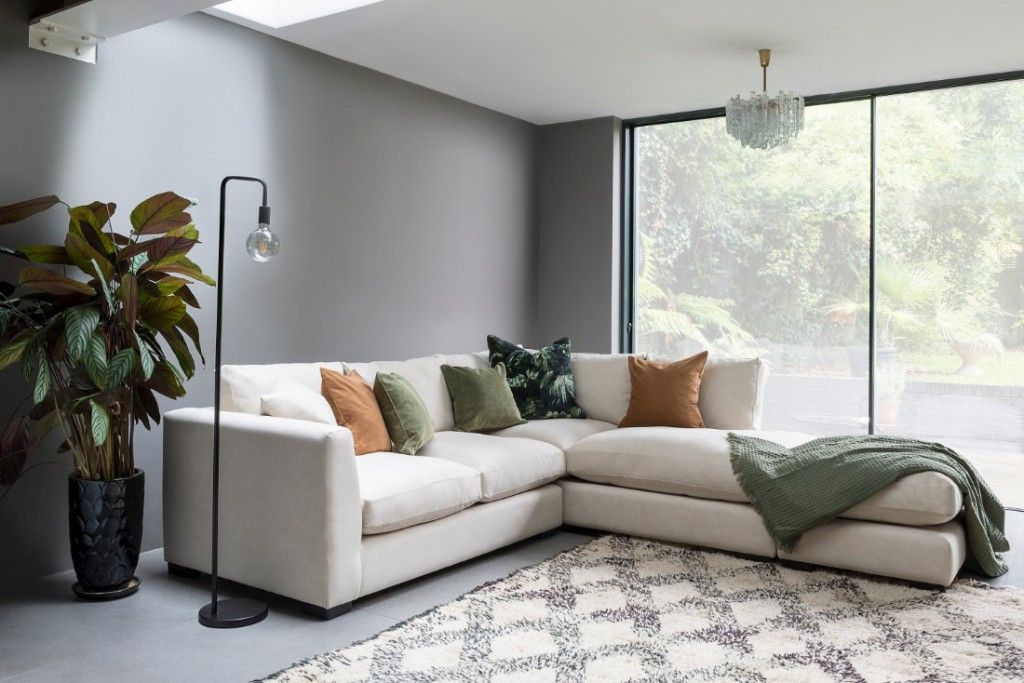 Could you tell me a bit about your home – how would you describe the interior? Which room is your favourite and why?
We moved into our home in 2012 and waited 5 years before we did anything to it. It was a little red brick house with a wild English country garden. We didn't want to knock the house down and so we extended, covered it with grey cladding and painted it black! We knocked down every wall apart from the chill out room for our two girls, to create a large open plan living space. The double height living space has a vaulted roof with skylights and a floor to ceiling chimney. The downstairs has a light and airy feel as natural daylight floods in but feels cosy at the same time due to the rich green wall colour and large fire. We have the same in the new master bedroom with vaulted ceilings and a view into the country.
Most of the downstairs is painted in Inchyra Blue by Farrow and Ball, which is a deep blue green. Our bedroom is Racing Green (also Farrow and Ball), the warm colour is off-set by contrasting pale pebble tones and an abundance of natural wood. Being a stylist, I have far too many cushions and throws but the effect is lots of pattern and texture, which can be easily moved around to complement the earthy tones from the outside.
We are surrounded by trees and lucky to have a front and back garden, this means that whichever window we look out of, we can see green. I realise that nature and natural daylight is integral to my happiness. That and the sound of the ocean but for now, that fix is something I get from holidays…
Where is your favourite place to go in London for design inspiration?
I have always been drawn to East London as it's where I have lived and spent most of my time – there's a huge creative scene. Bethnal Green, Hackney Wick, Dalston, you have Columbia Road Flower Market, fabric shops and a vintage scene on Brick Lane, period styles houses, the creative studios and pop up shops, bars and restaurants alongside the canal, Victoria Park, Museum of Childhood, creative workshops…the list goes on. I feel very much at home there and it's where I work from most of the time. We used to live in a converted school building just off Victoria Park and my commute to work was cycling along the Regent's Canal next to Victoria Park with my girls in a chariot at the back ready to drop them off at the nursery.
What would your dream styling project be?
Renovating and styling a large chateaux in France, similar to 'Escape to the Chateaux' with Dick and Angel. I would also like to move there and we probably will once the children are older.
What is your design essential?
A small mood board. This might be in the form of a tear sheet or a paint sample but it's where an idea is developed and can be built upon. Also being organised. Over the years I have understood the importance of a business 'process'. Essentially this is your unique selling point (USP) and the reason why clients will come back to you.
What inspires your interior projects?
Everything! Most of my projects are trend-led schemes and so I always look to fashion for inspiration. We spend a lot of time in the south west of France and their laid back living style tends to reflect the simplicity of my styling.
With people currently homebound, what are your favourite quick-fix instant interior updates?
The temptation can be to take on too much too soon, become overwhelmed and do nothing. Mindfulness has been mentioned so much over past year and we don't want it to become a coined phrase as it's so important. We all need a calm space at home where we can think and unwind. There is so much truth in tidy home / tidy mind.
My top 5 quick interior design tips and fixes:
Clear the clutter to allow yourself some thinking time, anything that hasn't been used or missed within 6 months can go.
Upcycle / paint furniture. Jack Black by Little Greene is great for transforming pine furniture. Or why not paint your front door in a fun and bright colour? Wickes are still doing online deliveries and other stores are doing click and collect.
Create an indoor herb garden. Old tins will work and look nice when aged.
Make a macrame wall hanging.
Create some artwork – just have a go! Although things are tough right now, it will be important to look back and reflect. For a modern piece, try handprints in multiple colours as this will have a pop art feel. Flicking paint onto a canvas and then standing it up to drip or you could try painting lots of horizontal lines in various bright colours varying the size of the stripes.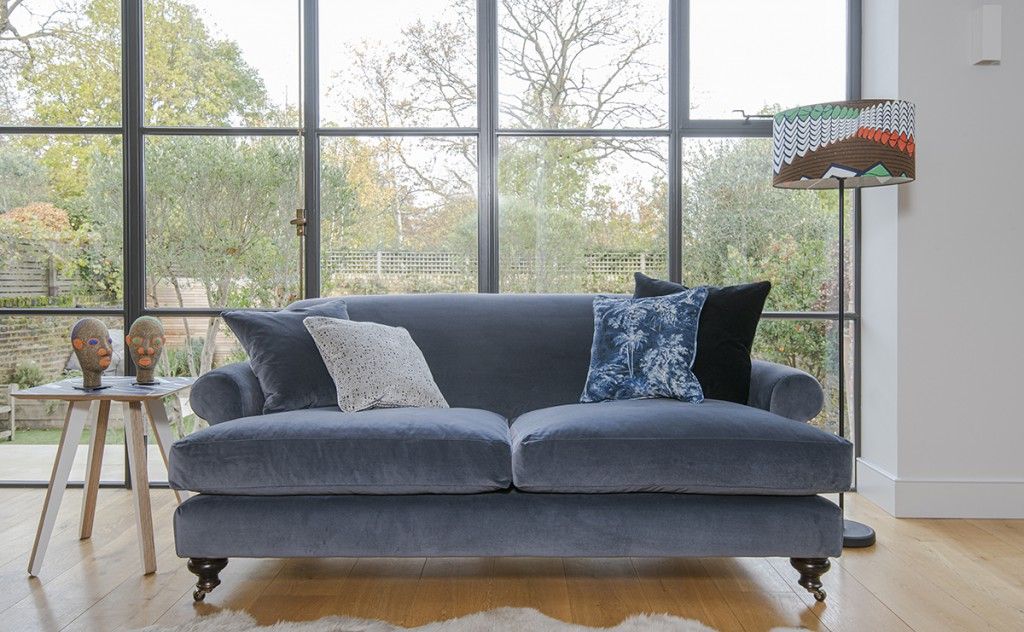 Do you have any design advice for creating a sanctuary space for wellbeing in the home?
We might be unaware that our home is making us feel tired or stressed. Perhaps the office is north facing with no natural daylight and after a prolonged amount of time, it affects your mood? Maybe the living room layout is completely impractical and visually jarring and frustrating you on a daily basis? My advice would be to break each room down to make sure that the space is working for you.
Identify which space in the house makes you calm. Make sure it is free from distractions such as noise and digital stimulations. Make yourself comfortable and spend a minimum of 10 minutes on your own. This time could be spent reading or meditating. There are many simple meditating techniques online but the key is to go somewhere restful in your mind, concentrate on your breathing, push out all the stress and negative thoughts. It's a simple and winning process.
What advice would you give to homeowners looking to incorporate new and original styles into their homes?
Don't rush into anything. Research online and start to build a picture of what you like. Don't be tempted to go for something just because it's on trend as trends will pass. Identify paint colours that resonate with you and be sure you paint a really large sample on the wall. Pinterest is a great resource of inspiration. My advice is to be brave and really go for what you like, after all, it's your home.
What's the biggest mistake people usually make when styling their homes?
Don't make it look 'too styled' – keep the space relaxed with artwork leant against walls and accessories casually arranged rather than exact placements. The eye reads odd numbers best and so artwork or cushions work well in clusters of 3, 5 and 7 for example.
Resist the temptation to have furniture against a wall. As long as you have a rug to anchor the space it will work. Make sure the coffee table is proportionate to the sofa. It should be about 2/3 the width of the sofa and your rug needs to have at least 1" space around the coffee table.
When decorating what do you splurge on and save on?
Quality paint and striking artwork as these items are most impactful and can't be cheated.
Is there a preferred colour palette you like to work with? If so, what is this and why?
Deep blues and greens teamed with lighter neutral shades. The colours make me feel and calm and relaxed. I look at the wall in my home and I naturally feel happy. What is right for me will be totally different for the next person. Ignore 'trends' in your home and find out what paint shades make you happy.
What are the most popular requests with regards to home styling?
Finishing a home and pulling it all together!
What are the biggest changes in interior design that have lead to a shift in the way people want to style their homes? What are their new priorities now?
Sustainability has had a huge impact on interior design. Not only the way people shop but also what suppliers are producing. We're shopping more responsibly and asking ourselves where items have come from and how renewable the materials are. Bamboo and rattan have become more popular and natural fabrics such as cottons and linens have all grown in demand.
People are searching for low cost and environmentally friendly styling solutions such as upcycling existing furniture pieces, using toxin free paint and home crafting projects.
What do you see as being the biggest ideas and expressions in home styling for 2020?
We will see a continuation of sustainability and mindfulness, which will be further cemented by COVID-19. Now more than ever, we will be looking for low cost home styling solutions. Paint colours will reflect our love for the planet with rich blues, greens, desert sands and flashes of sunshine yellow.
If you could live in anyone's house whose would it be and why?
I wouldn't want to live in anyone else's home but mine

For more information on Pippa or to contact her directly please visit her website.
If you need help designing your next sofa, bed, chair, or footstool then consider booking a free live video design appointment with Sofas & Stuff today, where we can discuss sizes, colours and fabrics to suit your style and room. You can also order free fabric samples on our website for more inspiration, and even design your own sofa!
Interested in becoming our next 'On the sofa' guest – send us an email here.
Pippa Jameson 
Styling website www.interiorstylists.com
Blog www.pippajamesoninteriors.co.uk
Instagram @pippajameson
Twitter @PippaJameson