Traditionally, the drawing room was the place where beauty and comfort combined to create a harmonoius and impressive display: the 'best' room in the house. Often saved for special occasions or Sundays, the drawing room was traditionally the place where all the most treasured family possessions were on display as a testament to the taste, culture and artistry of the lady of the house.
It was the place for entertaining, for card games, tea or reading and perhaps sewing in the evenings after dinner. The drawing room was likely to have been the most highly decorated and fashionable of  any room in the house, as it was the one most likely to receive guests and to show the family off at its most respectable.
Decorated with pattern and colour, tapestries and other samples of family needlework, abounding in cushions of every shape and texture and a plethora of objets d'art set out on every surface, the Victorian and Edwardian drawing room was partly a declaration of the family's wealth and taste and partly served almost as a family museum of sorts, with photographs and portraits of relations, houses and animals adorning the walls, which would have been richly hung of papered according to the taste of the period.
Children would have been admitted to this treasure house on special occasions only and perhaps for a few minutes after tea to be shown off to their parents before being whisked away to bed in another less lavishly appointed part of the house.
Today, those of us living in period homes feel the urge to recreate something of this atmosphere of homely treasures, decoration and opulence while our lifestyles are markedly different from those original occupants of these very rooms. But while our manners and family life may be more relaxed, we can still create a beautiful environment perfectly in tune with our surroundings and the architectural bones of the house by choosing furniture and furnishings designed in the spirit of the past but which benefit from all the advances of modern manufacturing.
One sofa fits all? The Alwinton Sofa, a classic, handmade British sofa from Sofas&Stuff, is a perfect example of a modern sofa that will fit beautifully in a period home without sacrificing comfort or practicality. In pale linens or Liberty prints for an Edwardian interior, tartans and velvet for the Victorians and a pale gold damask or stain stripe for the Georgians, the Alwinton is also a remarkably versatile shape.
Georgian style featured neo-classical influences in furniture as well as in architecture and a simpler, more elegant aesthetic is also well suited to a neo- Georgian interior. Without going as far as insisting on original pieces, it is possible to recreate the air of a Georgian drawing room using modern furniture that shares some of its hallmarks: the tightly fitted, firm-seated bench-style settee, made for perching on for fifteen minutes  rather than indulging in a prolonged slouch. Comfortable modern versions of this elegant model can be had at a fraction of the price of a genuine original and look especially good facing each other in pairs across a handsome chimneypiece or Chinese carpet. (Chinoiserie in all its forms was all the rage and is a fun modern addition to the neo-Georgian catalogue of furnishings…)
The relaxed spirit of English Country House Style is perfectly suited to creating an appealing and comforting environment using the contrast of pattern and texture, deep-buttoned upholstery and elegant legs so beloved of the Victorians.
In a Victorian style period house, tartans and velvets are a fabulous and appropriately luxurious choice, as are deep dyed prints and tapestry fabrics, on curvaceous models with dark wooden legs and brass castors.
The sofa shapes most suited to a new Victorian interior would probably be the new Chesterfields, with their comfortingly chubby arms and back, deeply buttoned surfaces and velvets and deep-dyed botanical prints, reminiscent of the opulently green recesses of the burgeoning Victorian glasshouses which were to become so popular after the Great Exhibition of 1851.
Things became generally slimmer and lighter with the advent of the Edwardians, and perhaps a little stiffer. Edwardian dress became tighter in the leg and sofa styles morphed to suit, with tightly fitted upholstery on a slimmer silhouette in a lighter palette. Deep buttoning began to recede and sleeker lines and slimmer arms again the order of the day, although comfort was still paramount.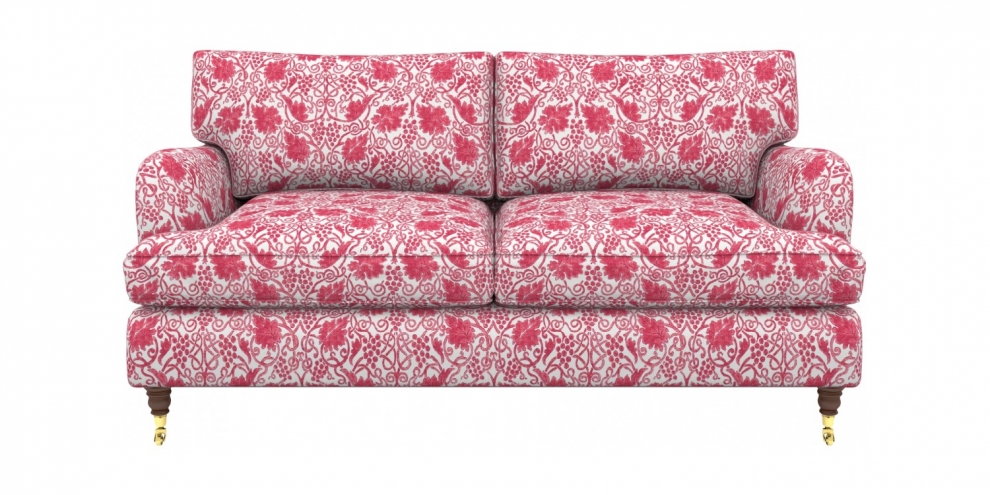 Many advanced Edwardians embraced the exotic forms of Art Nouveau and then the aesthetic new Arts and Carfts movement with its emphasis on natural forms, lighter oak and simpler shapes with a handcrafted feel. This movement was embodied in the output of studios such as that of Morris & Co which still produces updated versions of the original organically inspired graphic and beautifully-coloured tendrils and hedgerow prints for which it is so famous.
Liberty prints, too, came to the fore in Edwardian times and make the perfect choice for a modern recreation of the spirit of Edwardiana, if such a thing exists outside the pages of interior magazines…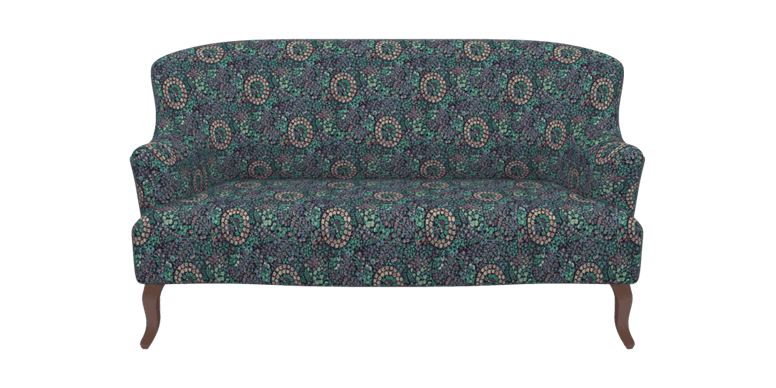 This blog post was written by Maud Kirkpatrick