Ever since she was young, Jane Fleming has always been fascinated with creative home styling. Back in 2006, she made a leap of faith when she decided to change her career path to become an interior designer. Now, she's been helping clients create their dream homes for 12 years, more recently with help from our Woodchester sofa shop near Stroud in Gloucestershire.
For this month's 'On the sofa' feature, Jane shares her top tips for styling an interior, including how to do this yourself from the comfort of your own home.
How did you get into interior design?
Interior design has always been my passion. Even as a child, I would spend hours creating different room sets in my dolls house and making soft furnishings for the rooms. I can even remember making rose pink velvet curtains at the windows and re-upholstering a miniature toy sofa from the scrap fabric box!
My career was heading in the corporate communications direction, but in 2005 I had a lightbulb moment! I realised the highlight of my day was visiting the fabric department of a nearby store. It was an Aladdin's cave of treasures for me and each visit left me inspired. Clearly, if I didn't change my career path, it would be something I would always regret. So, I decided to study as an interior designer and in 2006 I created a partnership in an interior design company. I've never looked back!
How would you describe your style?
It depends on the space I am working with; I love blending different design styles. Design fusion, in a way. I live in a very old property, with origins going back to 1650, so naturally I tend to veer towards classic styles to retain its character, but I also enjoy introducing modern twists. I often start by creating a neutral palette and artfully splash colour with soft furnishings, accessories and an assortment of natural textures, to create a cosy, welcoming home.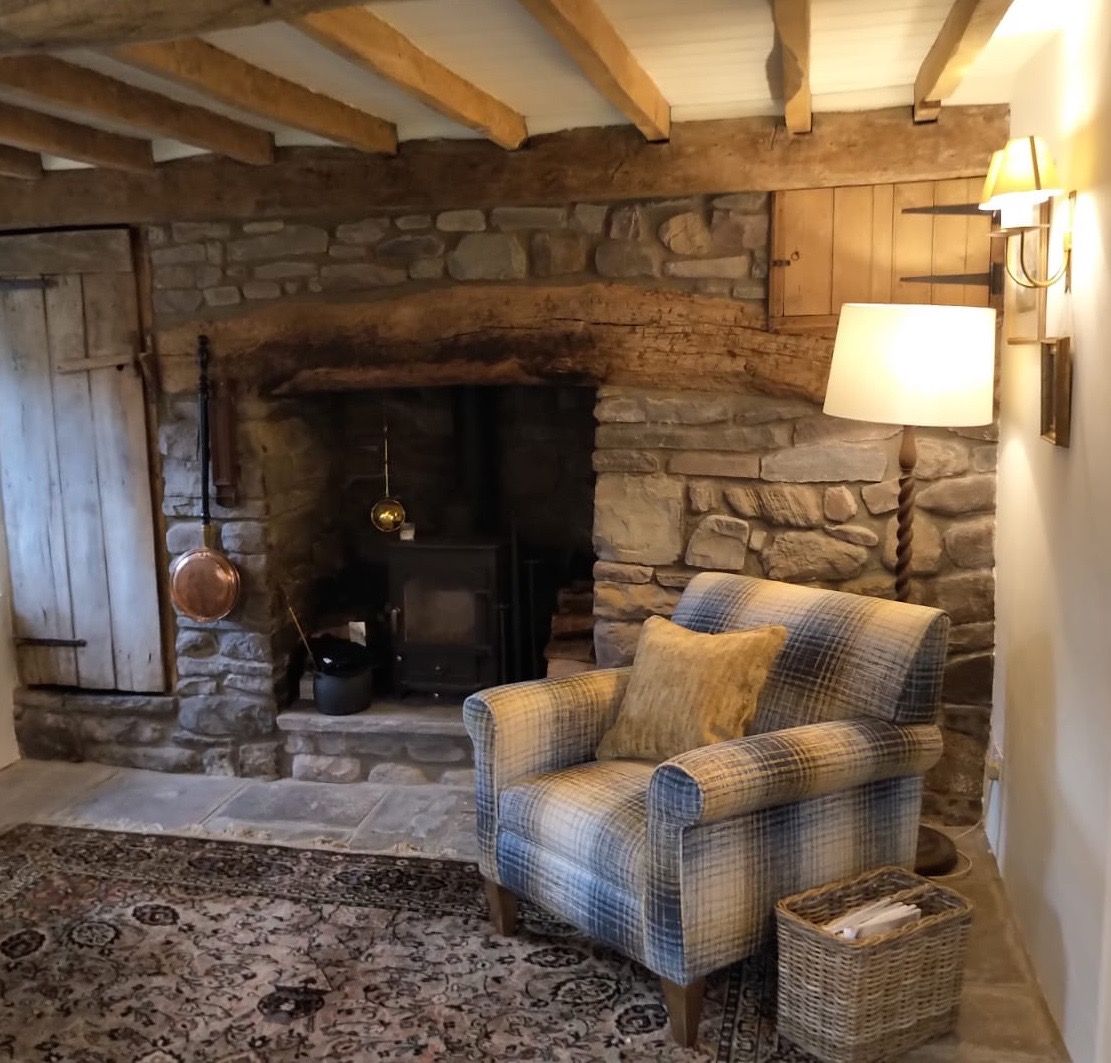 Can you tell us about some of the projects you've been working on recently?
My recent projects have all been very different. Some are new clients, but it has been really rewarding to receive repeat business from existing clients too.
One of my clients is a family who, because of the lockdown period, wanted to re-evaluate and re-organise their living spaces. Another returning client is a retired lady who moved into her picturesque cottage just before Christmas. She was keen to make the cottage feel like home, but found the whole refurbishing process overwhelming. I hope I encouraged her to trust her own judgment, as well as mine. I have now helped her re-design the interior of the cottage and she is thrilled with the results.
I am also currently working with a busy professional couple who moved to the Cotswolds from London just before lockdown. Their house needs to be refurbished almost from the ground up, so I am enjoying helping them create their dream home.
How do you create a feeling of space when styling an interior?
Initially I recommend a pale colour scheme, which immediately gives any space a calm, uncluttered feel. This in turn provides a neutral backdrop for introducing colour and texture with an assortment of furnishings and accessories. I also introduce simple, streamlined furniture. This means that your eye travels easily around the room, following the flow of the lines of the furniture without you noticing.
Making the most of the shape of your room, and even the space between furniture is so important. You can choose a beautiful object or sofa and if it's not in quite the right space, it will never feel harmonious as it interrupts the 'flow' of the room.
If there is a need for cabinetry, I make full use of the vertical space by fitting floor-to-ceiling units, which encourages the eye to travel upwards and make the room feel taller and spacious. 
Symmetry can also work wonders and can help the room to feel balanced. And you can't underestimate the importance of a mirror. Not only does it draw the eye up, but it also bounces light around the room, making any space appear larger and brighter.
What top tips would you give for styling a room
My top tip would be to determine your personal style – how do you want your space to feel? Don't be swayed by what's on trend; the most important thing is what makes you feel good and expresses your personal taste.
Think about the proportions and scale of the room and use a mixture of different shapes, heights and sizes.
Find fabric you love for soft furnishings and upholstery at the start of your project. It's far easier to pick out paint to match, rather than finding fabric to go with the painted walls. 
Avoid impulse buying – plan before you buy and avoid buying everything from one place which can result in too many things matching and make your home feel like a showroom rather than a lovely characterful interior.
Look for unique items that will add character to your room, whether it be an odd chair you found at an antiques market or an amazing painting you bought on holiday. Those objects are part of your own history – and that's what makes a house a home.
Reflect your personality in your room and be genuine with your style. You have to be happy with it and it isn't necessary to spend loads of money when creating a lovely space. Choose 'investment' pieces that will last and then shop around for those bargains.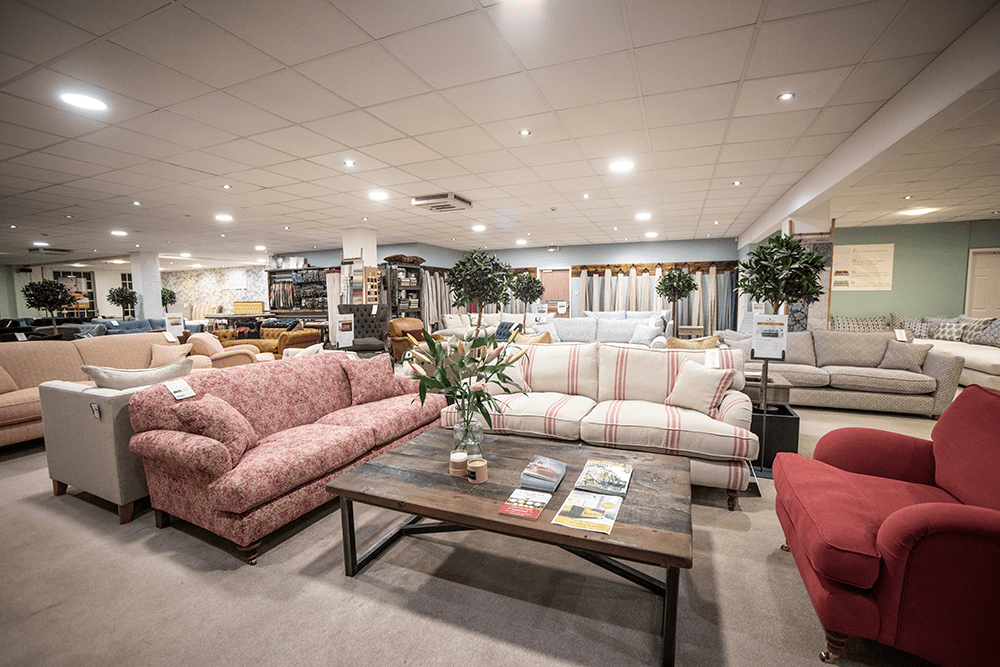 What considerations should you take into account when shopping for a quality sofa that will last?
I always stress the importance of never buying a sofa without trying it out. Sit on it, lie on it, try it out the way you would use at home and always make sure the cushions and the back are as soft or as firm as you want them to be. 
Also, be very mindful that a sofa may look deceptively small in a large showroom, but could end up being far too big at home. Always measure out the sofa dimensions in your room to make sure it is definitely the correct size for the space.
Finally, a sofa is not simply for sitting – it also sets the tone of the room, making a statement with its shape, style, colour and finish. As well as being inviting and comfortable, it needs to be practical enough to last for many years.
When working with a new client, what helps you get a feel for their personal style?
I have learnt never to assume a client's personal style. Many of my clients are unsure of their own style, so at the initial consultation we spend time looking at images of room sets and discussing these images together. I have found this part of the process really successful – it helps clients focus on what they like and what they don't. It's a key part of helping clients understand what can be achieved, which is very exciting!
As well as home styling, your portfolio also includes hotels and corporate projects. How do you create a sense of cosiness in a 'home away from home' environment?
We all love a bit of luxury. Introducing some softer touches into a corporate environment does create a welcoming, homely atmosphere. The key here is thoughtful interior design: soft lighting, a comfortable bed, crisp cotton sheets, a simple velvet bed throw, luxurious curtains, attractive scatter cushions and a beautiful occasional chair. These will all help to create a unique 'home away from home' experience.
What helps you get out of a creative rut?
I can remember being told; "it takes a lot of energy to be creative."
So, my advice would be to protect your energy and use it well. Look around at nature, listen to music, read a book, take a walk, start an inspiration file and keep an ideas notebook, or just sleep on it!
Your website is filled with lovely testimonials from satisfied clients. What's been your most challenging project to date? Why?
I have had some lovely clients and it is great to receive such complimentary testimonials. My most challenging but most rewarding project was working with a client who lived in Dubai. He needed interior design advice to refurbish a recently-purchased, ultra-modern London apartment for his new tenants. Having taken an initial brief and liaised with the new tenants, the client had to put complete trust in me to design and install within a very tight deadline. 
You're based in the Cotswolds. How do you capture the essence of your surroundings when styling an interior?
I am very lucky to be living and working in such a beautiful area, renowned for its gorgeous Cotswold stone properties. So many of the houses are built in soft buttery stone, which creates a perfect palette as it weathers. It is such a lovely backdrop to any interior design project. My interior design focuses on texture, light and soft neutral colours, using materials that naturally complement the stone to achieve a calm, inspiring living space. Colour and interest are introduced with soft furnishings, accessories and one-off, possibly quirky pieces. These individual touches reflect a client's personality.
At Sofas & Stuff, our sofas have always been made in Britain. What do you see as the key benefits of bespoke, British-made design?
I do believe that bespoke British furniture is some of the finest in the world. Many British manufacturers employ local craftspeople and have a huge passion for keeping traditional furniture skills alive. 
I am also a great believer in supporting local businesses. Knowing that your furniture has been made in the UK, instead of being shipped across the world at a huge cost to the environment can only be a good thing. 
Compared to the mass production of some furniture lines, a bespoke piece, although more expensive, can always be seen as an investment for the future and will last for many years.
Is there anything else you would like to tell us about?
Good design is like a jigsaw puzzle in which all the pieces fit together correctly and harmoniously. However, if you are struggling to achieve your vision, get in touch with an interior designer. A good designer can help you save money and time and offer you professional advice, better resources and reliable contacts to make sure you exceed your vision and get everything right first time!
If you're looking to freshen up your home, why not order some free fabric samples today? They'll give you an idea of exactly how the colours and textures will look in your space. You can also book a private design appointment with us, and let our experts help you create the sofa of your dreams. Want to get started before visiting your nearest showroom? Design your own bespoke sofa on our website to get a flavour of what we can do in store before popping in to start getting creative.
Would you like to be featured on our next 'On the sofa' interview? Send us an email now. If you are an interior designer and want to work with Sofas & Stuff please see our interior designer trade page.
Jane Fleming
Website www.cotswoldsoftfurnishings.com 
LinkedIn Jane Fleming – Cotswold Soft Furnishings and Interiors
Instagram @Cotswold_softfurnishings
Facebook @Cotswoldsoftfurnishings