It's been an exciting few weeks since we opened the doors to our new Knutsford, Cheshire and Sutton Coldfield, Birmingham sofa shops, and what an incredible start it's been. We caught up with showroom managers Suzi and James to hear about their experiences so far, and to see how they're settling in to the local communities, especially in this challenging and unpredictable Covid-19 climate.
Since opening, what's been your most memorable moment so far?
Suzi:
"For me, the opening day as a whole was particularly memorable, but what really stood out was the number of local people who came in just to tell us how pleased they were that we'd moved into the area. They gave us such a warm welcome."
James:
"Every local business and passer-by has been really welcoming and congratulatory of our new Mere Green sofa showroom. We've been blown away by the sense of community in the local area."
What makes Sofas & Stuff different from other sofa shops?
Suzi:
"I'm obviously slightly biased, but I think what makes us stand out is our genuine passion and desire to help people create the perfect look for their home. Our vast range of beautiful sofas, beds, chairs, and fabrics enables customers to inject not only comfort into their living spaces, but also personality."
James:
"We've had quite a few people tell us that the Sutton Coldfield area of Birmingham has been itching for a sofa store like ours, and that the bespoke elements of the store and business are very attractive to the local clientele. Our extensive choice of luxurious fabrics has been a massive success with our customers, as everyone wants to find something unique and individual."
What's been the most exciting project you've worked on?
Suzi:
"Every project is quite exciting as there's a sense of achievement in helping someone create the perfect living space. We've had a few design consultations with customers whose homes were an entirely blank canvas, and I always find that really inspirational. There have also been several customers who are in the process of renovating period properties, so we feel very fortunate to have been involved. It's impossible not to get excited when you're helping to bring such beautiful buildings back to their former glory!."
James:
"We've had a particularly exciting client who incorporated a mix of modern and traditional to bring out the features of the room, using our Aquitaine fabrics."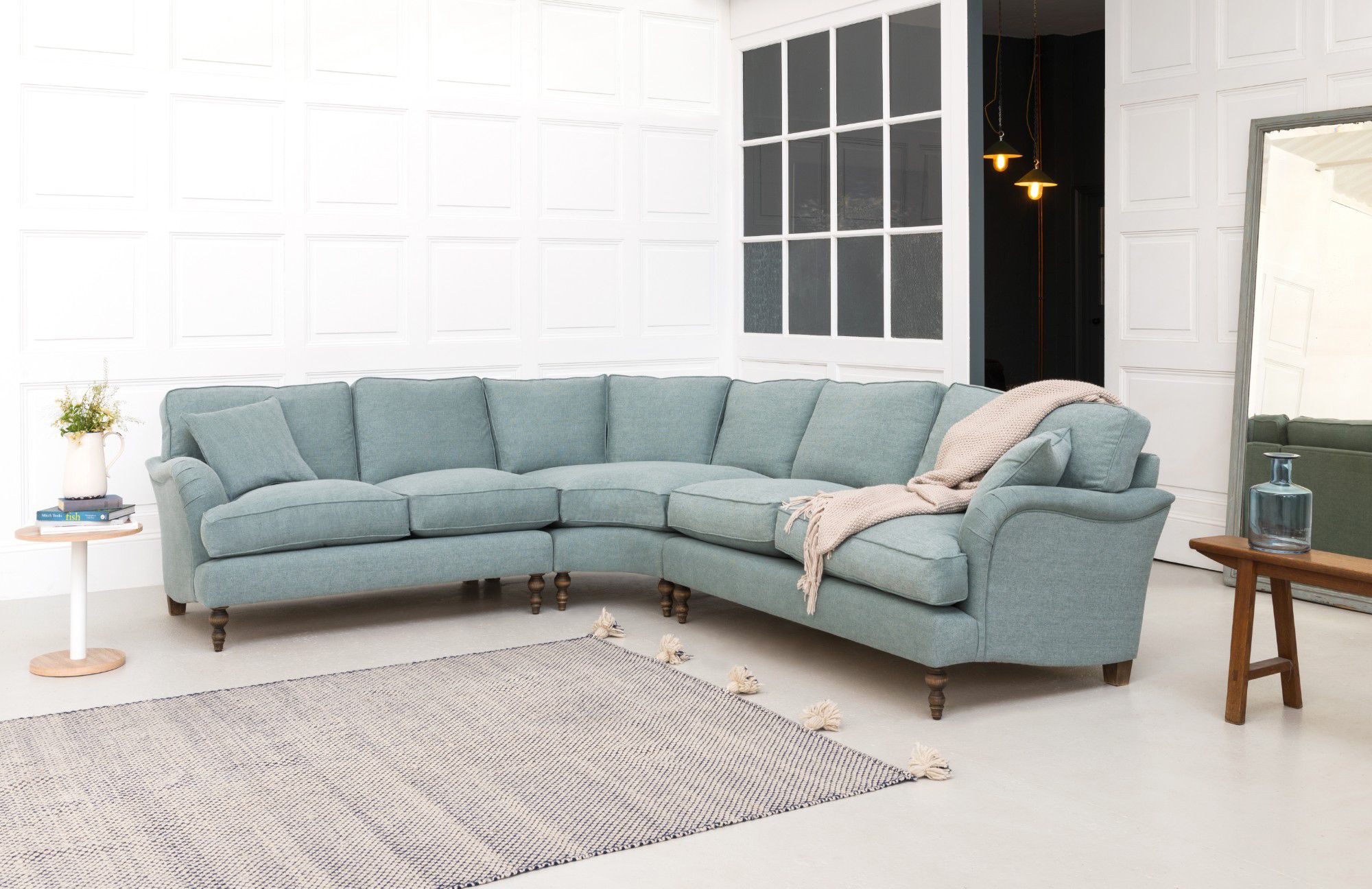 If you were to choose any sofa in any fabric for yourself, what would you choose and why?
Suzi:
"I would honestly struggle to pick a favourite, but if I had to, I'd go for the Haresfield or the Camden. I have a fondness for mixing traditional with contemporary, and both these models fit that brief. Also, having seen first-hand the craftsmanship that goes into a deep-buttoned sofa, I am safe in the knowledge that they are made with love. The care that goes into each of those buttons really appeals to me."
James:
"For me, it would have to be the Alwinton Snuggler in Linwood Omega Print II High Ho Silver Navy. We have this fabric in our showroom in a Kentwell Ladies Chair and I just love it. It's in our window display and we get so many passers-by stopping to admire it. I love the texture of the velvet print and its quirky, unique design. Linwood certainly know how to do a great eye-catching print! I also love the versatility of the Alwinton Snuggler. It is quite spacious; big enough for two people to sit comfortably, but also doubles as a great lounging sofa. Perfect for settling down with a good book!"
Tell us about your favourite shops around where your store is located? What makes them so special?
Suzi:
"Although the Knutsford sofa store's been tremendously busy since opening, we've all still managed to discover some local hidden gems. Cranford Café has been keeping the whole team well-fed, and Mr Sims Olde Sweet Shop gives me a fighting chance in winning the award for most-loved Aunty. On Sunday, I also discovered The Real Fruit Creamery! Is ice-cream for breakfast acceptable? It was certainly very tasty."
James:
"The Mere Green area of Sutton Coldfield has a great selection of coffee shops and restaurants, so we've been spoilt for choice. They're always very vibrant, and everyone is really friendly – not to mention the excellent food and drink. I've enjoyed spending my lunch breaks sampling them all."
Have you noticed a move towards a particular design trend in terms over the last few weeks?
Suzi:
"When it comes to sofas, no particular trend stands out at the moment. We've had a whole variety of customers pop in, and the only common thread is that they want something comfortable, and that suits their living space. This has been anything from a supportive high backed sofa, to a much more laid back corner piece. We've also had a lot of requests for hardwearing stain resistant fabrics, particularly when it comes to four-legged family members."
James:
"We've been starting to notice a growing trend in velvet –  even while we were based at the Mailbox in Birmingham city centre – and since moving to Sutton Coldfield, this has pretty much doubled. We've also found that people are becoming more adventurous and creative with their designs, using bright, bold colours to show off their personality. Linwood Omega is definitely our bestseller, and has a vast array of unique colourways to choose from. Contrasting shades and patterns are also becoming the norm, whether that's in the choice of sofa and scatter cushions, piping, or a mixture of different sofas and chairs."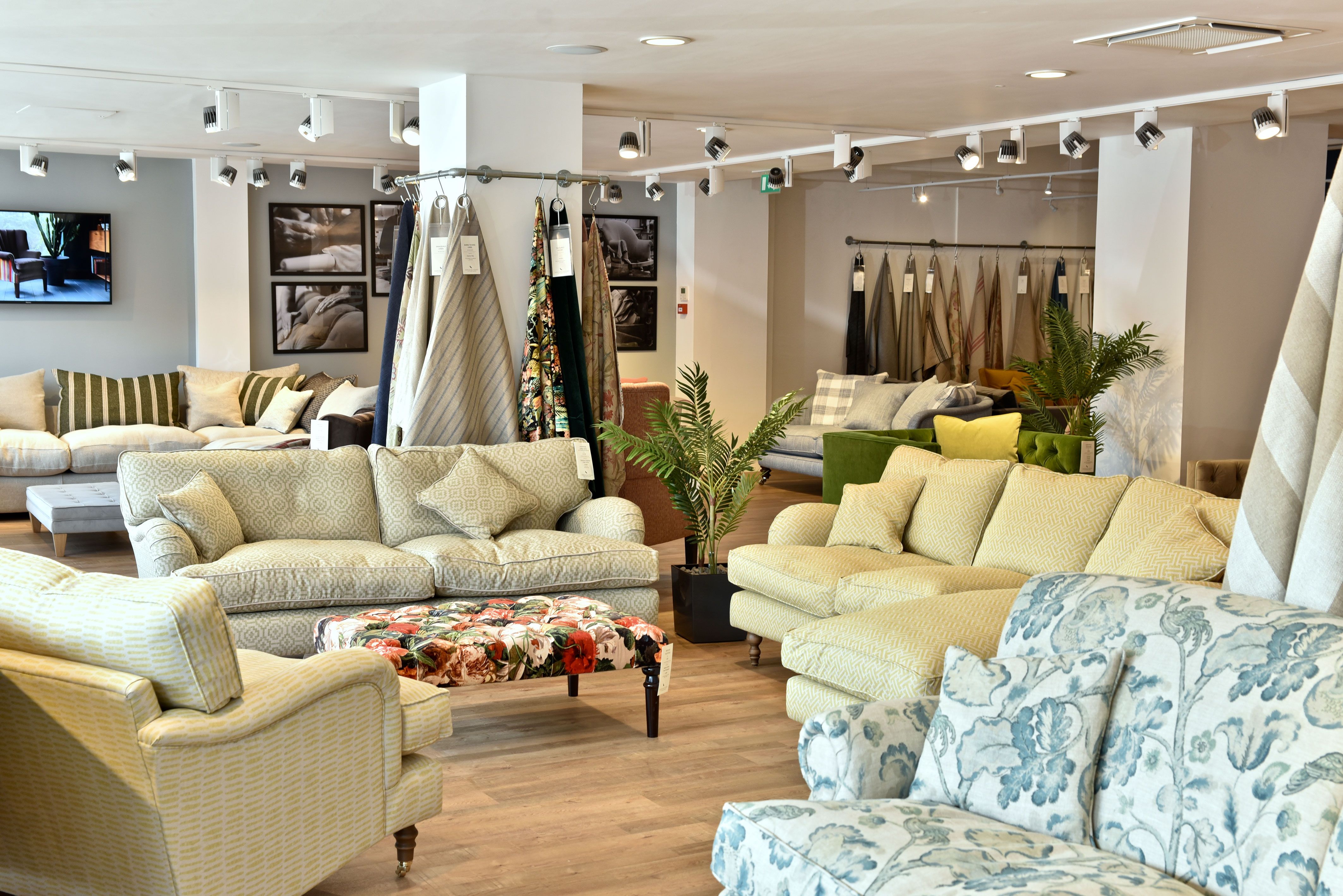 What advice would you give to someone who is thinking about starting a living room makeover?
Suzi:
"Take time to think about how you're going to use the space, and how you want to feel when you spend time there. Look around for ideas – magazines, Instagram, and Pinterest are a great source of inspiration, and choose your colours wisely, as things like shade and tone can have a big impact on the overall mood and atmosphere of a room. In my opinion, you can't go wrong with a good mood board. Keep a record of everything – especially your colour choices, textures and furniture ideas – as this will all help bring your vision to life."
James:
"For me, it's all about simplicity and flexibility. Start by choosing your fabric, and move on from there. Because we have so many fabrics on offer, you'll never have to worry about compromising. If you want something stylish, but also need to think about practicality, we'll be able to find your perfect match."
What's the best thing about our British, handmade sofa collections?
Suzi and James:
"For both of us, the best thing about our sofa collections is that they're handmade in Britain. Every piece of furniture is bespoke, lovingly hand-crafted, and will provide joy and comfort for years to come. We're also helping to support the UK furniture manufacturing business, which is more important now than ever before."
Is there anything else you'd like to tell us about?
Suzi:
"We're both very grateful to the people and businesses of Knutsford and Sutton Coldfield for making us all feel so welcome. At Knutsford, we're also very excited because we've been asked to take part in the Halloween Pumpkin Path event this October."
If you haven't already visited one of our new sofa showrooms, why not pop in today and meet the team? Our design consultants will walk you through our bespoke, British handmade styles and fabric libraries to help you find the perfect sofa, bed, or chair. You can also book a private design appointment in store, or via live video call from the comfort of your home, and order free fabric styles for more inspiration.