With a passion for design and a keen eye for colour, interior designer Haley Bevan was once a humble 'kitchen table hobbyist'. Today, she owns and runs a successful business selling home accessories, ceramics and other unique pieces. Located in Eldwick, West Yorkshire, her shop was founded in 2009, and is home to a carefully curated selection of vintage finds, home fragrances, lighting, furniture and wall décor. Haley works closely with our Harrogate sofa store creating bespoke furniture for her clients.
For this month's 'On the sofa' feature, we chat to Haley about all things interior design, including how she started out in the industry, what gets her feeling inspired, and what she feels are the key benefits of bespoke design.
How did you get into interior design?
After many years of collecting, restoring and selling small and interesting vintage pieces of furniture, I started a small business from my home studio, designing and hand painting children's furniture and accessories, which were all personalised. These were sold at fairs such as The Country Living Magazine Fair in London, and Burghley Horse Trials in Lincolnshire. Gradually, customers began asking if I could also supply soft furnishings to add to their order, so I started designing and putting schemes together for curtains, blinds and cushions. As I can't sew for toffee, I had to gather a team of experts who could support my new venture, and 15 years on, I'm so pleased to work with a team of professionals who help bring my ideas to life; sewing, fitting and dressing curtains, laying amazing floors, expertly painting and wallpapering, and of course, making sofas!
Where do you draw your inspiration from?
My heart is in the country, so I'm definitely drawn to a classic British country house look, but with some contemporary elements thrown in. I love the seasons too, and like my interior schemes to be able to work throughout the year.
Can you give a little insight into your ethos and process?
I like to meet my clients at their home first, so I can get a feel for their lifestyle. For example, if they have a busy household and furnishings need to be practical, that helps us to decide on fabric and flooring choices. Also, how the light hits a room at different times of the day has a huge impact on the colour scheme, so that's always helpful when deciding whether to use warm or cool colours. The main target, though, is giving the client a design that best reflects their personality and not mine! You spend many months, sometimes years, working on some homes, so you really get to know instantly what will work for each client has achieved a classic British Country House look using the Alwinton sofa and chair alongside the Bedham footstool.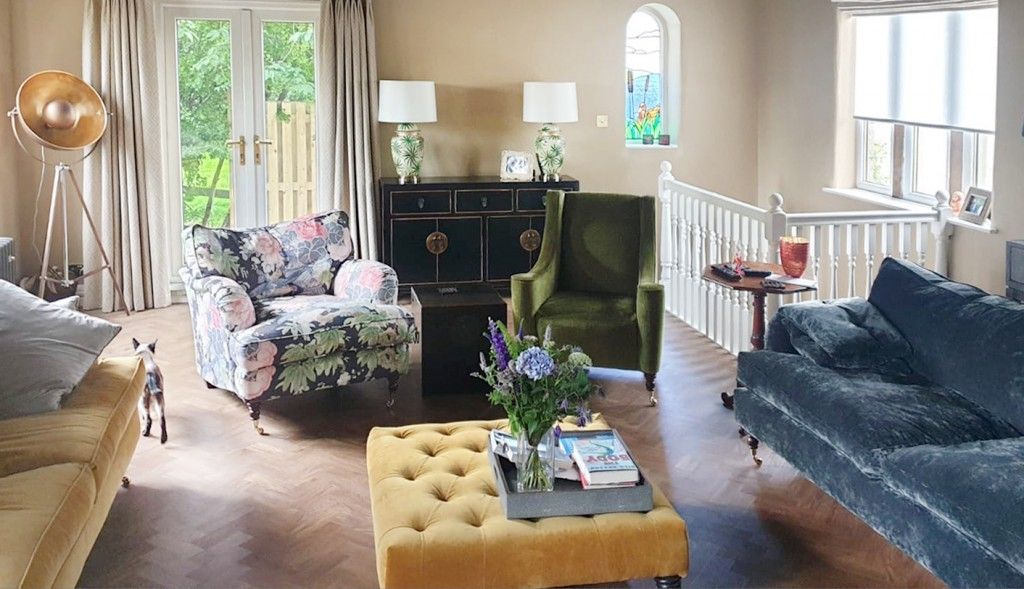 Which design elements do you admire or most inspire you from classic British interior design and why?
Longevity of a key fabric or furniture design is so important. A print can last decades by just changing the colours to a more contemporary pallet. For example, Cole & Sons Palm tree wallpaper is actually 60 years old, but still looks amazing in a host of different settings from a country cottage to an urban loft apartment.
The old adage 'good design never dates' is so true. It's fun to add quirky seasonal touches with wild designs on cushions, or quirky accessories which can be easily interchanged throughout the year. Knowing that the base elements of the room hold fast is a comforting starting block on which to layer other additions.
Which 'British' ingredients do you think never go out of style?
The British love of colour throughout the centuries can really help influence more contemporary designs. For example, the Georgian era, with such classic architecture and bold colour schemes is quite timeless.
How do you reinterpret or use British design elements into your interior design schemes?
I love oversized upholstered headboards for bedrooms that can bring in a really bold fabric for a statement piece. Also, I think of British design as added quality, and this always helps give reassurance to a brand.
How do you incorporate large furniture items into the home whilst keeping it timeless and in keeping with the clients' personality and lifestyle?
When choosing large and usually more costly pieces, I always go with caution when choosing the fabric, preferring a timeless design over a high fashion statement. You can add these funkier elements in cushions and accessories, which are easily changeable if you tire of them.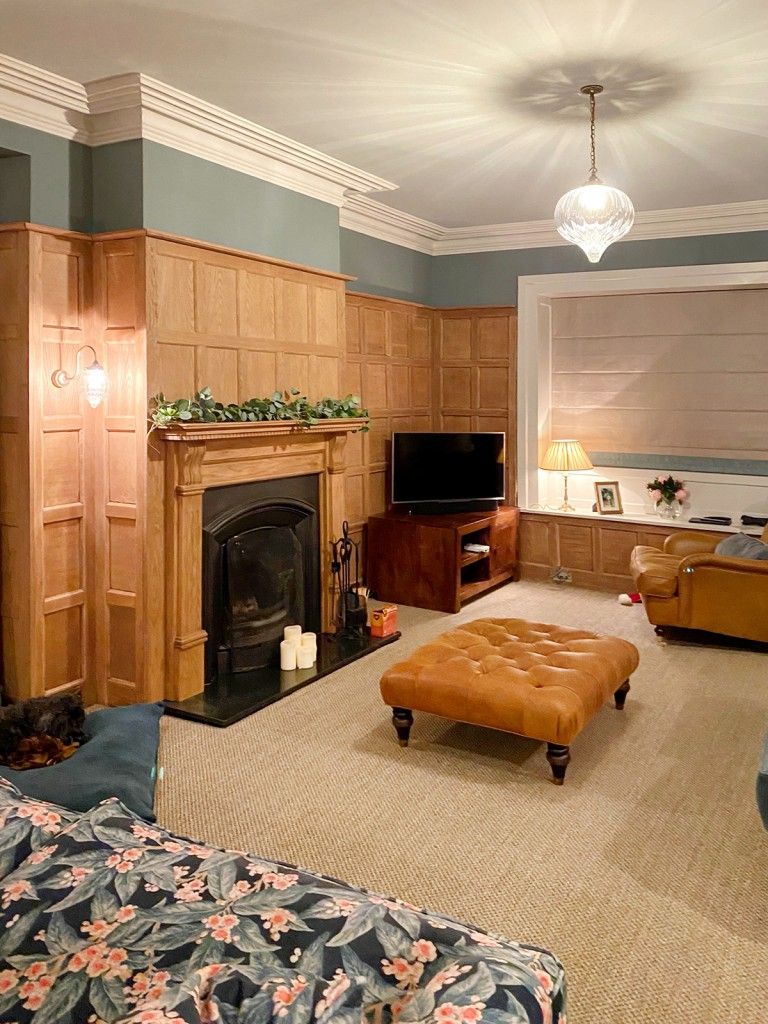 How do you achieve a feeling of space when playing with larger items of furniture, such as sofas, and the room's layout?
I try to encourage clients to bring their sofas away from the walls so you are able to walk around them, possibly allowing space for a narrow console table with a mirror and lamps, which also creates a feeling of space. Lighting is also key for adding ambience and illuminating dark corners. You can avoid clutter by creating built in furniture to house toys, or display treasured objects.
At Sofas & Stuff, our sofas have always been handmade in Britain, what do you see as the key benefits to homemade bespoke design?
Having the luxury to choose a bespoke British sofa in any fabric gives clients and designers much more freedom. Whether you work with existing room colours, or opt for a whole new scheme, you can add new shapes and sizes to suit each person's needs. For example, men may need to sprawl on a large deep sofa, while ladies tend to curl cosily in a corner of the sofa.
You've used our sofas in some of your projects. What considerations should people take into account when shopping for a new sofa?
Shopping for a new sofa should start with comfort, so a sofa store visit is essential. The sofa you loved in the brochure maybe too deep or low for you in real life! Also, measure out the size of your chosen sofa using a newspaper template on the floor to get a feel of space it will take up on your room.
As we come out of lockdown, do you think people will change the way they engage with their homes and the spaces they live in? Have we rediscovered the meaning of 'home'?
Definitely! I think this unprecedented time spent in our homes has given us the opportunity to really look at our space with new eyes, and appreciate what we have and how we can improve it. People are cherishing their homes again; our paint orders alone have reflected this! I personally have spent the last weeks recreating our bedroom, which has been on the back burner for at least 5 years!
Is there anything new you're excited to be working on?
I'm currently working on three projects for three very different property styles. All of them are family homes where an update is needed, but with a sympathetic nod to their history and the people who live there.
What would be your dream project?
Oh, definitely a beautiful Georgian house with symmetry and light filled rooms. It wouldn't just be a dream project, it would be a dream home!
To find out more about Haley, or to contact her directly, please visit her website.
For help designing your next bespoke British sofa, bed, chair, or footstool, pop into your nearest sofa shop or book a free private design appointment. We have the knowledge and expertise to help you choose the perfect fabric and style for your space. You can also order free fabric samples for more inspiration, and to get a feel for how they fit with your home. You can even use multiple fabrics to design your own bespoke sofa on our website.
Would you like to be featured on our next 'On the sofa' interview? Send us an email now.
Haley Bevan
Website www.haleybevan.co.uk
Instagram @haleybevandesign
Facebook @haleybevaninteriors