If you have had the pleasure of visiting our Manchester showroom recently then you may have seen a new and exciting addition to our store! We are currently exhibiting the vibrant artworks of Robin Ross including familiar faces Marilyn Monroe, Thomas Shelby, and a range of other abstract pieces. But who exactly is Robin Ross you ask? Well, let us enlighten you…
Who is Robin Ross?
Based predominantly in Blackpool, Robin Ross is a print maker who takes inspiration from screen prints and pop art, a movement that involves imagery taken from advertising and comic books. Ross was fascinated by the works of San Francisco and Cuban poster artists as well as Warhol, Rauschenberg, and many more!
He has salvaged and made a studio of The Old Rock Factory in Blackpool which is now home to The Rock Factory Screen Print Studio and Celery Works. It has become the centre of attention for various artists around the area, including photographers as well as a community group!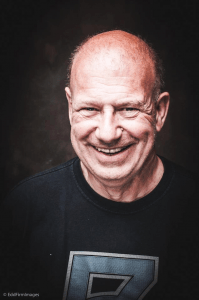 What is Ross known for?
Robin Ross is probably best known for his limited edition pop art screen prints. The colours he uses are absolutely incredible and so vibrant — he really brings his subjects to life! Ross uses different colour palettes for each of his prints as they all have different moods. His print 'Building' uses a palette of neon colours with black details to really make it stand out! It's not called pop art for no reason! Whereas, 'Puffin' uses all natural and true to life colours to make the painting more realistic.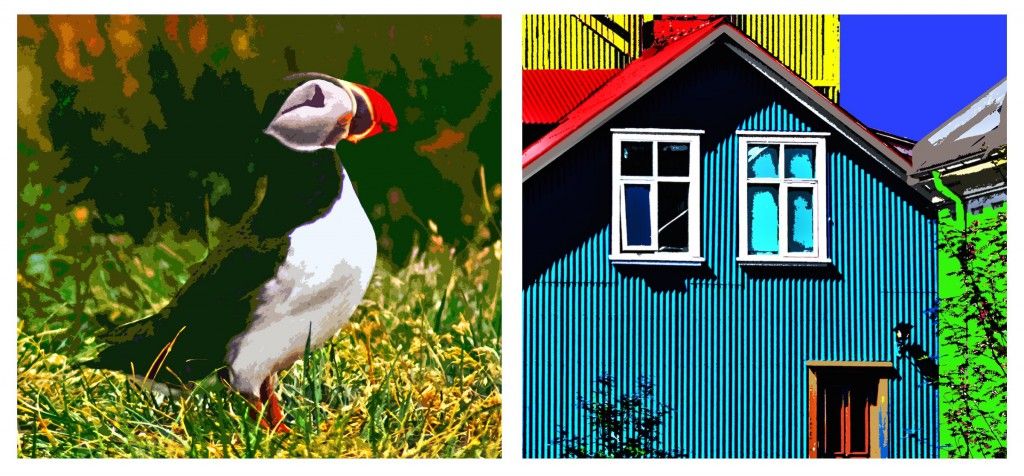 What artwork has Ross created?
One of our favourite pieces that Ross has displayed in our Manchester showroom is the print of Marilyn Monroe. This was inspired by Warhol, who created similar prints in 1967, five years after the actress passed away in 1962. Another famous print by Warhol that has inspired Ross is Campbell's Soup Cans, which you will probably also recognise! Ross has used a monochrome foundation with hints of primary colours red and yellow in his own painting. This massively reflects the style of art that Warhol has used, and can also be seen in other paintings on display at the Sofas & Stuff Manchester showroom! We think 'Marilyn Monroe' would look great paired with one of our Saltdean sofas in a modern home as it would really make it stand out due to the mix of bold colours.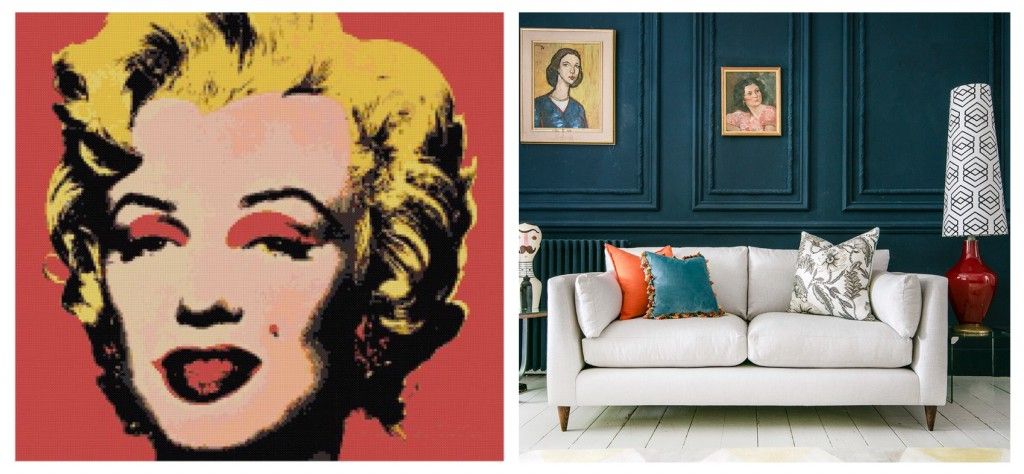 Another magnificent masterpiece that Ross has created is the screen print of the Havana car, inspired by Cuban artists. He has used hues of brown and red and has really picked out every detail in this classic Cuban car! The earthy tones he has used tempts us to pair this painting with a Chiddingfold or an Alwinton sofa as they are both classic designs which goes hand in hand with classic Cuban cars! We can certainly see this working well in a Georgian home with natural earthy brown and green colours! Fun fact, the reason why there are so many classic cars in Cuba is because they actually banned the import of American cars! Now, Cuba is essentially a living museum for these!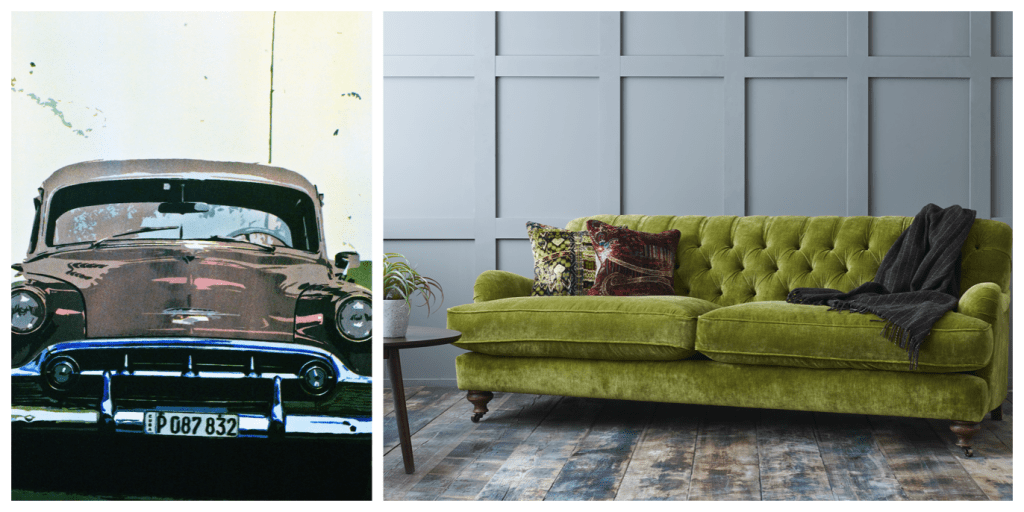 Who can hang these prints?
You'd be surprised that these paintings paired with our sofas will just about find a home in any type of building! The first thing that springs to mind is a modern apartment, mainly because of such strong use of contemporary colours in the screen prints. However, paired with the right sofa, Ross' paintings will also make great additions to a period property. The abstract prints hung next to the Clavering sofa would make a lovely interior within a period property to give it some edge! Ultimately, it's all about having the right balance of colour and style of the sofa and the fabric. We have plenty to choose from as you can use any fabric in the world to upholster your bespoke sofa here at Sofas & Stuff — you're never short of choice!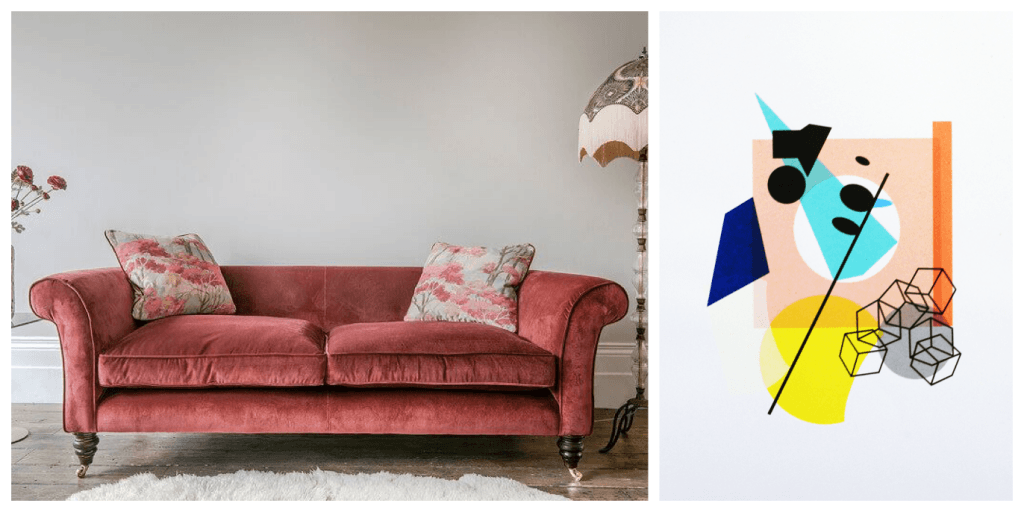 Come and visit us!
We are absolutely thrilled that Robin Ross has chosen Sofas & Stuff to exhibit his artwork, it certainly harmonises with our bespoke sofas! Such beautiful artwork deserves to be hung in the grandest of homes alongside a luxury Sofas & Stuff Camden chesterfield! We would be honoured to welcome everyone to come and visit our Manchester showroom to see the Robin Ross exhibition! A warm cup of tea (or coffee if you prefer!) will be waiting for you when you arrive!