Coastal living room ideas are the perfect way to prolong that sunshine inspired feeling as we enter the last few weeks of the summer season. Think hints of blue & white, nautical prints and pretty pastel candy stripes to create a look that is as fresh as a seaside breeze. Don't be fooled though, coastal living room ideas don't have to look like you've spent a little too much time with a deckchair – a hint of coastal inspiration can be just enough for a look with stacks of nautical charm.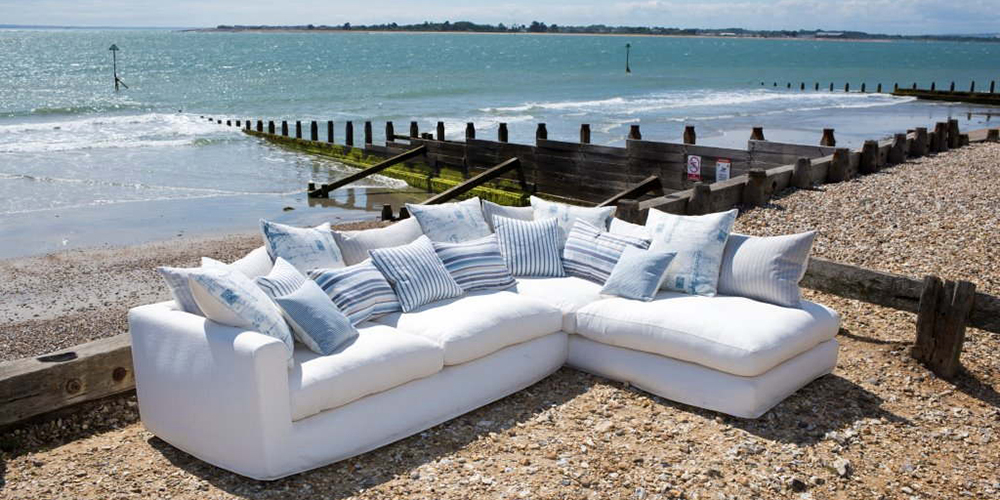 The Broadstairs large corner sofa with its mix and match cushions is the epitome of coastal living ideas and we love it! Think big wide windows looking out across a nautical vista. Of course, that's not compulsory to enjoying this sofa to the max! Super squashy and oh-so comfy, we guarantee you won't want to get back up once you've been enveloped by its feathery charm.
With a selection of fabrics by Art of the Loom featuring the classic ideas we associate with a nautical interior; shades of blue, plenty of boats, stripes galore and of course, a fresh white background. If you would like to order any of these fabrics as a sample, just get in touch with your nearest showroom.
We think this little Cafe sofa (on the right) hits the nail on the head with it's nautical charm. Like calming waves gliding across a lagoon, we are washed over with an instant sense of calm. Perhaps a more contemporary take on the nautical look, this fabric would mix well with more traditional styles too and would make lovely little cushions to dot around your living room.
The Hampton sofa (on the left) packs a boat-load of seaside appeal. Classic blue stripes courtesy of William Yeoward, the King of coastal cool. These fabrics add a warmth with the linen coloured background and makes it a little more transferable away from seaside retreats if your circumstances or tastes change.
If going all out with the nautical theme is not your thing, or you live in a coastal area and fancy getting away from the stereotype, we have plenty of options to compliment the land (or sea) scape! A relaxed style will always suit this look. Think stubby linens and cotton in soft colours. We love the Alwinton sofa in Walloon linen with a gentle raspberry stripe. The stripe lends itself perfectly to coastal living ideas yet the pink stripe would work well if you made a sudden dash to the country. We equally adore Romo's Linara in pebble shades. Muted tones plus the warmth of wooden, perhaps even driftwood, furniture will be so inviting in a coastal setting.
We would love to hear what's inspiring your interiors at the moment – nautical or not, we love it all! Get in touch via Facebook or Twitter or follow us on Instagram too. Also remember to keep a keen eye on our blog for up to date interior advice like Abi's latest blog, Autumn & Winter Interior Trends 2016/17. It's a great read,  packed with wonderful mood boards to make your interior design senses tingle!