Is your Spruce in need of a spruce? Or you're finding yourself limited on space? Prefer an eco-friendly idea or just fancy ringing the changes, we've got something to excite your interiors and compliment your beautiful British sofa with our top 10 alternative Christmas Trees!
1. The Floating Christmas Tree.
If you have lots left over, then green Christmas baubles can be perfect for building a tree. This illusion tree is a great conversation piece and will sparkle its way through the season. We love this look paired with stunning red wool for a look that is on-trend for the season yet timeless enough to carry you through the rest of the year. We choose the classic Alwinton sofa in Mull Ladybird wool. 
2. Hanging Branch Christmas Tree
Full of Hygge hues, a branch Christmas tree is the perfect DIY project  but if you don't feel like scavenging for branches, buy this pre-made version from Cox and Cox.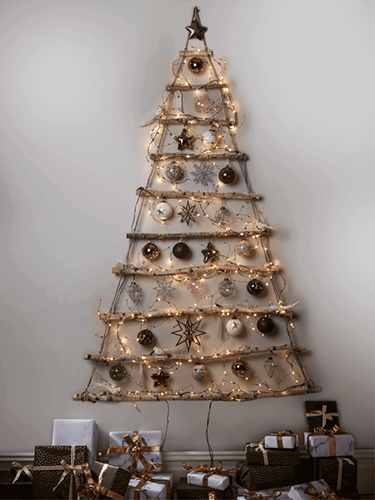 3. Step Ladder Christmas Tree
Recyclable, cheap and instantly achievable. Give that tired and rickety old step ladder at the back of your shed a new lease of life with a lick of paint and some sparkly decorations to cheer it up! A neutral sofa is a great base to show off your interior accessories. We would match the ladder Christmas tree to our Kentwell sofa in Viking Grey.
4. The Book Christmas Tree
If, like us, your house is filled with books you haven't quite got round to reading yet, why not make them useful over the festive period and turn them into a striking and totally unique Christmas Tree alternative? Maybe there will even be time to curl up on the Chiddingfold sofa in saffron wool, with a book freshly picked from the tree.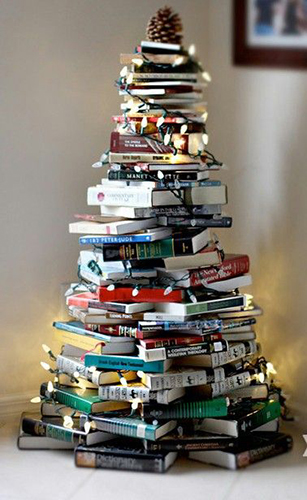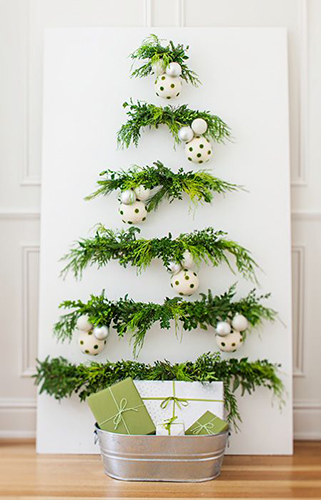 5. Beautiful Branches
Make way for an even bigger British sofa or chair with this space saving idea. You can tailor your branches to meet your exact size specifications and it has the advantage of a perfectly on-season Pine scent! Contrast the greenery with jewel tones. We'd pick a Haresfield classic Chesterfield sofa in Portland Velvet Pitaya.
6. The No Tree Christmas Tree
If you can't get enough of the amazing choice of Christmas decorations out there, then this is the alternative Christmas tree for you. Another super space saver, allowing plenty of space for cozying up on corner sofas and a wonderfully personal way to display your ornaments.
7. Hague Blue Hygge
This idea mixes two of our favourite things, gorgeous glass decorations and they Hague Blue hue the interiors world just can't get enough of at the moment! Minimalist, yet cosy. This is an idea that's just waiting to be paired with our contemporary sofa range, Sofa Pronto.
8. The Reindeer in the Room
No reindeers were harmed in the making of this post, promise! Deer shed their antlers annually, you may even find them if you have a wander in your local woodland. Mount to the wall and let your imagination run wild with the decorations you choose to hang from them. We love this look paired with our Snap sofa in icy blue velvet.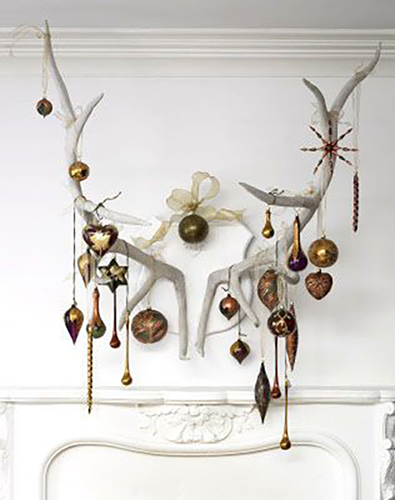 9. Perfect Pom Poms
This lovely pom pom tree from notonthehighstreet.com pairs perfectly with the multi-coloured buttons on our Kennington chair. A very different Christmas look with colours we don't normally associate with the season but we love it for its individual style.
10. Chalk Board Christmas Tree
If you can't make up your mind, a chalk board Christmas tree is the way forward! Choose a new design everyday, take it in turns to get creative or let your designs evolve over the whole of advent! If you love this idea, we think you'll also love our Design Your Own Sofa tool. Pick and mix fabrics to your hearts content and create a truly one-off, unique and bespoke sofa.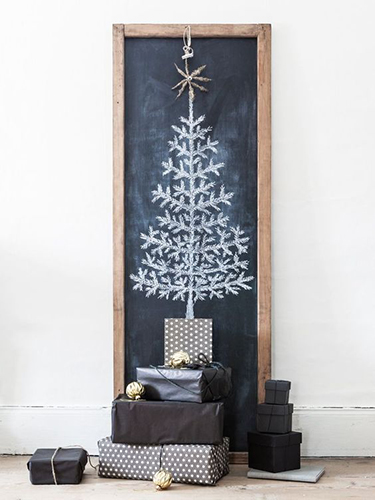 We would love to see your Christmas tree style. why not share your alternative Christmas trees with us on our Facebook wall, send us a Tweet or tag us in an Instagram post!