Christmas is coming, the geese are getting fat, now choose a sofa before the factories are packed!
Now we all know that a sofa is for life, but there's no denying that Sofas and Stuff sofas for Christmas will rival the plumpness of your turkey and provide the ultimate seat for all your festive guests.
Christmas Classics
A classic sofa will see you through the festive season and beyond. All of our handmade designs can be covered in any fabric in the world to make sure they fit right in from the moment they arrive. Our traditional Alwinton and Kentwell styles look stunning in super soft wools, and will make sure the whole family are feeling as cosy as possible come Christmas day. We love Linwood and Art of the Loom for traditional checks and are wowed by Warwick's offering of felt style wools.
Mixing and matching textures is a great way to make sure your interiors aren't too matchy-matchy and your hours of design deliberations will look like a happy accident. Wool looks wonderful when combined with linens, cottons and our favourite, velvets.
For the ultimate Christmas sofa luxury, our contemporary take on the classic chesterfield sofa will provide the perfect platform to enjoy the festivities. Our Haresfield button back sofa (seen above) pairs perfectly with fir green velvet, complimenting your Christmas tree and making sure your interiors are right on trend. Rich, jewel toned velvets add opulence to your interiors; think peacock blues, ruby reds and glittering golds for all your decoration inspiration.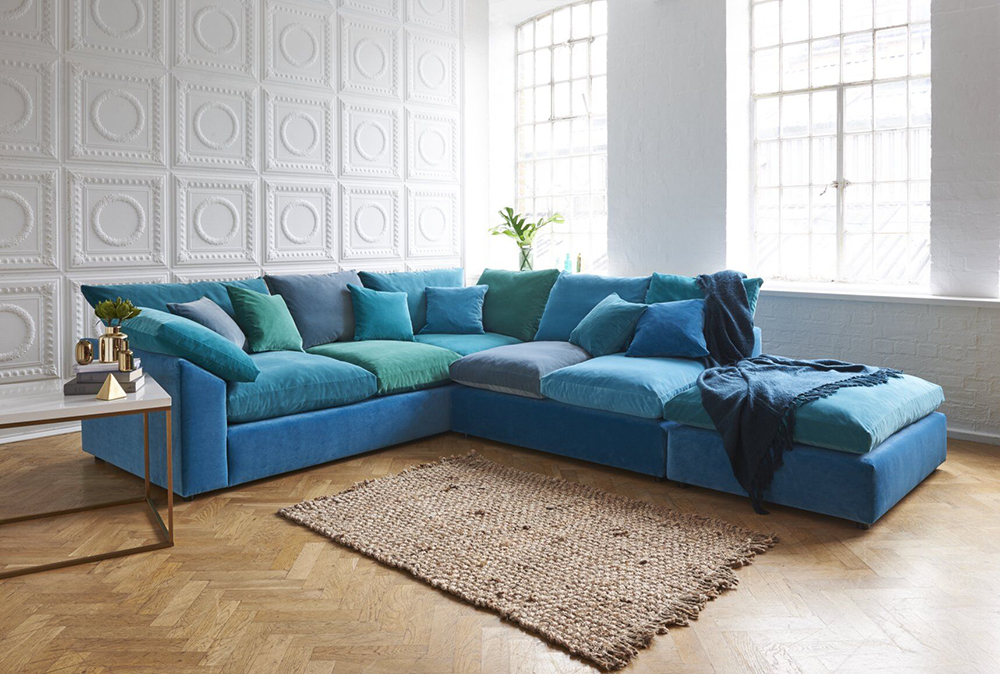 Extra-large Sofas for Extra-Large Gatherings
Whether you're expecting lots of guests or just looking for a place to stretch out after a festive feast, a corner sofa will provide all the comfort you could wish for. Our super-sized and super-squashy Big Softie sofa can comfortably squeeze 6 people or more and provides the perfect platform for a post-lunch movie sesh. Double up on functional furniture with the Langland corner sofa bed; stunning sofa design is matched with the comfiest sofa bed you'll find. Its 10cm thick, sprung mattress will ensure your guests are feeling well-rested and raring to go as the celebrations continue.
You'll also find a more traditional corner sofa offering in the form of our previously mentioned Haresfield and Alwinton designs. These mix all the modern comforts with the style of a true classic. A button back corner sofa is quite unusual and will stand out against its deep-seated rivals while still offering all the extra seating you'll need for entertaining.
Browse our full range of corner sofas, Christmas delivery deadlines will be updated both in-store and online as the big day draws closer.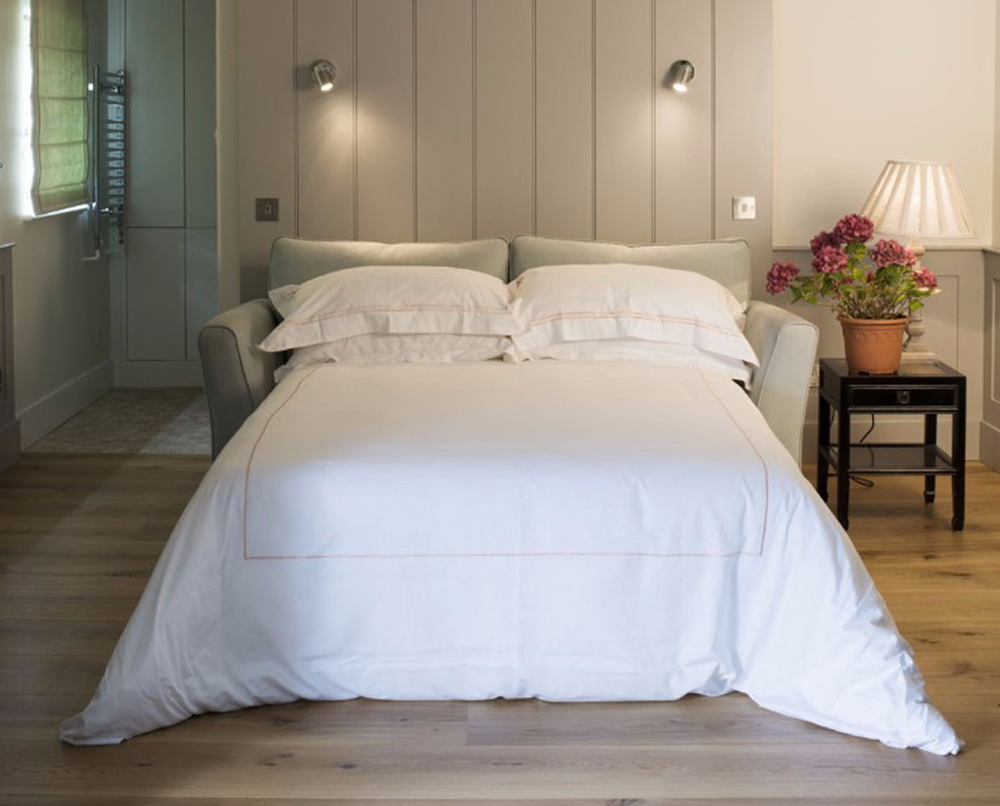 Sofa Beds to Rest Sleepy Heads
When your home is bursting at the seams with friends and family and your bedrooms are at maximum capacity, a sofa bed for Christmas can save the day and make sure Santa doesn't miss any stops.
Long gone are the days of having to compromise on comfort, this Christmas sofa will not only look and feel great on the outside but it can be filled with the softest place to rest your head when the celebrations are coming to a close. Our Gower, Oxwich and Rhosilli sofa bed mattresses can be made of memory foam, or pick from pocket or coil springs depending on the level of support and firmness you desire.
If you're looking for quick Christmas sofa delivery, the Paddington sofa bed can often be delivered in as little as 7 days (choose from a select range of fabrics) or have a browse through our clearance collection of discount sofas where you can bag yourself a bargain, as well as taking your new sofa home almost straight away.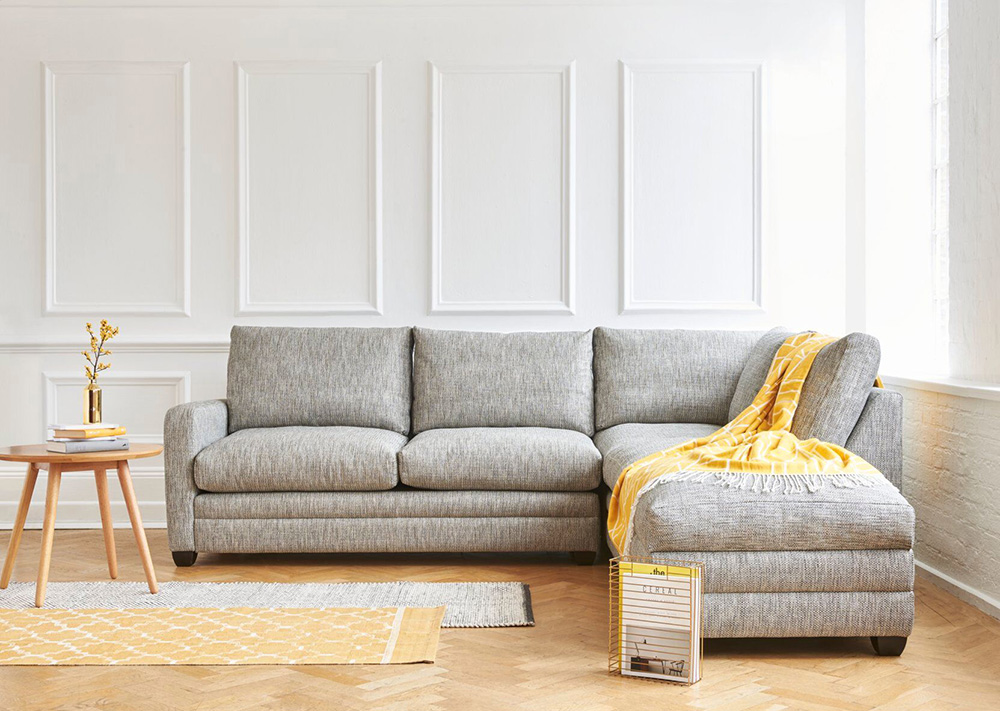 The Finishing Touches
Of course, you don't want a sofa that only springs to life in the winter months. Choosing a sofa that suits your year round style will ensure longevity and so props will pay a key role when transitioning between the seasons. Nothing says 'let's get snuggly' more than a thick cable knit blanket and a selection of cosy cushions to curl up with. Just add a furry friend, a good book and your favourite winter warmer and you'll be all set to hunker down through the cooler months. Update in the spring with lighter tones of linen, plus throws in pastels or neutral shades to reflect the fresh feel of the new season.
Our 12 nationwide showrooms are home to the very best design consultants who can advise you on fabrics and designs to suit your style. Pop in to begin your journey to ultimate comfort or order some free fabric samples to be delivered directly to your door for instant ideas. You can also view lots of lovely images to inspire your sofas for Christmas in our customer gallery or follow us on Instagram, Facebook or Pinterest for lots more interior inspiration.