Welcome to our latest instalment of Mood board Monday: Purple Crushed Velvet Sofas!
We have been telling you all about the wonderful world of velvets for a while, and now we've moved onto crushed velvets we thought we would show you the beauty of purple crushed velvet sofas. Unlike normal velvet fabric, crushed velvet is when the velvet has been through a process to make the fabric an uneven and slightly wrinkled surface which gives the fabric a bit more character! Here at Sofas & Stuff we think these purple fabrics are gorgeous, as they are rich in colour and have a texture that like no other.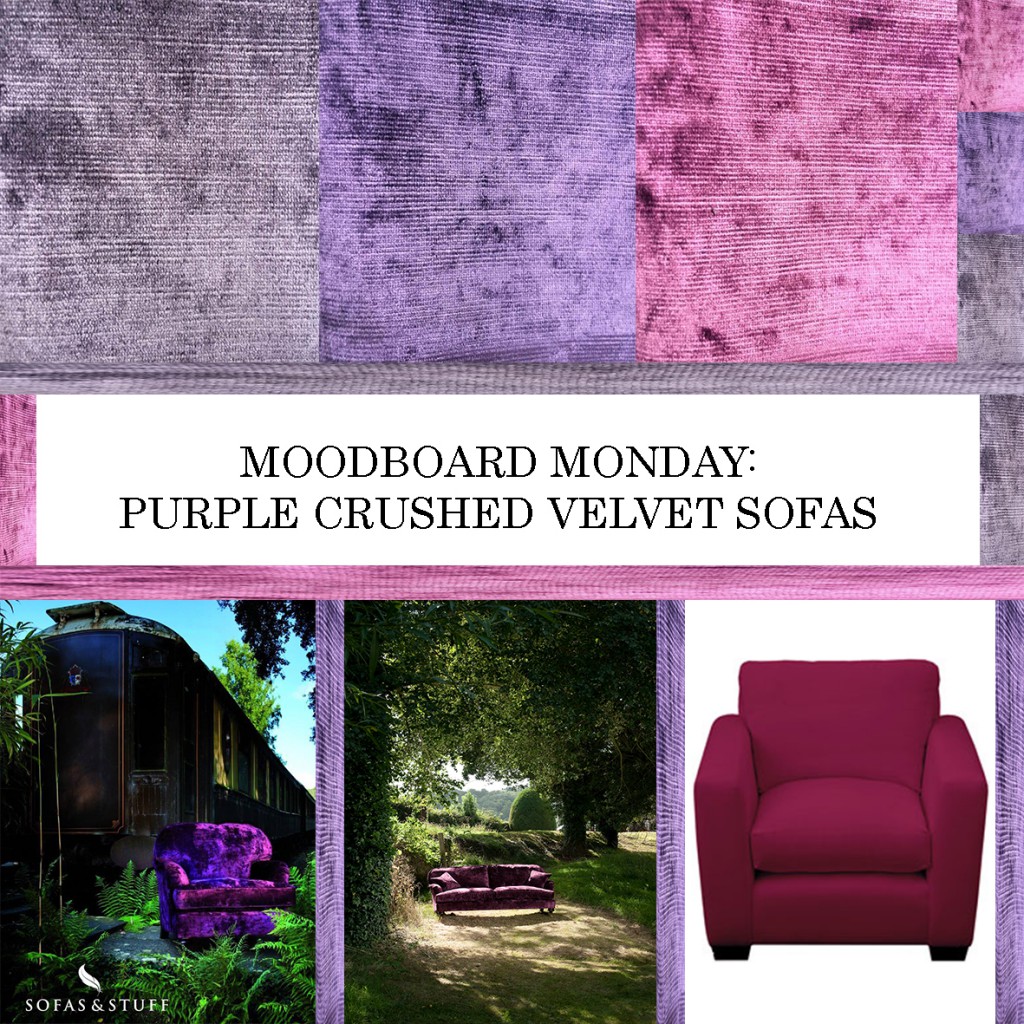 This weeks mood board illustrates the beautiful purple crushed velvets on three types of Sofas & Stuff products, a snuggler, a sofa and an armchair, these products are all in our handmade bespoke collection. Purple is a gorgeous colour to have on crushed velvet as there are so many beautiful shades you can have whatever you want, from a deep dark purple to a pretty pink-purple. The brilliant thing about crushed velvets is that the wrinkled velvet gives the fabric texture and an added eye-catching quality.
If you are thinking of buying a bespoke purple crushed velvet sofa then look no further, we have hundreds of different purple crushed velvets to choose from, add you favourite fabric to one of our luxury sofa styles and your home for summer 2016 will be complete. The great thing about crushed velvet is that it brings ultimate comfort to your sofa, just sit back, relax and let time pass you by without a worry. At Sofas & Stuff our sofas are handmade to order, with an expected delivery time of 8 weeks and the option to have a fabric care package added to your order there is simply nothing to worry about.
Take a look at our free fabric samples before you buy to make sure the fabric you pick is definitely the one you want! Crushed velvets are a definite must this year, take a look at our Yellow Crushed Velvet Sofas blog post if you would prefer a different colour to purple. We have many other colours to choose from in all kinds of shades, give your nearest showroom a call or pop in to see us for a chat with the sofa experts to choose the perfect sofa for you today.
Need some more inspiration? Take a look at our Summerhouse Sofas blog post for some tips on how to decorate your summerhouse. Or pop over to our Instagram, Facebook and Pinterest to get further inspiration. Leave us a comment to let us know what you think of our latest mood board monday!