Another month has whizzed by and that means Sofas and Stuff is here to bring you another great Book Club read! We don't know about you, but we can't think of anything better than curling up with a good book when the wind is howling and the rain is pouring and we hope you had a chance to do just that with last months Book Club recommendation, The Grimm Tales for Young and Old!
This month, the Sofas and Stuff Book Club is bringing you another witty offering, this time from one of our favourite authors and comedians, Dawn French. 'Oh Dear Silvia' is Dawn French's second novel, the predecessor to 'A Tiny Bit Marvellous'.
'Oh Dear Silvia' tells the tale of 60-year-old housewife Silvia. Silvia is in a coma, fighting for her life after taking a tumble from a balcony. As Silvia sleeps, her family and friends visit and so unravels their connections through this complex web of relationships all based around Silvia's life and influences. We soon find out that all was not what it seemed before Silvia's accident however, her unfortunate situation provides the perfect opportunity for friends to get things off their chests and to sort out their own heads.
The story evolves through a series of secrets being revealed and keeps the reader intrigued right to the very end.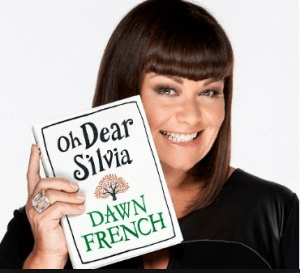 The book is full of emotion but has a good splash of humour thrown in to stop it from being too heavy and ensure that this is a real page-turner. The book tackles issues of family dynamics and human suffering in ways that many will be able to relate to.
We have fallen head-over-heels for the charms of Dawn French's writing style and we are sure you will too! Pop a post on our Facebook wall to tell us what you think or send us a tweet via our Twitter page.
We would also love you to let us know what your favourite book is at the moment, share the secret with us and we will try to feature it in a Sofas and Stuff Book Club soon!
Oh Dear Silvia by Dawn French is available from all good bookshops including our good friends over at Waterstones.